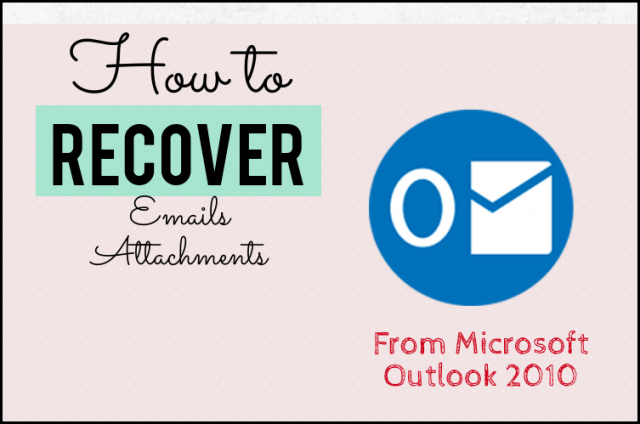 Chance of losing email attachments from any email client is destructive. So, This write-up will provide you with the solution on how to recover deleted email attachment from Outlook 2010 and above versions.
As everyone knows that Microsoft Outlook is one of the renowned email applications across the world. Generally speaking, it works like a champion. But, sometimes it goes down in a ball of flames. Sometimes, Outlook emails attachments get deleted automatically due to some errors in the application. In this case, most of the users think that an email attachment is also deleted permanently along with Outlook emails.

But, only a few people know that Outlook saves all attachments in a temporary Internet files subfolder. These attachments can be an important document, picture or an audio file. So, if users want to recover deleted email attachment in Outlook 2010, you are on the right site. In order to retrieve deleted attachment from Microsoft Outlook account, one needs to find and open the above specified temporary folder to restore deleted Outlook attachments.
How to Recover Deleted Attachment from Email in Outlook?
There are various ways to retrieve deleted or lost attachments in Outlook program. Some of them are discussed here. You can follow the below-mentioned solutions to restore Outlook email attachments. Three solutions are explained, 2 manual and 1 automated method. If you need a direct and quick solution to recover huge Outlook email attachments, then it is better to go for a reliable third-party application. The Software can repair and recover damaged PST file without any data loss including emails with attachment, contacts, calendars, etc.
Solution 3: Direct Solution to Recover Deleted Outlook Mail Attachments
However, if both the manual solutions fail in retrieving the deleted or lost Outlook email attachments, then the best choice is to make use of a trust-able third-party recovery application to recover deleted email attachment in Outlook 2010. In such situation, SysTools Outlook PST File Recovery tool comes as consistent software that has been programmed to provide a more comfortable solution, and on more thing it is one of the Outlook Recovery Tool

The application can scan the temporary Outlook folder automatically and display all the list of attachments that have been saved in that folder. It can also retrieve hard deleted emails from Outlook 2016, 2013, 2010, 2007 and below versions easily.
Working With Outlook Recovery Tool
First of all, download, install and run the Outlook Recovery tool.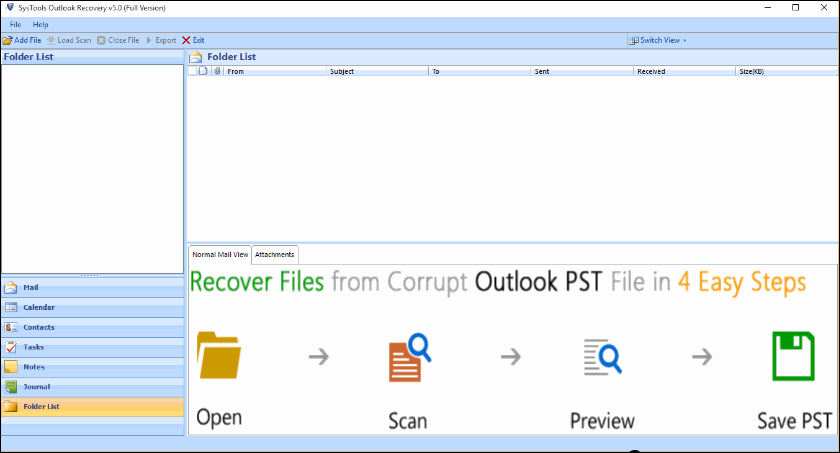 After that, add the Outlook file or folder.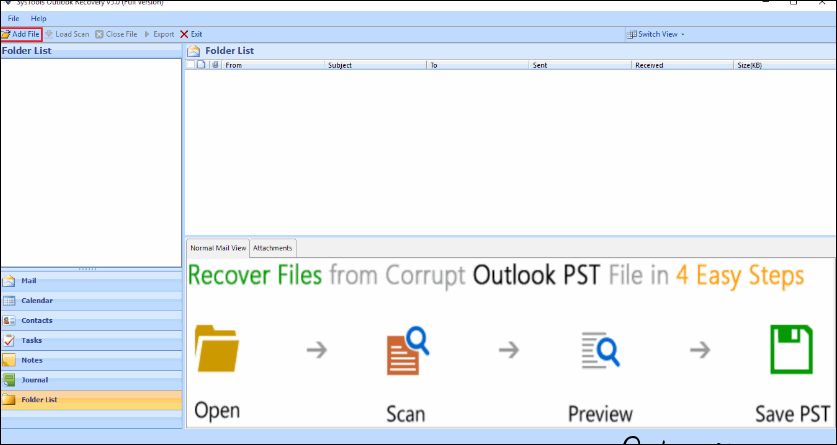 Then, the software will preview all deleted emails attachments and others in a panel.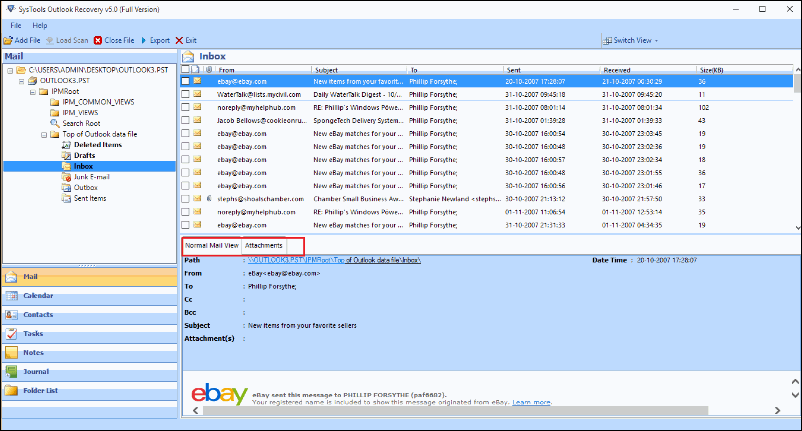 Now, you can choose the desired file format and click on the Export button.

Finally, all attachments are successfully recovered.
Solution 2: Recover Deleted Email Attachment in outlook 2010 (Temporary Folder)
To restore deleted email attachment, first of all, you need to find the directory of OLK file. For this, we will provide you the default location of OLK folder. Here, you can find the deleted attachments, if you get, then copy the corresponding attachments to the desired location.
"C:\Users\$user\AppData\Local\Microsoft\Windows\TemporaryinternetFiles\ Content.Outlook\8OVAD"
Note: If OLK folder is hidden, then you can follow the below mentioned steps to make it visible.
First, click on the Start button >> Control >> Folder Options
After that, go to the View menu and find the section Hidden Files and Folders.
Now, tick the checkbox next to Show hidden files, folders or drives and click on the Apply button.
Solution 3: Recover Email Attachments from MS Outlook by Using Regedit.exe Utility
To recover deleted email attachment in Outlook 2010 using the regedit.exe tool, follow the below given steps carefully without causing any error.
To start the process, go to the Start button >> Run >> Type Regedit and click on OK button.
Then, a window pops up, here locate the relevant registry & follow the path:
My Computer >> HKEY_CURRENT USER >> Software >> Microsoft >> Office >> 12.0 >> Outlook >> Security
Once there is one or more than one item is displayed, then copy the location of "Outlook Secure Temp Folder".
Finally, you will find all deleted and lost attachments. Copy these files and save it to the desired location in your system.
Also Read: How to fix Outlook corrupting Incoming email  PDF attachments?
The Bottom Line
In the above-discussed write-up, we have discussed when Outlook emails and their attachments are deleted, and then attachments get stored in a temporary file. So, we have also described the appropriate solutions to recover deleted email attachment in Outlook 2010. When manual methods are not able to give the satisfactory result then one can opt simple and efficient Outlook Email Recovery software to recover email attachments efficiently.