Multiple Solutions to Fix Microsoft Outlook 2016 Drag And Drop Not Working
"On some installations of MS Outlook, I had seen this issues. The email client Outlook cannot drag and drop emails and their addresses between To, Cc, and Bcc fields while composing a new message. It does not make a difference in the off chance that it is a new email or a reply to the previous email. The issue is not strictly related to a particular client or a workstation. The same end user on various workstations has been influenced by this problem. Also, multiple users on the similar workstation, as well. In any case, it appears to influence just clients from some specific security groups. Please tell me how to solve the problem of Microsoft Outlook 2016 drag and drop not working. I will value any proposal on this."
Are you looking answer to the same question? Does the query seem familiar to you? If yes, then do not lose hope as the solution is very straightforward. The post deals with various solutions when drag and drop not responding in Outlook 2010.
Tool Tip: Well Outlook emails like drag and drop not working issues can be also happens due to Outlook data file corruption. Now, to fix the corruption of the Outlook data file you can use the Outlook Inbuilt Inbox Reair Tool, but there is one issue with the Scanpst.exe it only capble to reapir minor corruptiono of Outlook PST file. So, on this situation you can  Outlook Repair Tool. It can resolve all errors and issues in an Outlook PST data files efficiently. It can repair corruption in PST data file.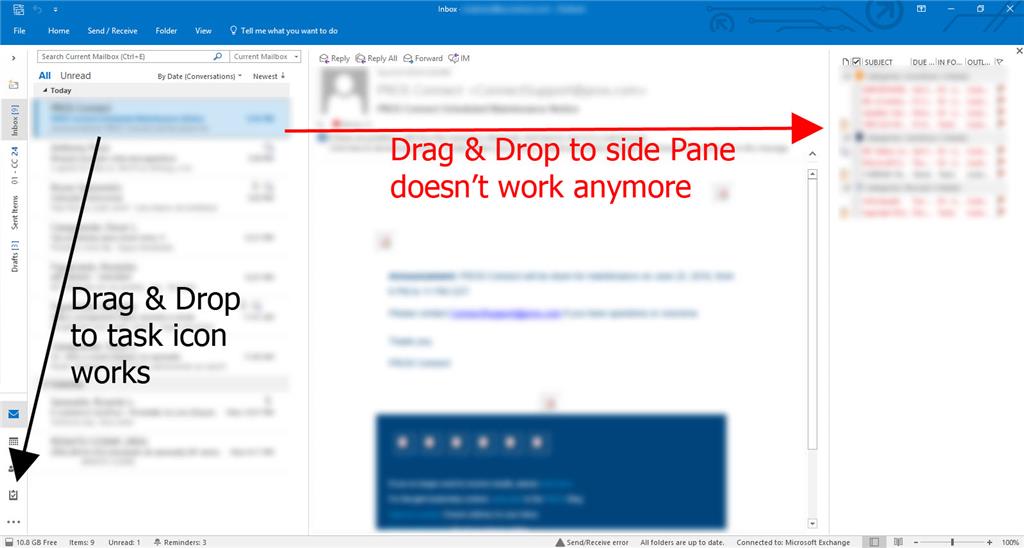 Problem Faced By Users in Microsoft Outlook
This is the problem experienced by many users that the Outlook folder items cannot be moved with the help of drag and drop feature.
How to Fix Microsoft Outlook 2016 drag and drop not working?
The most common reason behind this issue is the software bug, which can occur in all the versions of Outlook. It is not related to any specific or third-party application. Some of the preventive measures that a user can take to bring drag and drop to the working state are:
1. Make Sure that a User is Moving/Copying Data Elements of the Same Type
The drag-down feature will only work if a user is moving folders of the same type. It means an end user cannot copy emails along with calendars.
2. Repeatedly Press ESC Button
Make sure that screen of Outlook email service provider is active and then, a few times hit on ESC key. There are chances that a user will be able to use drag and drop button.
3. Make Use of Folders View When Drag and Drop Stopped Working in Outlook 2010
A user can attempt to change the view of Folder and then check whether drag and drop button in Outlook is working or not. It has been noticed that Outlook behaves differently based on the view option.
4. Reset Outlook Folders
There is a possibility that the Outlook folders are corrupted (for example, folders do not possess valid type identifier name). This is the basic cause of the issue. A user can also press Windows+R and then execute the command when Microsoft Outlook 2016 Drag And Drop Not working:
outlook.exe/ resetfolders
Doing this will repair all the damaged Outlook folders.
Also Read: How to Resolve Cannot start Microsoft Outlook
5. Follow The Manual Process Step-Wise
This little solution can resolve the problem when drag and drop not working in Outlook 2007. A user needs to follow below mentioned steps to fix drag and drop stopped responding in Outlook:
Exit the Outlook application
Launch Outlook as an administrator by right-clicking on the desktop item. Another way is to search for Outlook within the menu
Then, again close Outlook application
At last, open Outlook as usual and not as an administrator
The Final Words
Drag and drop button is used to move or copy Outlook data items. Sometimes, it happens that Microsoft Outlook 2016 Drag And Drop Not Working. The major cause behind this problem is the software bug. Various preventive measures have been explained in the write-up that can be used to bring drag and drop option to the working state in Outlook 2016, 2013, 2010, 2007, and 2003.