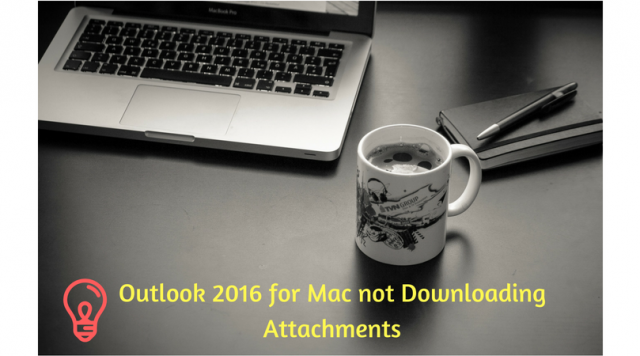 One of the frequently asked query by most of the Mac Outlook users is that Mac Outlook attachments not downloading. Now all of them wants to know the exact reason behind it and how it can be resolved in the simplest way. Microsoft Outlook is the widely used email service on both Mac and Windows platform in the normal. So, if there is an issue in the normal functioning of Outlook, it will break the continuity of work. Read to know how to fix Outlook 2016 for mac not downloading attachments
The primary work of these email clients is to send and receive emails. So, if a user is unable to download the attachment, then it is a serious problem and cannot be ignored. Considering this requirement of the users, this blog will let users know how to fix Mac Outlook attachments not downloading issue. But before directly jumping to the solution, it is important to understand the reason behind Outlook 2016 for mac not downloading attachments error.
"Within two days, I need to travel for work but facing an issue in Outlook 2016 for Mac linked with Exchange account to my official email id and O365. In it, some of the random emails do not display attachments. I have not deleted any of the emails still Mac Outlook attachment not downloading. But I am unable to understand the reason behind it as it is not displaying any error message. I cannot afford cut out from the email threads. So, I am looking for a quick and easy way of fixing this problem as soon as possible."
Why Outlook 2016 for Mac not Downloading Attachments Issue Encountered?
If a user is facing problem in downloading the attachments in Mac Outlook, then there must be some reason behind. This problem is encountered by the users when they upgrade the version of Outlook. There might be some compatibility, which sometimes results in such type of problem in Mac Outlook. It is because of an issue in Outlook application not in file format. So, a user needs to fix outlook 2016 for mac not downloading attachments by trying various manual tricks discussed in the next section.
Also Read: How to Troubleshoot Mac Outlook Database Daemon Error?
Smart Solution for Mac Outlook not Downloading Attachments Issue
If you still encountering downloading email attachment issues in Mac Outlook, then it is better to try trusted third party applications that easily extract attachment from Mac Outlook emails. SysTools Mac Outlook Attachment Extractor is one such a tool that is capable to extract attachment from configured Outlook account as well as you can extract attachments from OLK, OLM, and PST files. This software can extract attachment from any versions of Mac Outlook without any modification or data loss.

Want to know the full guide on how it works, then Click Here
Different Tricks to Fix "Mac Outlook Attachment Not Downloading" Problem
In order to fix Outlook 2016 for mac not downloading attachments issue in Mac Outlook, a user can try the various troubleshooting trick discussed below:
Trick #1: Check for Updates
The very first thing that a user can try is Outlook is to look for the update. Now, for the same, you need to open Mac Outlook on the local machine. And, after that, navigate to the Help option. There you can click on the Check for Updates option. Then simply follow the instructions mentioned in the AutoUpdate application.
Trick #2: Download Attachment via Office 365 Account
If a user has Mac Outlook account synced with Office 365 also, then it is really easy to view and download attachment also. It is one of the most convenient ways to download Mac Outlook attachment in the case of emergency.
Trick #3: Empty Cache
It might also be possible that there is some synchronization issue in the Outlook and attachment gets stuck in between. Thus to fix this issue, follow the steps mentioned below:
First of all, go to the navigation pane and right-click on the account
After that, select Properties option
Then, click on the Empty Cache option
Now, right-click on the folder containing email attachments that are not downloading
At last, click on the Synchronize Now option
Conclusion
All these are the basic troubleshooting tricks that a user can try to fix Outlook 2016 for Mac not downloading attachments. Any of them will definitely overcome the issue and a user can easily download emails in Mac Outlook also without any hassle.