Both Windows and Mac operating systems users can use Outlook. Mac Outlook stores mailbox data items in OLM files which are also known as database files. Mac Outlook is used by many people but some situations occur in which a user has to face corruption in database or OLM files. Most of the users search for a simple yet reliable solution to eliminate the error. Therefore, we came up with this post to help users to resolve Mac Outlook database daemon error via an easy and step by step process.

What is Mac Outlook Database Daemon Error?
Before understanding the error, first one should know the meaning of the 'daemon'. It is a networking program that is responsible for performing the maintenance utility function automatically. It works in the background and is activated automatically. To access the database Microsoft Database Daemon is used all the time. So, at the time of database corruption, the user most probably face 'Outlook Database Daemon Fatal' error.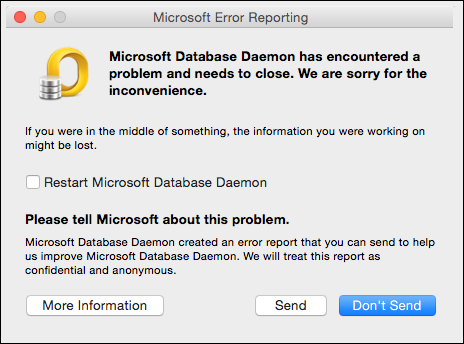 At the time of corruption, a user is not able to access mailbox data. Moreover, he/she is unable to send or receive emails or data from Outlook for Mac. So, this issue needs to be resolved immediately in order to protect data and avoid any kind of data loss issue.
Reasons For Outlook For Mac Microsoft Database Daemon Error
There can be many reasons for the occurrence of Mac Outlook Database Daemon error in Outlook for Mac. Some of them are discussed below:
Virus Attacks – Sometimes, malicious viruses corrupt the database and then user have to face this error.
Boot Sector Issue – Mac Outlook is not able to upload booting files successfully, then the application does not start and the user faces the daemon error message.
Corrupt Header File – To access mailbox, the header file is very important. Due to the corruption of the mail header, the Mac mailboxes become inaccessible and then result in the daemon error.
Sudden Outlook Crash – When Outlook for Mac crashes then the user might get the error.
System Exit or Abrupt Outlook – Sudden exit of Mac Outlook or system shutdown can cause the daemon error.
Also, Read: How to Export Mac Outlook OLM to Outlook PST?
Multiple Ways to Fix Mac Outlook Database Daemon Error
Method 1 – A user can use inbuilt disk utility tool for Outlook Mac to fix the error. The tool will resolve the error if it does not, then you can try other methods also.
Method 2 – Creation of a new Outlook account can also eliminate this error. Still, the error is not fixed then it means that the account preferences has got some issues. Now, remove the preferences and start Mac Outlook again. If still, the error is not resolved, switch to next method.
Method 3 – Most of the database corruption issue is resolved by the creation of Outlook Identity using the database utility.
Method 4 – Make sure to update Outlook for Mac with latest updates. By updating the application one can also fix this issue.
Method 5 – The most effective way to fix the daemon error is restoring Mac Outlook database. One can perform the restore process with the help of Outlook Mac Database Recovery. This utility will repair corrupted OLM files and will store emails from Outlook Mac to multiple file formats.
Conclusion
Mac Outlook is used by the various users as working with it is safe. But some situations occur in which user has to face OLM file corruption issues and if the error is not resolved it may lead to data loss. Therefore, in the above section, top 5 methods are discussed using which a user can eliminate Mac Outlook database daemon error easily.