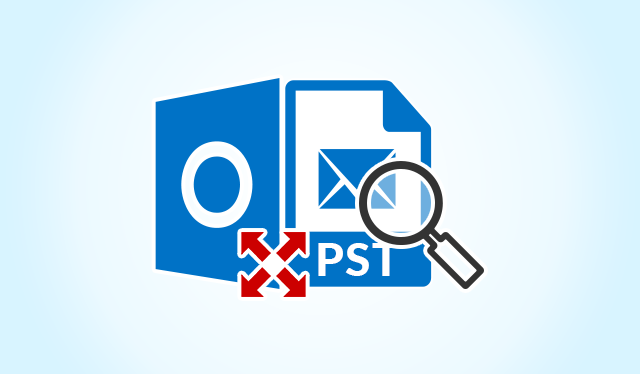 If MS Outlook is taking a long time to respond & you are unable to perform operations like opening files, copying a folder, downloading the attachments or the emails. Then, you are probably dealing with the issue of oversized PST file size which has exceeded the maximum limit.
Nevertheless, the bad news is – this oversized PST file will now lead to PST file corruption putting you on the verge of losing important data & business messages unless & until you address the PST file too large to open error timely.
Instant Solution: Try SysTools Split PST tool to avoid PST file corruption. With this tool, you can Split Outlook PST File easily.

In this article, we will be going to discuss the PST files which are getting oversized in detail. Even we will also discuss PST file issues & the mechanisms to fix "unable to open PST file too large" error.
Know About What is An Oversized PST File
A PST (personal storage table) is a repository of Outlook application including emails, contacts, calendars, drafts, notes, tasks, journals etc. Both the PST & OST files possess larger file size limit in Outlook 2010 & 2013 as compared to previous versions including Outlook 2002, 2003, 2007 etc.
When a PST file displays an error like Outlook 2010 PST file too large to open, it is basically due to the files oversized problem while accessing mailbox emails & folders. In such situation the MS Outlook may show the following errors:
Reported Error: 0x00040820
Background Sync Error
The File xyz.pst has reached its maximum size
File Access Error

How to Avoid PST File Too Large to Open Error
The main cause of the Outlook 2010 PST file too big to open error is the excessive storage of items or the attachments without checking the file size limit which is low as 2GB in Outlook 2002. But, in the latest versions, the PST file is unlikely to encounter damaged or corruption due to comparatively higher PST file size limit. The users need to take care of the following preventive measures to avoid corruption in Outlook PST file and to reduce Outlook mailbox size as stated below:
Discard unwanted stuff, clean your mailboxes regularly – the mailbox should be overloaded with worthless items like information, attachments or emails which may not be required for future use. You need to analyze the data which is residing in your folders & then you can get rid of unwanted kinds of stuff by deleting data permanently, use shift+delete.
Create Archives for Emails – you should create archives of the emails on the basis of multiple criteria through which you can organize information in different folders to avoid corruption in Outlook PST and large losses of crucial data in adverse situations.
Backup PST File – you must generate PST file backup so at the time of data loss you can easily & quickly Recover Corrupted PST File issues.
Find Methods to Overcome 'PST File Too Large to Open' Issue
Use Microsoft's inbuilt utility Inbox repair tool, which is located by default in the MS Office folder on the system drive. This tool comes as a liberate whenever such problems occur.
Open the scanpst.exe application & click on the Browse button to choose PST file which you want to reduce in size.
Click on Start button to initiate the process
Now choose "Make a backup of scanned file before repairing" option & then choose the destination folder from the drop down menu to save the backup file.
At last, start the repair process via clicking on the Repair button.
Resolve 'unable to open PST file too large' Issue Using Third Party Tool
There are times when the native techniques fail to deal with the PST file corruption & the data also becomes inaccessible, then you need third party utilities to fix 'PST File Too Large to Open' error that causes of corruption in the mailbox of Outlook. However, you must choose a reliable tool so that you can overcome the issue without any hassle.
One such tool is SysTools Split PST that is not 100% safe & secure but it also facilitates the restoration process of all the MS Outlook element to resolve Outlook PST file too big to open issue. You can download & use the software for free. After the trial period gets over & you feel like purchasing the tool you can contact our technical experts for assistance to buy fully featured licensed version of this tool.
The Final Words
The above write-up states 'PST File Too Large to Open' error, it also describes the scenario when the PST file gets corrupted. You can traverse to the methods to avoid the Outlook PST file corruption. Manual methods are also discussed to cure unable to open Outlook file too huge error. Also, we have discussed an automated solution which can help the users to avoid corruption in Outlook PST securely & easily.