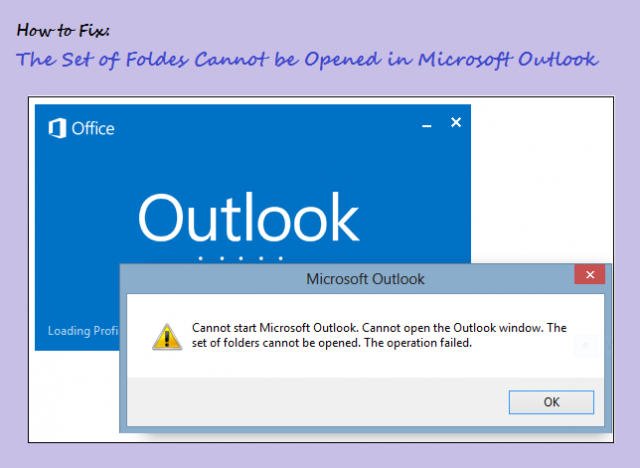 Does it happen to you too, that when you tried to open the Microsoft Outlook window, and an error message "the set of folders cannot be opened in Outlook 2010" and other versions flash up on the screen? If yes, then do not worry. The write-up explains the topmost solutions on how to fix "unable to open Outlook window" problem.
So, explore the factors and its solution to fix 'Cannot start Microsoft Outlook. Cannot open the Outlook window. The set of folder cannot be opened' error code without any data loss or difficulty. The solutions explained in the article does not imply to particular versions of Outlook, so all users with Outlook 2016, 2013, 2010, 2007, 2003, 2000 can efficiently explore the blog.

Before going through the core technical section of this Outlook error "the set of folders cannot be opened in Outlook , let us first explain an instant solution that can fix the Microsoft outlook 2016, 2013, 2010, 2007, 2003, 2000 version issues in few simple steps. Here describes an expert solution called Outlook PST File Recovery software it the best Outlook recovery software to repair Outlook PST files issues without any data loss. The application can fix minor as well as major corruptions in Outlook PST files efficiently.

Factors Leading to MS Outlook Error Message
The most important reason behind the error the folders cannot be viewed or opened in Outlook 2013" is the problem occurring in PST file folder in the account. There can be other hardware and software issues too, like virus attack, abrupt shutdown of system, human errors, etc. that can result in this error code. There are various error messages that can appear on Outlook window related with this error code. They are:
Microsoft Office Outlook cannot expand the folder, the set of folders cannot be opened
The folder can't be opened, Microsoft Exchange is currently busy
The set of folders cannot be opened, Microsoft Exchange is not available in Outlook 2010 / 2007
Outlook the set of folder cannot be opened network problems are preventing connection

Solution to Resolve "Unable to Open Outlook Window in Outlook 2007"
When the user cannot access Outlook PST file, there is a very easy solution to fix the issue. Follow these steps to fix Outlook PST opening problem:
Go to Start >> Control Panel >> Mail. This will open up a Mail Set up dialog window on the screen
It is important to make a backup of the file to avoid any sort of data loss. Hence, click on the option Data Files and then, Open Folder button
Copy and paste the Outlook file in a secure place. Sometimes, it may happen that you are unable to paste the .pst file. So, open Task Manager by pressing Alt+Ctrl+Del keys together. Choose the 'processes' tab and search for the Outlook.exe file. Then, click on End Process tab. Then, the desired archive file can be placed in any folder
Coming back to Mail set-up window, choose the option of Show Profiles. This will display the profiles you will be working on currently. You have to delete all the profiles from here by clicking on Remove to fix the problem "unable to open Outlook Window, The set of folder cannot be opened in Microsoft Outlook 2016, 2013, 2010, 2007, 2003 versions"
Then, open Outlook.
It will ask you to open a new account. To open a new account, follow these set of instructions:
Go to Start >> Control Panel >> Mail
Hit on Add button and then give a name to this newly generated profile
Click on option Manually configure server settings, then click on Next
There will be 3 different options, click on Microsoft Exchange and then, Next
Provide Exchange Server name and user-name. Check Name button can also be used to view available user-names. If you are using this option, Windows will ask you to enter the administration password. Enter the password and hit on OK
Select needed user-name, and click Next
After performing all the steps, a congratulation window will appear on the screen
The Set of Folders Cannot be Opened in Outlook 2010 Shortcomings of Manual
To fix this Microsoft Outlook error, the manual approach is an easy way. But, there are some limitations due to which this solution is not preferred. The problem which a user generally faces while using manual solutions are listed as follows:
The process requires a lot of time to fix "unable to open Outlook window" in Outlook 2016 and other below versions.
A deep technical knowledge of Outlook is required to perform the steps.
A Perfect Solution to Resolve "Outlook Set Of Folders Cannot Be Opened"
After trying all the above methods to resolve the errro but you still facing, then ther is chance that you are facing corruption issue with your Outlook data file. Now, to overcome all the limitations bring together by workaround approach, it is suggested to use a third-party product like Outlook.pst Error Repair Tool.

The tool offers a complete list of desired features, which can execute a task in the most efficient way. It is a simple to use application, which yields satisfactory results just after a few clicks.
Wrapping Up
Oftentimes, it happens with users that when they try to open an Outlook PST file, an error message appears on the screen stating "the set of folders cannot be opened in Microsoft Outlook 2016, 2013, 2010, 2007" and other below versions. The manual, as well as the automated tool, are explained to resolve the issue and then open PST file without any hindrance.