Forgot Password for PST File Get a Complete Solution to Recover
Akshay Vats
| Modified: October 12th, 2022 ~ 3 Minutes Reading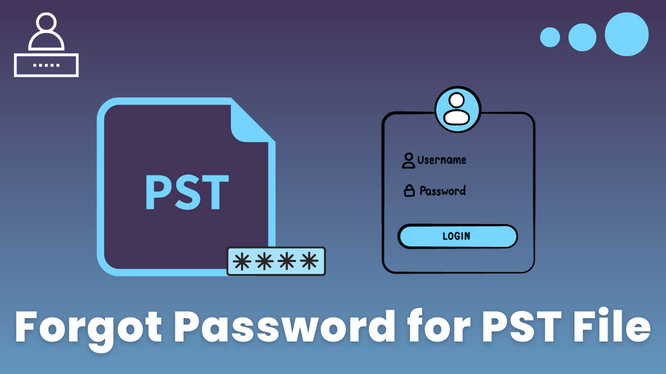 In today's world, Microsoft Outlook is one of the most secure and reliable email clients. Because it is the only application that provides an option of adding a password to your PST file. This feature is very good from our point of view because no one can access your PST file without your permission. But, many of the users have queried that what if we forgot Password for PST File? Is there any solution?
Don't Worry! This is a very normal situation occurred among users because they add a strong password and the chances of forgetting increase. Now, in this article, you will find the best solution to recover your forgotten password easily from the PST file. In the upcoming paragraph, we will describe to you the most reliable solution to recover your forgotten PST password.
Best Solution to Recover Forgot Password for PST File
All your worries are fulfilled here because we are having the Best PST Password Removal Tool to recover your forgotten password for the PST file and help to generate a new password easily. This tool is one of the best tool-less time-consuming and friendly for non-technical users also.
How the Tool Works – Quick Guidance
Step 1. Download and open the tool.

Step 2. PST files contain passwords find them.

Step 3. Preview the status of locked PST.
Step 4. In the end, generate the live report of the PST file unlocked.
Some More Features Which Make this Tool More Understandable 
The need for Microsoft Outlook is not compulsory.
Securely remove the password from the PST file.
Also, help in removing multilingual passwords.
Supports Windows 10 and MS Outlook versions.
Therefore, we have explained our best solution to resolve this situation. But if you want to go with the free version. Then in the next paragraph, we explained the manual methods in a detailed manner. But these manual methods are containing a high risk of data loss.
Trying to Resolve Situation to Reset Forgot Password for PST File Manually
If you want to reset Outlook PST file password then follow these steps:
First, Open the application Outlook and go to the account settings.
Then, select the password-protected PST file from which you want to remove the password while going into the account settings.
After this, simply hit upon the change the password button.
Last, you have to fill in the details and type your old password in the old password field. And press on the OK option.
But this manual solution has one more limitation it will work only when you are having your old password in your mindset.
Conclusion
Forgot password for PST file is a common situation for Outlook users. So, in this article, we have mentioned the proper solutions to recover forgotten PST passwords easily. We have mentioned both manual and automated methods. Hence, our technical experts are also reliable on the above-mentioned tool because it is completely safe and secure to use.