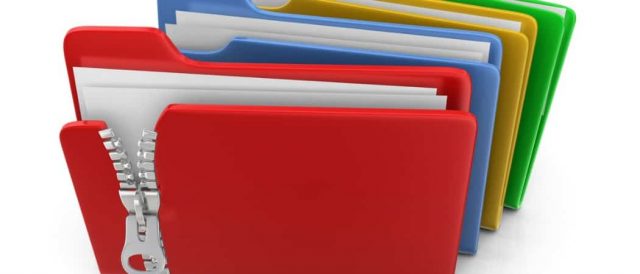 I have got a PDF file with me. In this file, I have a zip file attached to it. Can you tell me How do I extract a zip file from a PDF? I have a rar file as well attached to the PDF file. Kindly tell me a solution that can extract these files.
As you can see in the query that this person wants to extract the zip and a rar file from the PDF.

I have got 2 solutions for this kind of problem:
Adobe Reader: You can extract attachments from the PDF file by using this no-cost utility.
SysTools PDF Extractor: Designed to extract all kinds of attachments and inline images from the PDF documents.
Why Adobe Reader Is Not An Expert Solution
There are some differences between these two. Adobe Reader is a no-cost tool. Hence, does not provide high-end functionalities like:
It cannot extract attachments from restricted PDF files or PDFs having owner-level protection.
Only one PDF document can be processed at a time which tends to take more time.
No filter options are available to extract files of a particular size or file format.
To avoid these shortcomings you can go for PDF Extractor by SysTools. This software can extract all kinds of attachments including embedded images in the PDF file.
How Do I Extract a Zip file From a PDF Using Adobe Reader
Adobe Reader can extract all attachments from the PDF files. Follow these steps:
Open the PDF file using Adobe Reader
Click on the Attachment icon to open the Attachments panel.
View all the attachments and select the zip and rar attachments you want to extract.
Click on the Save button to save the PDF file attachments.
Choose the saving location and save the extracted zip and rar files from the PDF.
How Do I Extract a Zip File From a PDF Using SysTools Software
This tool can be easily operated because of its simple UI/UX design. Just follow these steps to extract zip and rar files from the PDF files:
1- After launching the software click on the Add File(s) / Add Folder option to load PDF files from which you want to extract the zip file.
Note: If the file is protected with an opening password then enter the respective PDF password.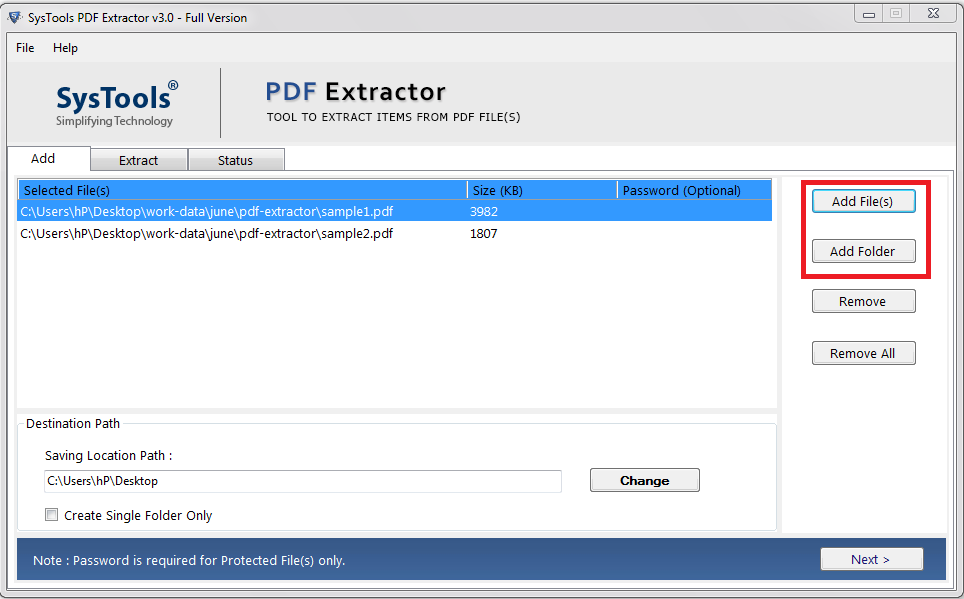 2- You can select the Change button to give the desired saving location.
Note: If you want to get all the extracted zip and rar files from the PDF in a single folder, check the "Create Single Folder Only" option.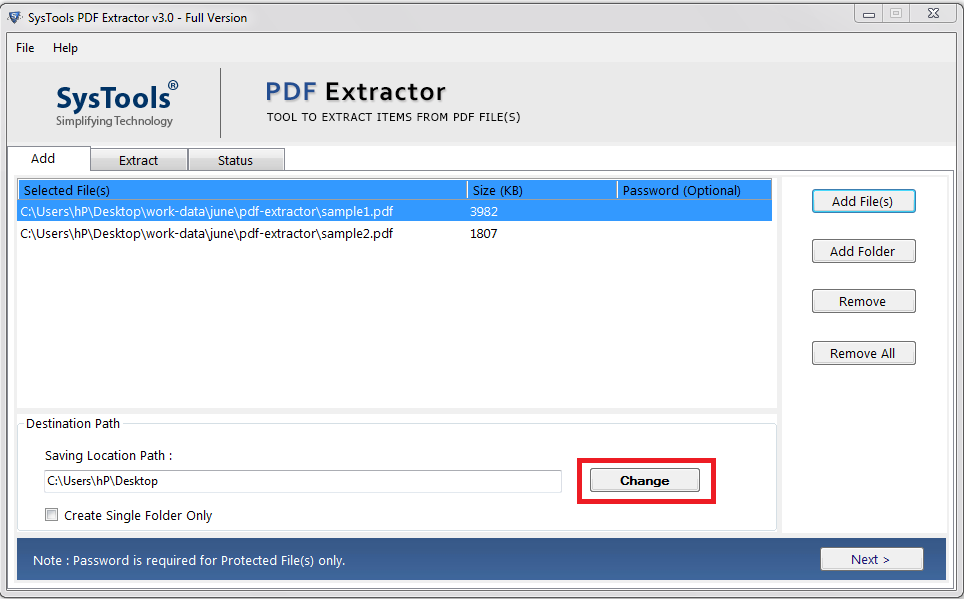 3- For extracting zip and rear files: Under Apply Attachments Filters, select Include radio button and specify the file type in the textbox eg. ZIP, RAR. It will extract all attachments having .zip or .rar extension. You can also specify the size of the attachment.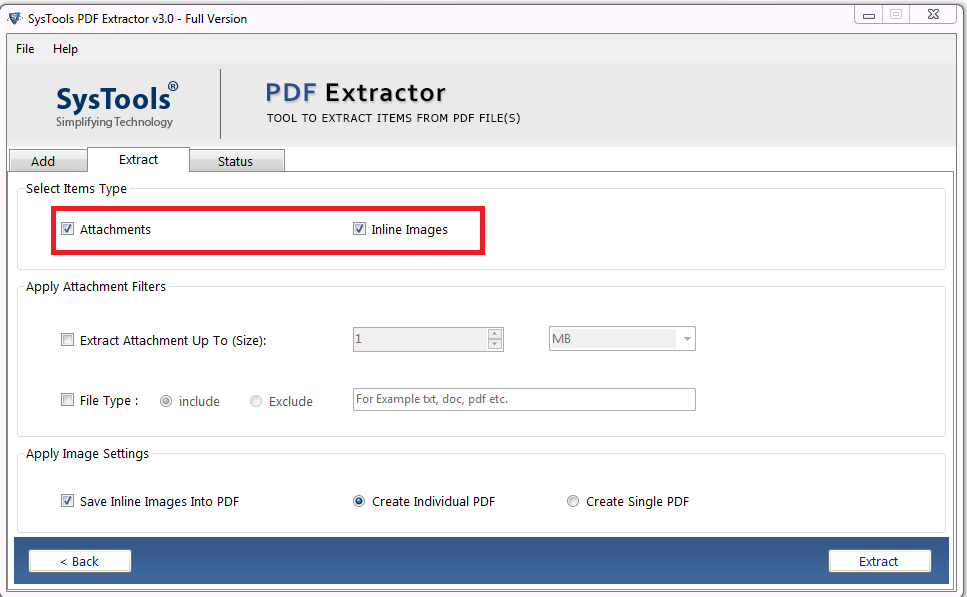 4- After applying the suitable filters, click the Extract button.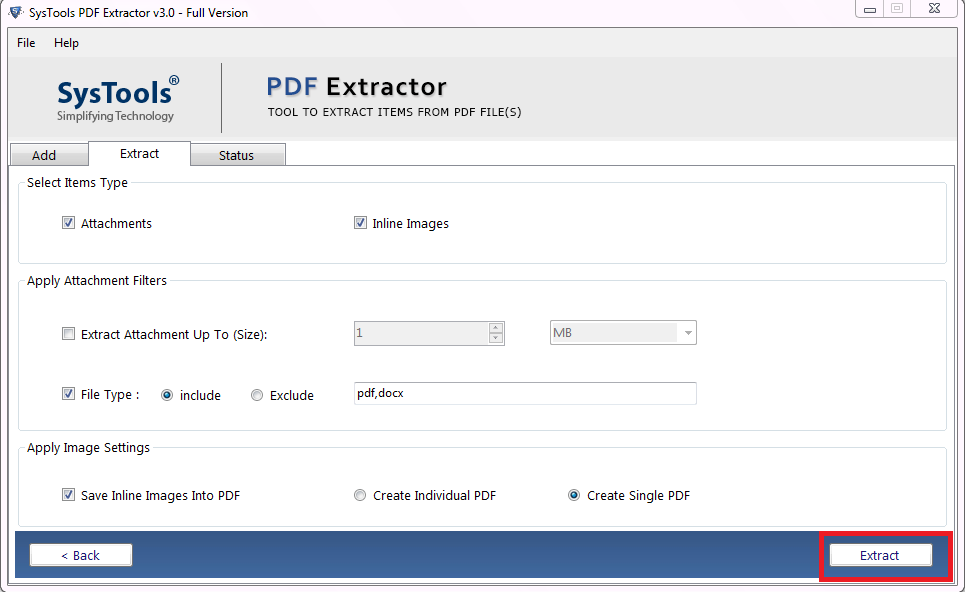 5- Finally, the process completion message will be displayed.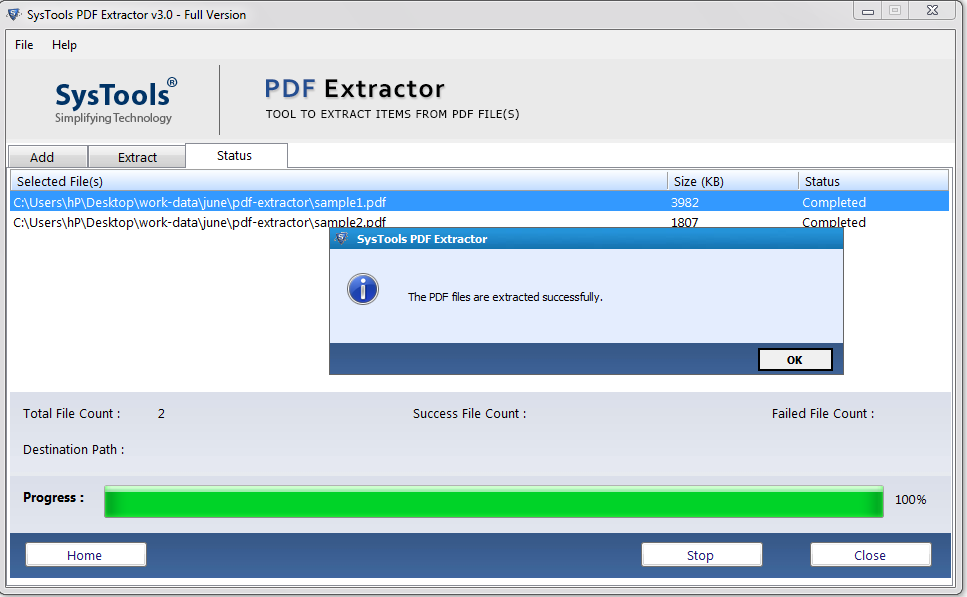 Is It the Best Tool to Extract Attachments From PDF- Lets See
PDF Extractor by SysTools is an advanced tool that lets you extract data from PDF form. This tool is available for both Windows and Mac OS. It provides numerous filter option that makes the extraction process highly efficient and fast.
Let's look at this tool's features:
1- Easily extracts attachments/images from PDF files. It can also extract inline images that are embedded inside the PDF document.
2- It is a robust tool that can process multiple PDF files at once thus saves time.
3- Include or Exclude options for selective file extraction.
4- It has a size filter option to extract the file of a particular size (1 KB to 100 MB).
5- Supported by Windows Operating system 10 and below versions.
6- Compatible with Mac OS X 10.8 and above versions.
Conclusion
How do I extract a zip file from a pdf – This blog has provided two solutions to extract zip and rar files from the PDF. You can use Adobe Reader as it also provides extraction functionality. But there some shortcomings of using this no-cost solution which I have mentioned in this blog clearly. If you are a professional looking for an expert solution then, you should definitely go for an automated tool.