Know How to Backup AOL Emails to External Hard Drive
Nilesh
| Modified: June 7th, 2023 ~ 5 Minutes Reading
Why does AOL users need to backup AOL email folder to external hard drive? Is this an easy process to save backup of AOL mails? Every AOL user surely has some thoughts about this. Because AOL is a cloud-based email service and data security is an important concern for all AOL users.
If you are also searching for the solution on how to backup AOL emails to external hard drive, then best solution is to use SysTools AOL Email Export Tool. Users just need to download this third party software and it will help to backup data at any required location. There are many manual and automated solutions available to download and save emails from AOL mail client. But, the best and most reliable solution to deal with crucial data is to install this trustworthy AOL Backup Software.

What is the Need to Backup AOL Emails?
To understand the need to take the backup of AOL emails, let's take a look on some related queries as follows:
Hi everyone, I am a user of an AOL Mail since 2005. But due to some reasons, I did not login my account from last 6 months. Yesterday, I open my account to read some important emails but it is not open even after a lot of efforts. Then, I consult the issue with one of my good friend, he checked and told me that my account has been deactivated. So, now what can I do to get back my important emails, please suggest!
Need Help! I am using AOL Mail app for business and personal use. Now, my account is almost full of important emails having crucial data. I am scaring of losing that emails, so now searching for the safe and secure solution on how to download and save emails in AOL mail. Best advice will surely appreciated, thanks in advance.
Above mentioned queries are clearly defining the need to backup email data of AOL mail as it is a web based email client. As we all know, data loss issue is common in cloud based services. So, due to the security reasons users are searching solution on how to backup AOL emails to external hard drive.
Instant and Best Solution to Backup Emails of AOL Mail
In order to save the backup AOL email folder to hard drive is very simple and secure with AOL Backup Tool. This backup software is especially designed to download and save bulk data from AOL mail app. It also provided a wide variety of multiple features that helps in getting the backup of required data in a hassle-free way.
By using this tool, users can download email attachments in AOL and save the backup of bulk email data in a single attempt. The tool is available for both the systems i.e. Windows and Mac
For Windows:

For Mac:

Highlighted Features of the Advanced Tool
It allows saving AOL email backup of multiple folders such as Inbox, Sent, Trash, etc.
Provided MBOX, PST, EML, and MSG file format to save the backup files.
Filtering available with "Date Range Based" filter option.
Provided option "Delete Downloaded Emails" from Mail App for security.
Maintain folder structure and hierarchy during the process.
Display real-time export report showing detailed information of Backup process.
Support user interface in multiple languages for comfortable backup.
Tool is compatible to all versions of Windows and Mac OS.
Application Pre-Requisites
Use "App Password" to Sign in into the tool, or disable option "2-Step Verification".
Turn on access to "Allow Apps that use Less Secure Sign-in".
For smooth working of "Include Folder" option, select "Use Unified Inbox Style Option".
Step by Step on How to Backup AOL Emails to External Hard Drive
The tool is efficient enough to download and save emails backup from AOL in a just few working steps that are as follows:
Step 1: Firstly, login to the software by providing AOL mail account credentials. (AOL account Username and App Password)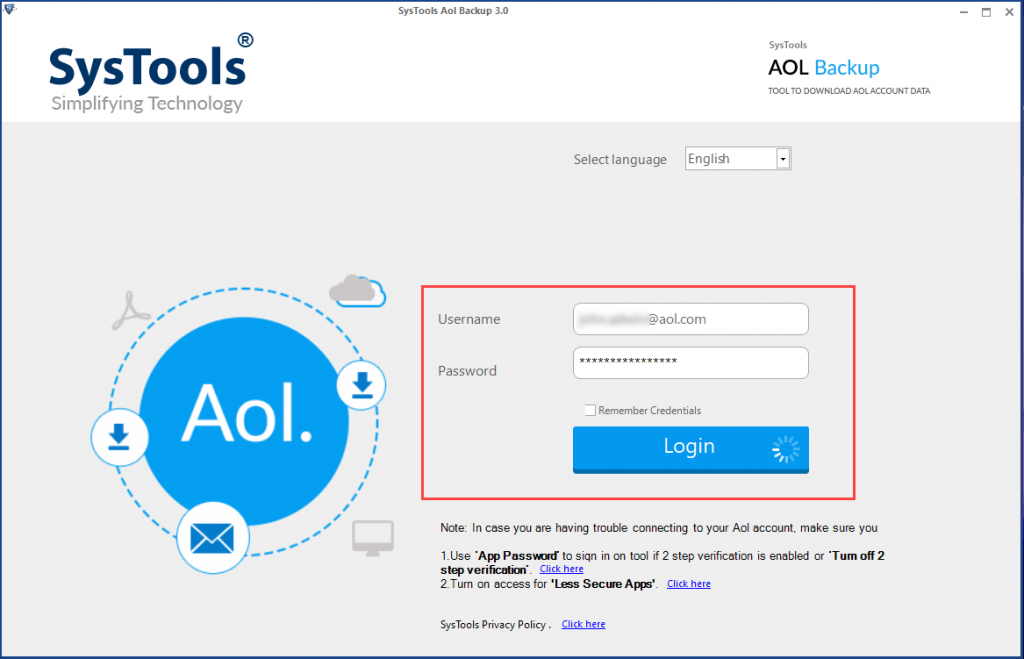 Step 2: To save the resultant backup files, tool provide multiple file formats such as EML, MBOX, MSG, and PST. User can select any of the required file format.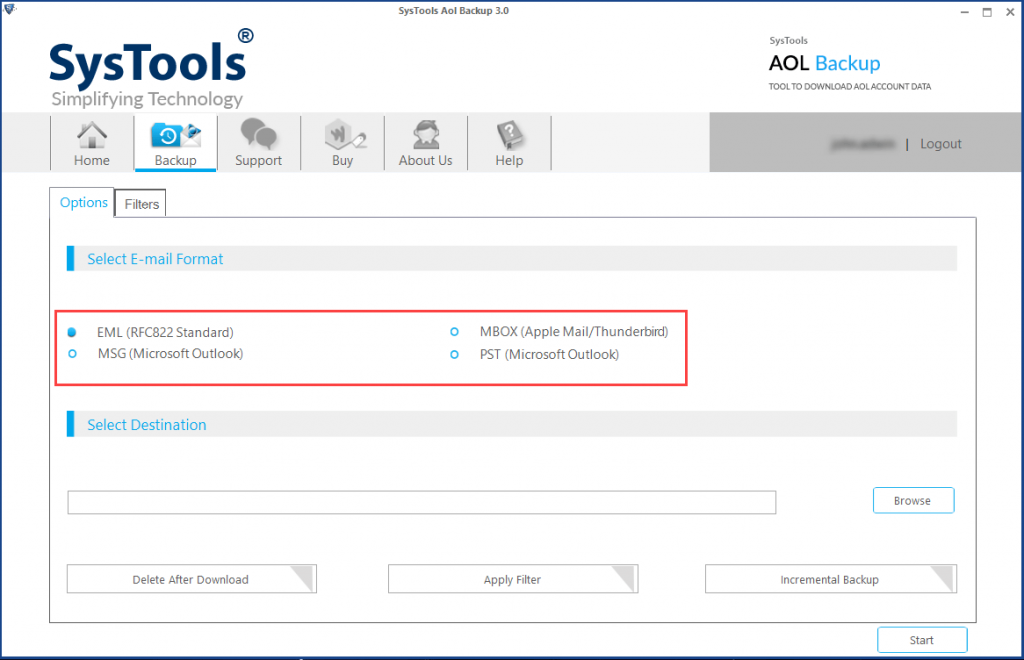 Step 3: Users can mange required folders by using filters. It will help in downloading selected data.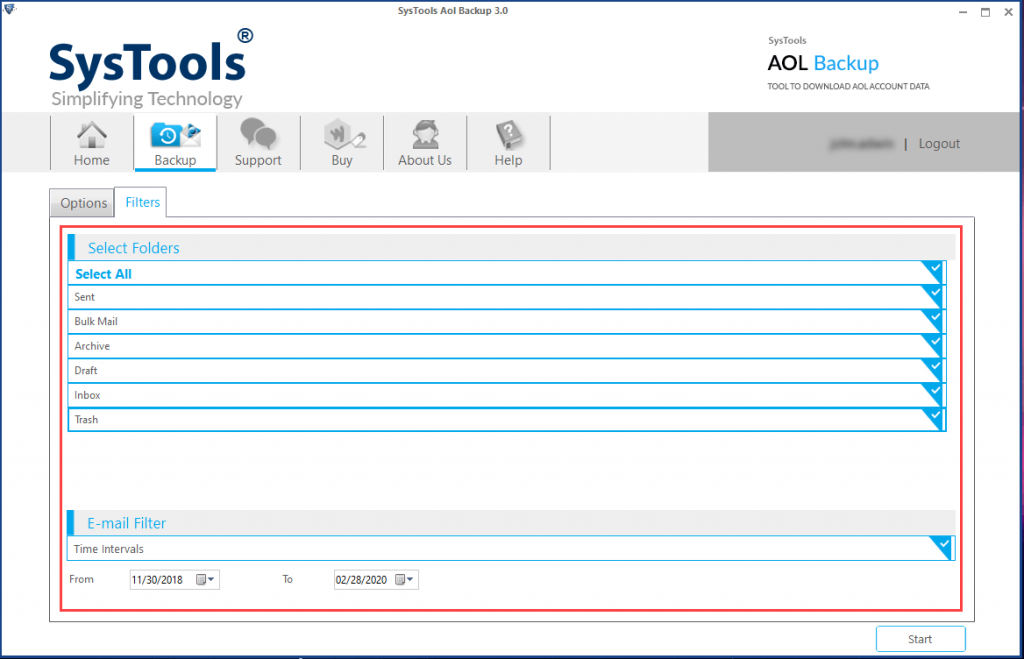 Step 4: To save resultant files at destination location, "Browse" the destination location path. Then, click on "Start" button to begin the backup process.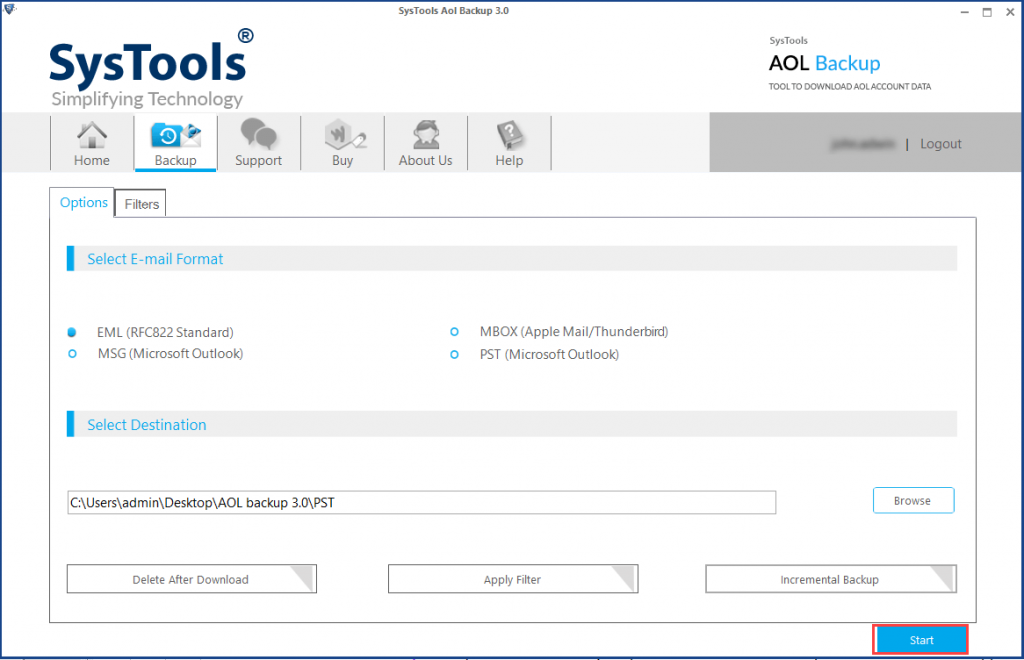 Read More: Migrate AOL to Outlook
Conclusion
As we all know, emails are not ideal to save the cruel data files because of the corruption and data loss issues. So, people generally save AOL email backup in local drive for the security of data files. Through this blog, we have provided the best solution on how to backup AOL emails to external hard drive in secure and hassle free manner. We recommended using AOL Backup Tool to easily save the email files in external Hard Drive in desired file format for further uses.