How to Close Zoho Account? DIY Guide with Beforehand Measures
Do you not know how to close Zoho account? No need to worry, it is a pretty easy task. You just have to follow a few steps and give a few confirmations and your account will be closed in a few minutes.
Although, have you ever thought about all the emails that you have stored in your mailbox?
Sure you must have had at least one thought about them even if they are not of importance. The emails that you think will not be needed or are useless, may be needed in the future.
So, before you close Zoho mail account, you have to take a backup of your data first to make sure it is all there in the time of need.
Don't know how to create a backup?
Well, that is also covered in this article. We will explain the entire process of creating a backup of your data followed by the steps to delete your account.
This is necessary because once your account is deleted, all the data will be gone along with it.
Let's jump right into the solution to export your emails. If you want to see how to close the account, click here.
Create a Backup of Data Before Learning How to Close Zoho Account
As discussed, it is important to have a backup of your data before you permanently delete your account just in case.
To download the emails, you can use the Zoho Mail Migration Tool on both your Windows OS & Mac OS machines.
For Windows OS users:
For Mac OS users:
You must be thinking that working with a tool is going to be difficult but it is not. The user interface of this software is the easiest to work with.
Let's see how it works.
How to Use the Tool to Backup Data Before You Close Zoho Mail Account?
1. Download the tool and run it on your machine. Enter the credentials for your Zoho account and click on the Login button.
2. Then, select the email format and choose the Browse button to set the destination location.
3. If you want free space in your mailbox, choose the Delete after Download button and confirm the deletion by hitting the Yes button.
4. After that, apply the Date-filter for selective data migration from a certain time-period by going to the Apply Filter tab.
5. Export emails before learning how to close Zoho account by pressing the Start button.
If you have any new mail received during the backup procedure or after it, there is no need to panic as you can download it without any signs of duplicity.
How? By using the Incremental Backup option. Choose it to go through your mailbox again and find new emails that need to be exported.
Only these recently arrived emails will be downloaded in the next process at the same location.
Few important points before you close Zoho mail account:
Remember that once you delete your account, you will not be able to use any of the services offered by Zoho.
Make sure that along with your emails, you have a backup of all the other data items from Zoho Recruit system and other services as well.
After deleting your account, all the Zoho services will permanently be deleted and there will be no chance to restore them in future.
Now, let's take a look at the steps to delete the account.
Steps to Learn How to Close Zoho Account
It is a simple process as explained in the points below:
1. Login to your Zoho mail account by entering the correct information to sign in.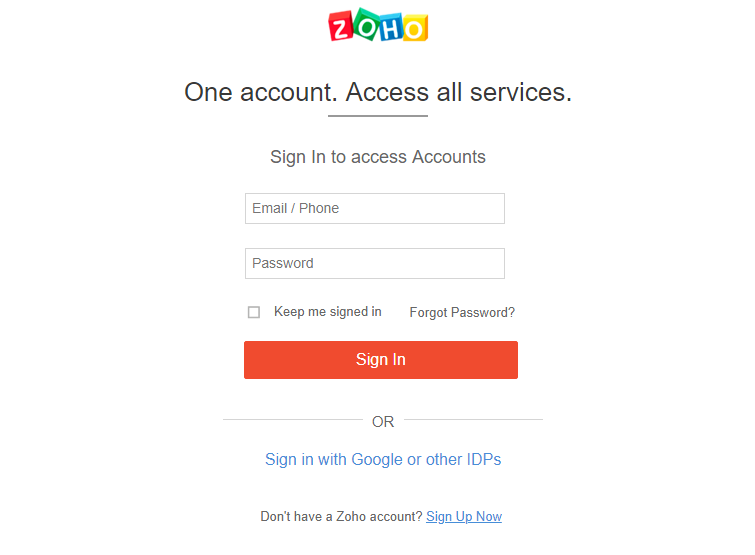 2. Click on the My Profile Info tab and go to the Settings option. Choose the Close Account button from there.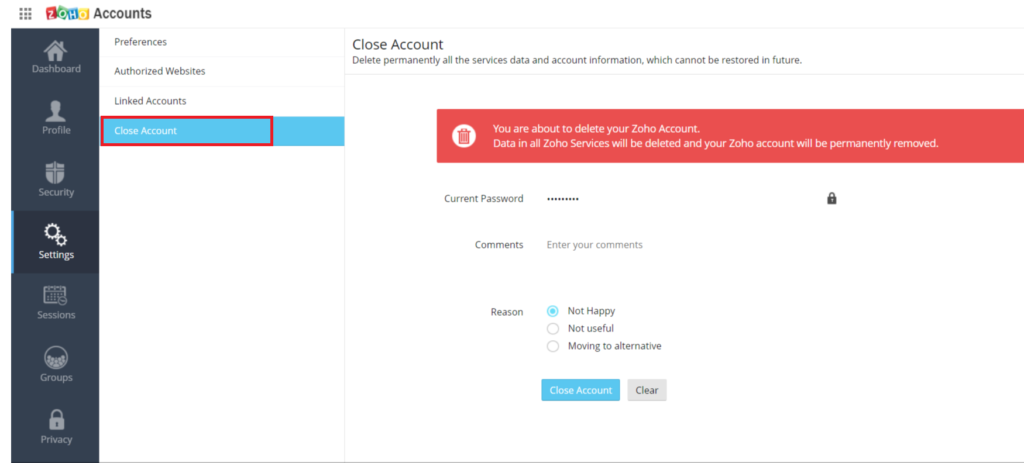 3. Enter your password in the Current Password field and mention the reason and comments in the Comments & Reason section.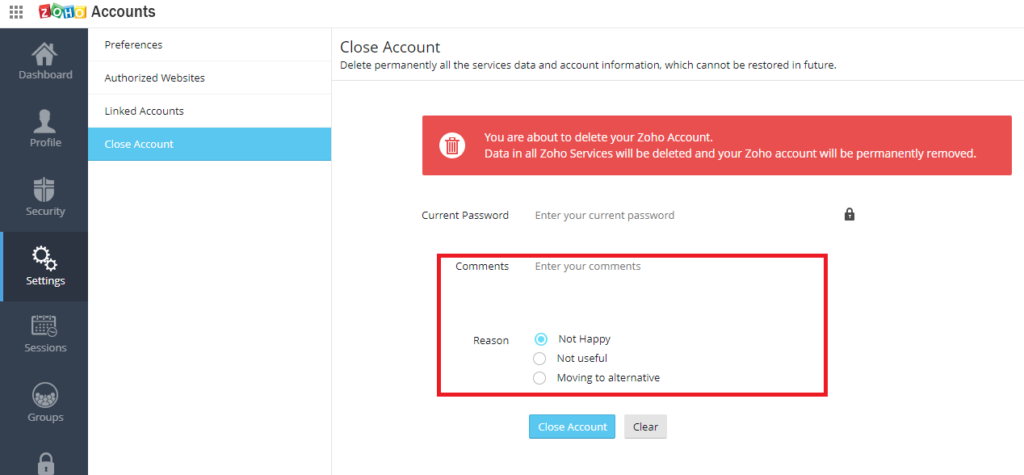 4. Hit the Close Account button and press OK when prompted with confirmation.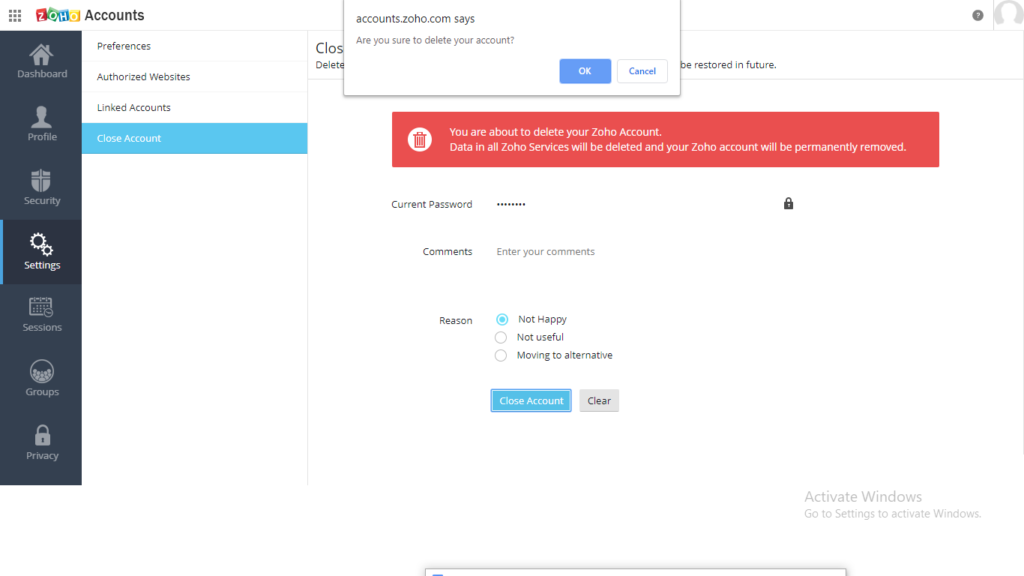 When you close Zoho mail account, the following email will be sent to your linked email address: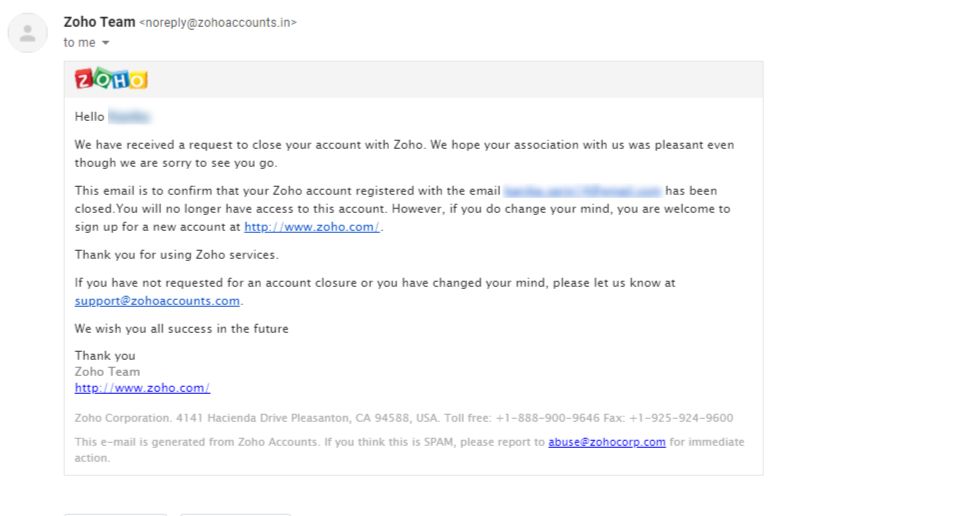 Is it Possible to Restore the Deleted Account?
Yes, the retention policy of Zoho mail that you had agreed to during the creation of your account says that your account will permanently be gone after 30 days of deletion.
You can contact the Zoho mail tech support if you have deleted your account within the time period of 30 days and restore your account.
Final Observation
It is not difficult to learn how to close Zoho account, although losing the data stored in it can cause trouble in the future. You should always have a backup of your data no matter how old or useless you think it may be.
That is why this article contains the entire process of downloading the data locally and then deleting the account.