How to Import PST File in Roundcube? – Quick Solutions
"I am planning to move from Outlook to Roundcube. As my Outlook contains some important emails, I have to migrate them to Roundcube. Can anyone tell me how to import PST files in Roundcube in an easy way? I am not a technical person and that is why I am switching to Roundcube. So kindly suggest to me some solution that is feasible for novice users."
"I am supposed to send my Outlook data to a Roundcube user. But we both know that Roundcube does not support PST files. So, what other options do I have other than importing PST files to Roundcube? Do I need to convert the PST file and if yes, then in which format? Please suggest."
The above queries mention the scenarios when people need to open Outlook data in Roundcube Mail client and that is when the question comes: how to import PST file in Roundcube. Here, we will unfold the method best suitable for migrating Outlook PST file to Roundcube.
Understanding the File Systems of Outlook and Roundcube
While Outlook data is locally stored in PST format, Roundcube does not support PST file. Roundcube supports MBOX file and can import EML files, etc. files to migrate emails from other email clients. Thus we can see here how the supported file formats of these emails clients are different from each other.
How to Import PST File in Roundcube
As we have just explained to our readers, there is no direct way to move PST file data to Roundcube due to file format incompatibility. Hence comes the need of file format conversion. Roundcube supports MBOX file format for importing email data, so it is better to convert PST to MBOX for Outlook data import.
The Next Big Question Is: How to Convert PST File to MBOX?
There are two ways in which you can convert Outlook data file. We are going to mention both the processes in this segment.
Best Way to Import PST File in Roundcube
When it comes to saving Outlook emails from PST to Roundcube supported MBOX format, PST Converter Tool is the right application to choose. Coming from the house of SysTools, a trusted name in the software industry, the utility performs file conversion in some quick and easy steps.
Step 1. Download the software now and install
Step 2. Launch the tool and add PST file in it
Step 3. After the emails are loaded, preview them. Select the emails that you need and click on Export Selected
Step 4. Click on MBOX and apply any advanced settings if needed
Step 5. Click on Export button to start the conversion, then save export report
Step 6. Open Roundcube and click on the More (…) icon, then choose the Import option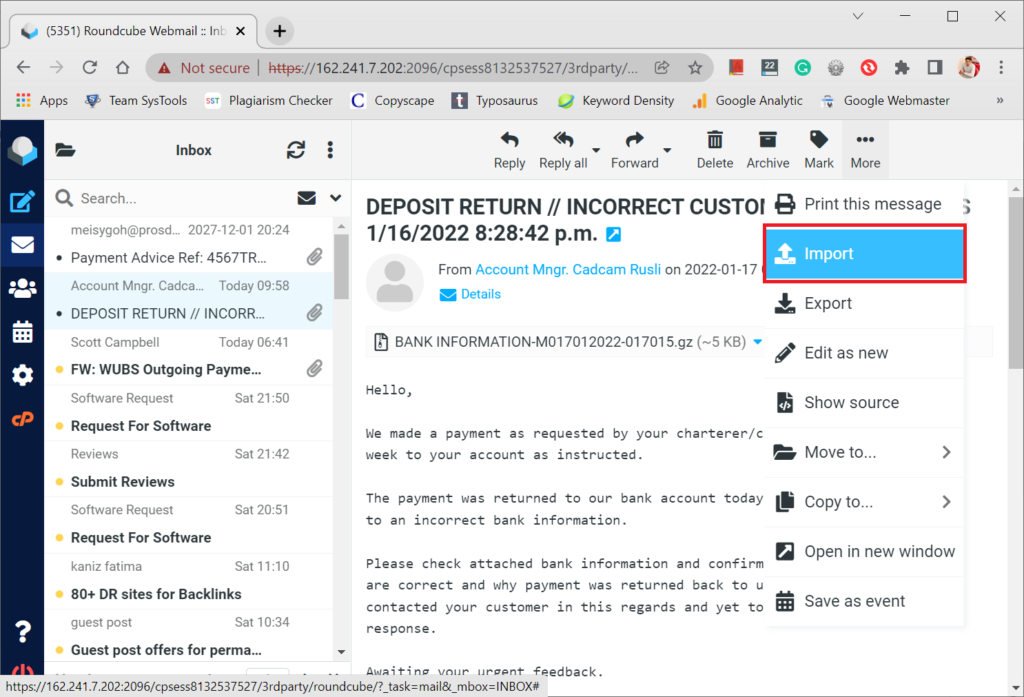 Step 7. Click on the Import button to upload the MBOX file in Roundcube.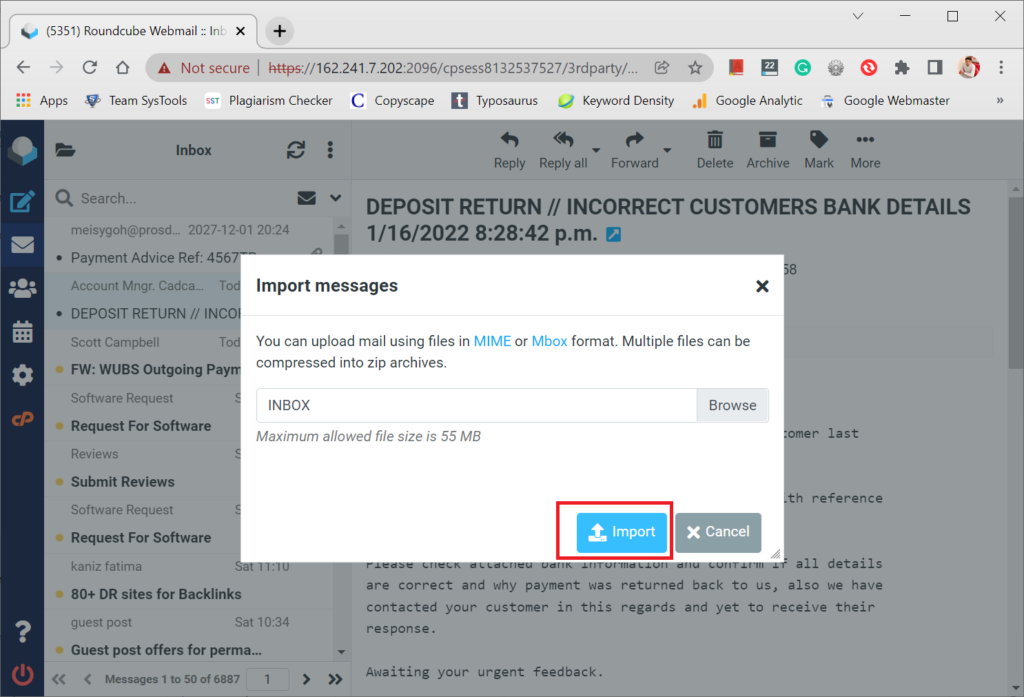 Roundcube will import the MBOX files in no time.
Manual Method to Import Outlook PST File to Roundcube
In case you have only a few emails to import in Roundcube email and are not willing to spend any money, then you may go with the manual options of file conversion. For that, you will need MS Outlook installation on your computer.
a. Open Outlook email on your system
b. Navigate to the folder that has your required emails. All email lists will be available on the main panel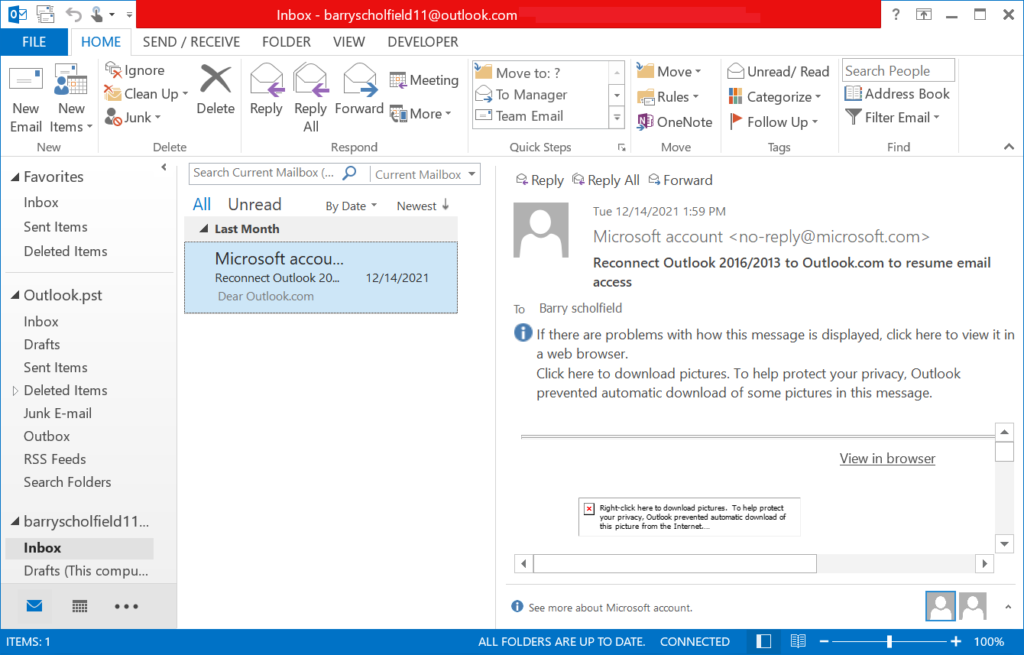 c. Select one email and drag and drop it on your desktop

d. The email will be saved as an MSG file
e. Use the More icon and choose the Import option to perform the importation in Roundcube.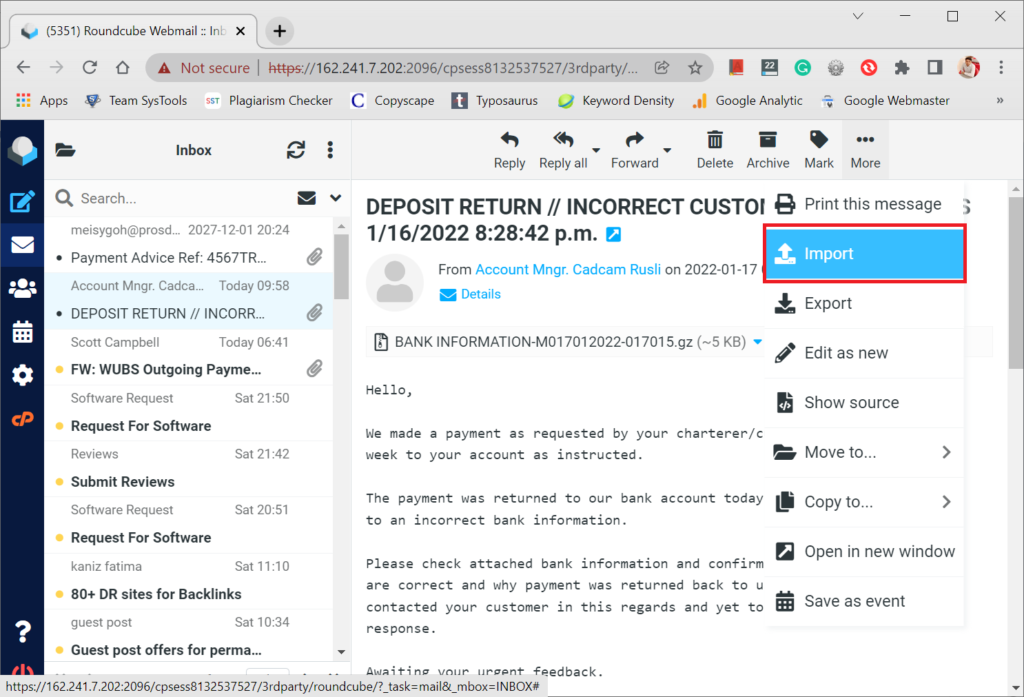 Why Choose the Software over Manual Method
There are many reasons who most people prefer to use this application to import PST files in Roundcube. Here are some of the reasons:
Works without Outlook Installation: The software does not need MS Outlook. It can directly convert the emails from PST file.
Process Bulk Emails at Once: With the help of the automated method,a large number of emails can be saved in MBOX format. Thus it saves the time and effort of the users. Users can export emails from PST file of any size and any version.
Additional Features: This software also offers features like naming convention and date range based export. These features are not possible to apply in manual method.
Author Suggestion
How to import PST files in Roundcube is a common query among users who want to open Outlook data files in Roundcube. This blog answered this question by describing two methods with stepwise guide. Users can follow any solution based on their need but it is the automated software that gives you the best result in a seamless way.