How to Migrate Google Workspace / Google Apps to Office 365?
Summary: In this article, we have included everything you need to know about migrating Google Apps to Office 365. There is a manual method lined up for the users along with a proposed automated alternative for the job. Read to know more.
Google Workspace (formerly known as G Suite & Google Apps) and Office 365 are a collection of productivity tools that allows users to work and collaborate in the cloud. Both these suites provide a wide range of applications to create presentations, documents, spreadsheets and manage emails. While G Suite is mostly preferred by small businesses, Office 365 dominates the enterprise environment. As a company grows, it transitions from Google Apps to Office 365. If you are also looking to undergo the same migration, do take a look at the given techniques for seamless data migration.
Approaches to Migrate Google Apps to Office 365 | Email Migration
There are three ways to migrate Google Apps data into Office 365. You can either opt for a manual method, look for an automated software, or outsource the job to a migration service provider. Here, we will discuss the two methods that you have control of, i.e., the manual method and the automated software.
Manual Method to Transfer Google Apps to Office 365 Domain
Step 1: Domain Verification
First, you need to verify domain used for the G Suite profile. It should be owned by you. Domain Validation is the first step in the setting up process of Office 365.
Step 2: Add Domain Users to Office 365 Account
Here, you need to add a single user or multiple users simultaneously. A license must be added for each user. Before migrating email, make sure that each user has an Office 365 account. In addition, to access their mailbox, each user must have a license.
Step 3: Create a list of all Gmail mailboxes to be migrated
To migrate Google Apps email to Office 365, generate a migration file that contains a list of all Gmail mailboxes. It is best to create the file using Microsoft Excel. If you don't want to migrate all mailboxes at once, you can migrate them one by one.
Then log into the G Suite admin console by entering your admin credentials
In the left pane, click the user icon, then select each individual user to identify each user's email ID.
Then, in the Office 365 admin center, log in to Users, then go to Active users. Make a note of the username column that contains the email address.
Now, to create a migration file in Excel, start Microsoft Excel on your system
Enter a name for the line, such as email address, username and password, then enter the relevant details, respectively.
Then, save the file in CSV format and close the Excel file.
Step 4: Connect Microsoft Office 365 to G Suite Gmail Account
First, open the Exchange Management Center (EAC) >> Recipients >> Migration >> Other .. >> Migration endpoints
Now, click New + to create a new migration endpoint
On the "Select the type of migration endpoint" page, select "IMAP" for migrating G Suite email to Office 365"
From the IMAP migration configuration, configure the IMAP server as imap.gmail.com, leave the default settings and click Next.
The migration service now uses some settings to verify and test the connection of the Gmail system to migrate Google Apps to Office 365. If the connection is valid, the "Enter general information" window opens.
On the "Enter general information" page, enter the name of the migration endpoint and ignore the remaining fields.
Finally, to create a migration endpoint to migrate Google Apps email to Office 365, click on the new button.
Step 5: Create batch migrations and start migrating G Suite mailboxes
Open Office 365 Management Center, then go to Management Center, then go to Exchange
In the Exchange Management Center, select "Recipients >> Migration" to transfer emails from Google Apps to Office 365
Then, click "New +", then migrate to Exchange Online >> IMAP migration >> click "Next".
Click "Browse" to select the migration file
Next, Office 365 validates the selected migration file. When the verification is complete, click Next. Here, the number of users is shown as the number of Gmail accounts to be transferred
On the Set Migration Endpoint page, select the migration endpoint created earlier, then click Next.
Now, on the "Configuring IMAP migration" page, accept all the defaults and click "Next" to migrate data from Google Apps to Office 365
Next, on the Mobile Configuration page, enter the name of the migration batch specified in the Migration Endpoint Name field, then click the Next button.
Now to send the migration report to others, click on the "Browse" button
Then select Auto Start Batch >> New. Next, the migration process starts showing the "Synchronization" status
Once the migration is complete, the status will be displayed as "Synchronized"
Step 6: Update the DNS records to migrate Google Apps to Office 365
The email system uses MX records, which are DNS records that indicate who sent the email. At the time of the migration process, MX records were credited to the Gmail system. After that, complete the migration from G Suite to Exchange Online, make sure to target your MX records to Office 365.
Therefore, by performing the above steps, you can seamlessly transfer data from G Suite to your Office 365 account.
Automated Alternative for Email Migration
It is clear that the manual method is time-consuming, unconventional with no real options to customize the process. So, an alternative is to use an automated tool for migrating Google Apps to Office 365. G Suite to Office 365 Migration Tool is a suggested software that can easily migrate emails, contacts, calendars and documents from Google Apps account. It also provides customized filters and advance options for user convenience such as:
Batch Migration of Multiple Domain Accounts
Filters for Selective transfer of Google Apps data
Delta Migration
Move data on priority basis
Category selection (emails, contacts, calendar, docs)
Live progress tracking
How-to Steps:
Step 1: Complete the pre-requisites.
Step 2: Select G Suite as Source and Office 365 as Destination.
Step 3: Choose the category of data that you wish to migrate from Google.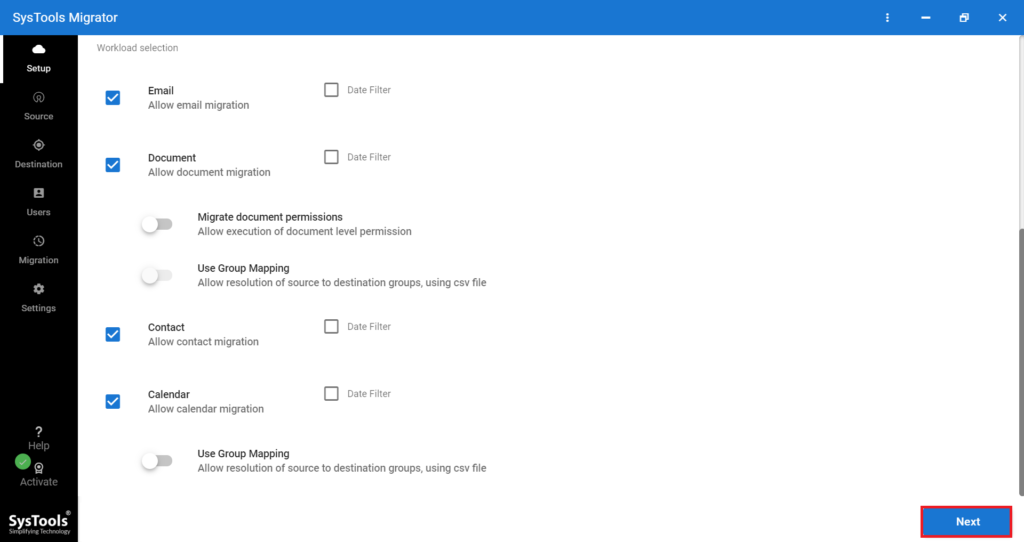 Step 4: Provide details and other info gained from pre-requisites for both Google Apps & Microsoft 365.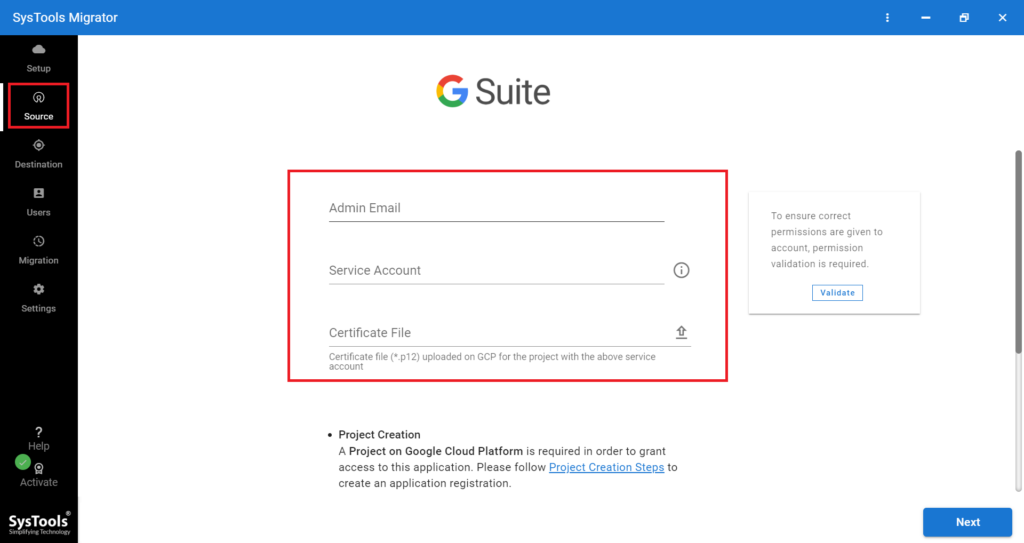 Step 5: Fetch and select the user accounts that will be processed later -on.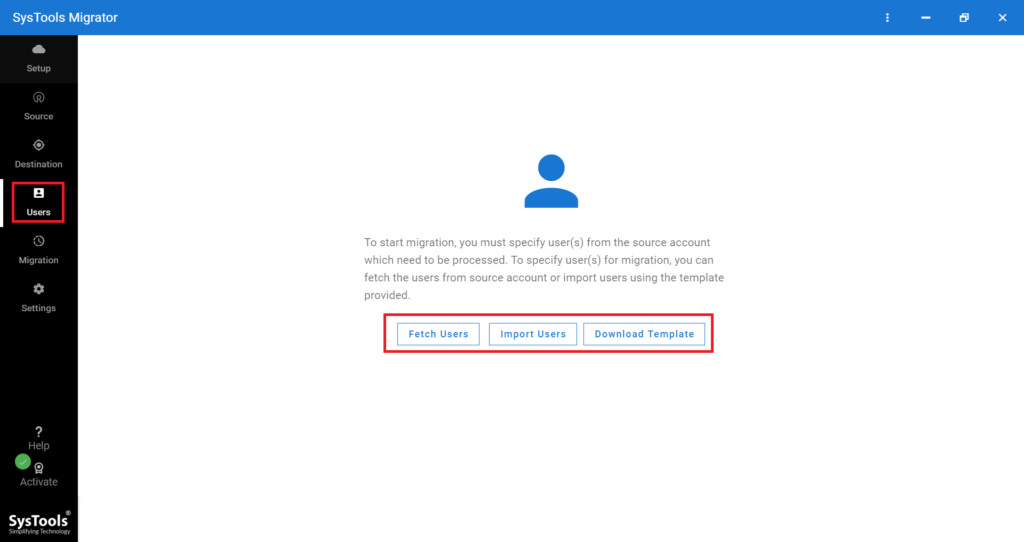 Step 6: Set priority and start the migration process.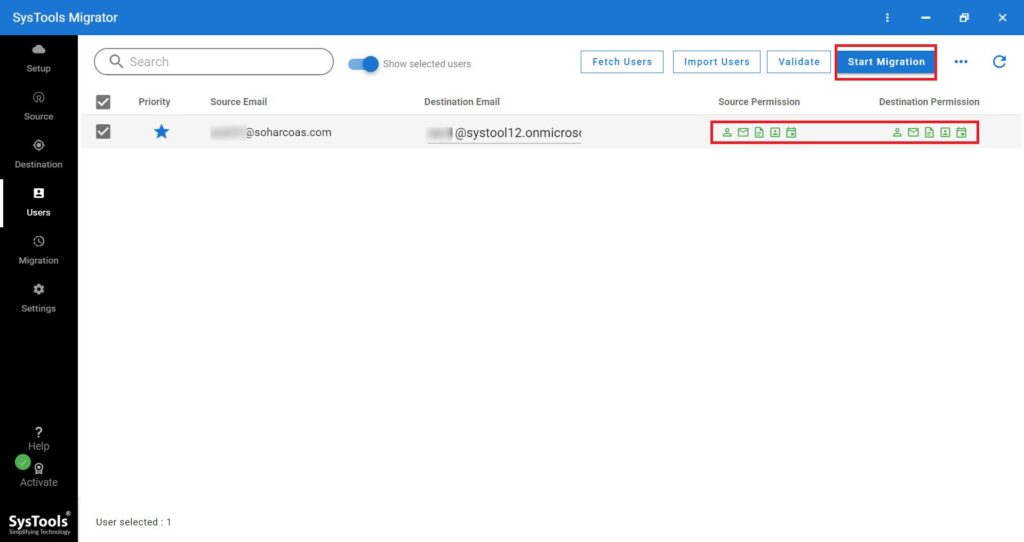 Conclusion
In the given article, we defined both the manual method and professional tool to migrate Google Apps to Office 365. The manual method demands a lot of time and effort but is healthy on your wallet. While the automated tool provides seamless migration of G Suite accounts data. So, select the method that suits your needs.