How to Move Thunderbird to New Computer – An Ultimate Guide
"Hello, I recently purchased a new 64-bit system that runs on the latest Windows 10 OS. Previously, I was working on a 32-bit PC that had Windows 7. Actually, my problem is I had Thunderbird as my email client in old computer and now I have switched to the new PC. So, I would like to know how to move Thunderbird to new computer Windows 10. Unfortunately, I am not a technically expert person and do not know how to do such data migration. Is there an easy way to transfer Thunderbird to new computer along with attachments? This will really save me from a lot of trouble. Thanks."
Moving Thunderbird data from one system to another Windows 10 system is not as straightforward as it may sound. Because many workarounds for the same are not working like creating a new profile for transferring old Thunderbird data using 'thunderbird-profilemanager' generally fails to work on Windows 10 system. So, in this article, we are going to provide perfect solutions to move Thunderbird to another computer. These methods are applicable to transfer Thunderbird data to new computer using any Windows OS.

In this write-up, we are going to cover:
How to Move Thunderbird to New Computer – Official Method
Since Windows 10 does not carry any run command, it makes the most preferred manual way of using Thunderbird profile manager useless in most scenarios. So we have come up with another way to transfer Thunderbird to new computer. Furthermore, this method is applicable on any Windows platform and does not require use of any Run command or cmd. Perform the manual workaround in two classified stages.
Stage 1: Copy Old Thunderbird Profile Data
The initial step to begin the process is to take out T-Bird data from the old system. You can do the same by using any of the following 3 ways:
Note: All these steps performed on Mozilla Thunderbird 60.3.3.
Way 1: Using Tools Feature
Open your Thunderbird profile on old machine
Click on Tools >> Account Settings
From Account Settings window, select Server Settings option. Now, in Local directory box, the path of Thunderbird profile is mentioned, just copy it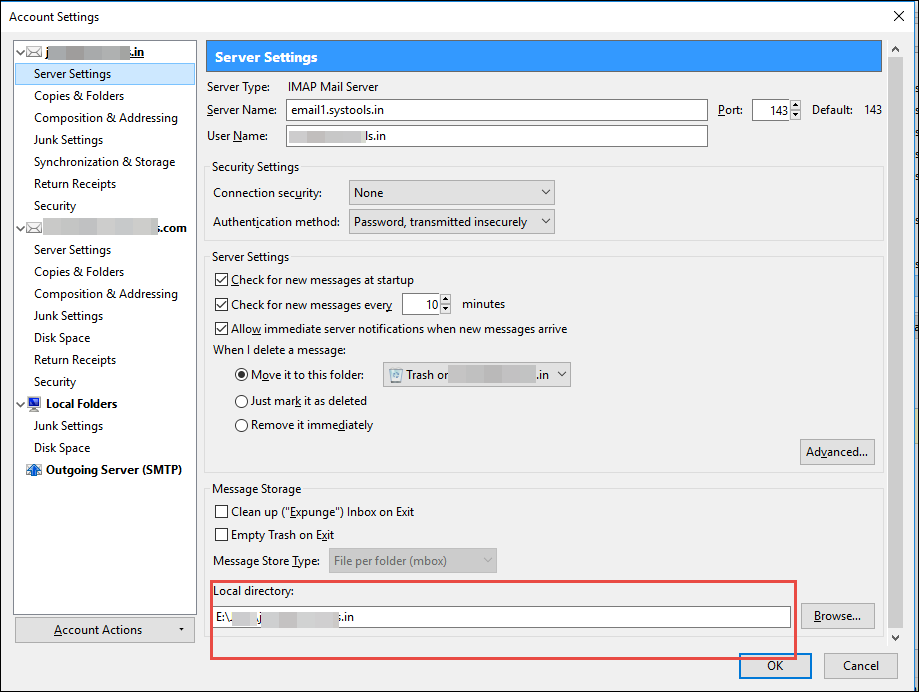 After that, paste this path in File Explorer search bar and directly open Thunderbird storage file
Copy the complete profile folder on a secondary storage device like flash drive.
Way 2: Use Thunderbird Menu Option
Go to Thu nderbird menu and select Tool option
After that, select Troubleshooting Information as shown in screenshot
From the next window, click on Open Folder corresponding to Profile Folder. It will directly open the Thunderbird profile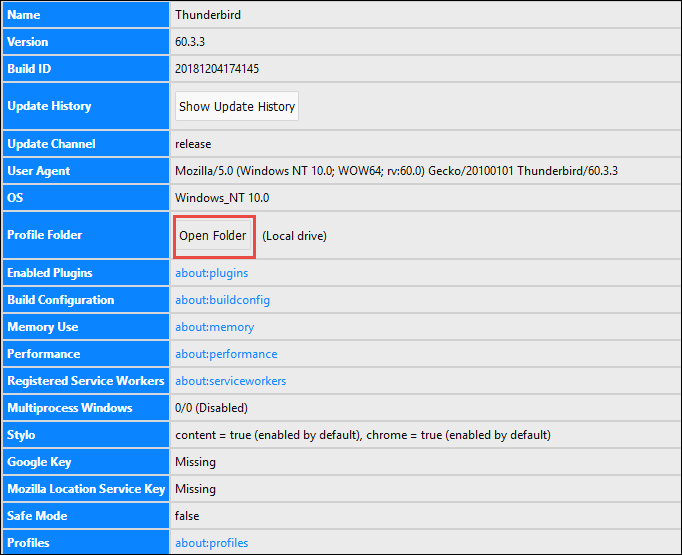 Now, copy the T-Bird folder and paste to secondary storage device
Way 3: Use Direct Profile Location
A user can directly paste the following path in Windows File Explorer search bar and get the T-Bird profile data instantly.
%APPDATA%\Thunderbird\profiles

Once you have the Thunderbird data file, it's time to transfer it into another Thunderbird on new PC. Either store it in some external storage media or upload in cloud storage in order to transfer Thunderbird data to new computer.
Stage 2: How to Move Thunderbird Data to New Computer Windows 10
Generally, there are two scenarios when we going to import data into new system. Both are discussed below:
Scenario 1: When Already A Profile Configured in Thunderbird
It is possible that in new PC, user has already created an account in Thunderbird. In such situation, one can go to default profile location of existing account. And, overwrite the new profile folder with the old one copied in previous stage. However by doing this you can lose the data of configured profile. So, it is advised to take backup of new profile, then perform overall procedure.
In order to locate the Thunderbird profile on new computer simply use one of the ways to find the profile folder as described in previous stage.
Scenario 2: When No Account Exist in T-Bird
There might be a chance that the Thunderbird application is recently installed on new computer and hasn't been configured yet. After that configure the Mozilla Thunderbird with your email account, hence creating a new profile. Now go to the local directory of this newly created profile and replace all its contents with your old computer profile data.
Take a look at another query:
"I just want to transfer my Thunderbird data to new computer (Win 7 to Win 10) so I can access my backup profile files again. But I cannot get the online instructions to work properly. There is no Run command on Windows 10. And even the Command prompt navigates only to my user files."
I have quite a large profile data and just transferring it took a lot of time. Is there any way to simply import these files in Thunderbird?"
Related: Import Gmail to Thunderbird
Automated Way to Move Thunderbird to New Computer
In a situation when there are huge email data in Thunderbird profile, the above method takes lots of time or sometimes terminates the task abruptly. To overcome this type of scenario, users can take the help of Thunderbird Import Wizard, a safe automated software. It is a utility that can upload single Thunderbird data file (MBOX) or complete folder and import directly into Thunderbird profile that installed in new computer. The software is compatible with Windows 10 or below versions.
Let's Check Out the Steps:-
Step 1: Start Thunderbird Importer and upload file either using Add File(s) or Add Folder option
Step 2: Once the scanning gets completed, use Filter option as per the need to migrate only specific range of email data
Step 3: After that, select the Profile in which you want to import the Thunderbird MBOX data
Step 4: Finally, click on Import to move Thunderbird data into new profile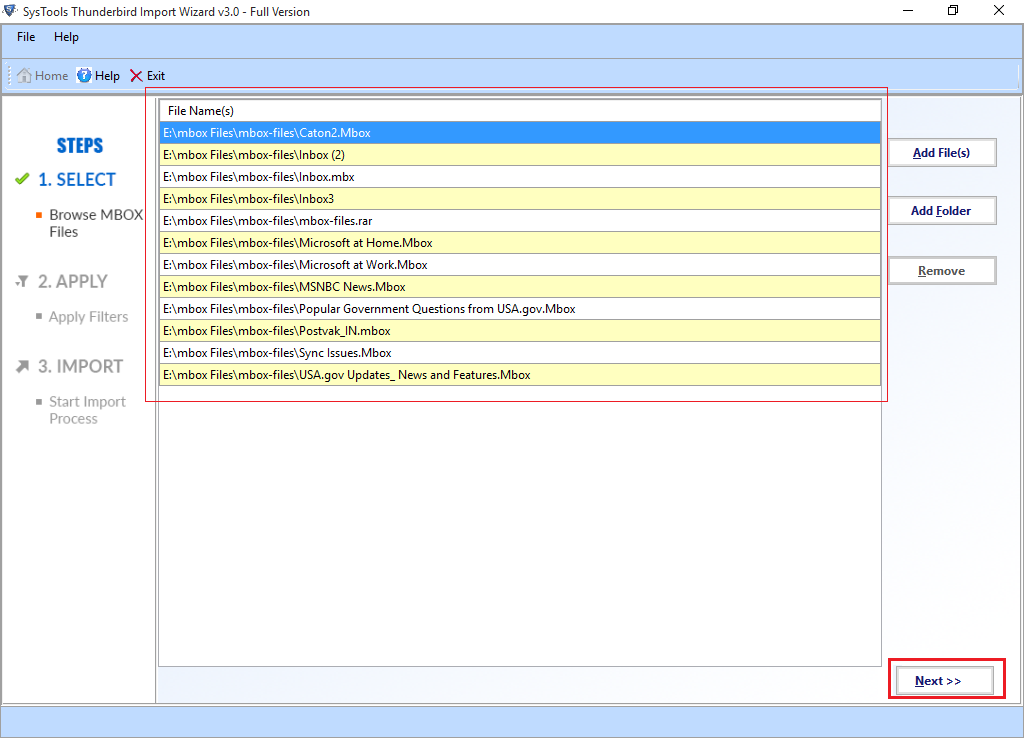 Conclusion
That's all for how to move Thunderbird to new computer. In this write-up, a user will get the two solutions to data of old Thunderbird profile into another T-Bird account on new PC. One can choose any of the above-discussed methods as per the requirement.