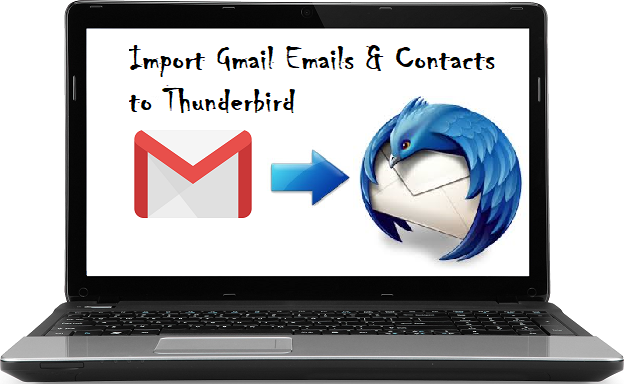 Users are in constant search of a more advanced platform that provides them with easy management and efficient storage of files. Ever since Gmail was introduced to the user, some issues like loss of data and activity terminated errors are encountered. This blog will cover the various methods used to import Gmail to Thunderbird. Also, answers to the most frequent questions are also discussed in the blog. Now let's read the first thing that pops up in user's mind.
Need to Import Gmail to Thunderbird
The most common reason why the user needs to export Gmail emails to Thunderbird is to save data in the hard disk as Gmail does not make backend file. The backup is usually taken to protect it from getting corrupted which leads to data loss and also to protect it from hackers. But the question that comes to our mind is that why Thunderbird? Why import Gmail emails in Thunderbird application only? Well, it is simple! Because it is a free and cross-platform utility. It is the most widely used free email application present in the mailing arena right now.
One more genuine reason can be that users may want to access their Gmail data taken out through Google Takeout service in Mozilla Thunderbird. Since the data file is in MBOX format, and Thunderbird supports MBOX format, this makes it a relatively easier process.
Now another question that comes to our attention is "How to import Gmail emails to Thunderbird" or "How to import Gmail address book into Thunderbird". This can be achieved by either using a free manual method or by going with a professional tool. In case you have a Google Takeout MBOX File, SysTools Thunderbird Import Wizard can do the trick for you and can import MBOX file into Thunderbird in no time. The results of using this product are very accurate when compared with the manual method. Also, it is an apt solution for a novice user to import Gmail to Thunderbird as a manual method can be difficult to implement. Otherwise, you can go with the free technique which is discussed below.

Manual Method to Import Gmail Folder to Thunderbird
There are two different methods available to export Gmail to Thunderbird and also to transfer Gmail contacts to Thunderbird. Both these methods will be discussed just one after the another to solve the user's queries. Moreover, the user will get an answer to "How to import Gmail emails to Thunderbird". Now, let's start with the first method:
Method to Import Emails from Gmail to Thunderbird
Open Gmail account >> click on Settings.
Select the Forwarding and POP / IMAP option.
Under IMAP section, click on Enable IMAP button and then Save Changes.
Download and Launch Mozilla Thunderbird application on your system.
Now click on username account in Thunderbird application.
In the profile, click on Settings.
Where you have to click on Add Mail Account from the Account Actions.
In mail account setup window, enter the username, email address and password in their respective fields.
To proceed further click on Continue button.
Choose the remote folder (IMAP) and click on Done button.
In order to change the directory, click on Browse option.
Lastly, click on the OK button to finish the first phase of import Gmail to Thunderbird mail process.
Method to Transfer Gmail Contacts to Thunderbird
Login to your Gmail account and click on Contacts.
In the Menu Bar, click on More and choose Export option.
Here, choose or select the contacts that you want to import into Mozilla Thunderbird application.
Or you have the option of choosing an entire list of contacts by selecting All option.
Click on All contacts from the new Export contacts window.
Now to import Gmail contacts to Thunderbird, click on Address Book option.
Open the Mozilla Thunderbird address window.
Here click on Tools followed by Import tab and go to the address book from the given option.
Click on Next button. In the new window, choose the Text File option >> Next Button.
Now attach the path directory where the Gmail contacts are stored. You can perform this step in the new explorer window.
Select All files and view them in .csv file format.
Now import the contact file where a user can specify some or select the entire contacts files. Then click on OK button.
The procedure to add Gmail contacts to Thunderbird is now successfully completed. Now user can open Gmail address book in Mozilla Thunderbird application.
Conclusion
Gmail is an email client application that does not need any further introduction. It is being used for a very long time among all type of users. But this application too is prone to errors and cause loss of data to the user. Among many solutions for this situation, the most recommended one is to import Gmail to Thunderbird, another very renowned email client application. This blog has discussed common reasons for opting to export Gmail mails to Thunderbird with some method to import Gmail folder to Thunderbird.