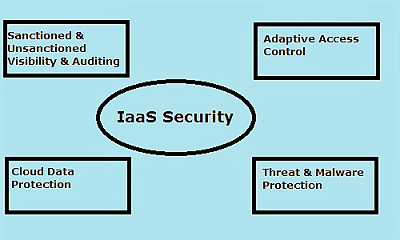 In today's world of digitization, organizations are shifting their work to IaaS platform because of its flexibility and speed. Since it is a cloud-based concept, therefore, there exist IaaS security risks. It is so because IaaS platform protection is a kind of shared responsibility.
Your service provider duty is to secure cloud in aspects like storage, global infrastructure, database, compute, etc.
You are having responsibility for cloud security in aspects of firewalls, operating systems, data, platforms, etc.
Being a customer, it is essential to learn the challenges associated with IaaS cloud computing. Therefore, here we came with this blog to aware readers with IaaS security risks. This will help an individual in choosing an appropriate solution for his or her business data protection.
Risks Related to Cloud IaaS Security

There exists three major security challenges in IaaS infrastructure i.e., Misconfiguration, Shadow-IT, and Vulnerabilities.
Try to Avoid Cloud Misconfigurations
CSPs render several options to configure security for its customers. A person feels as if these options are complicated and cumbersome, especially the one who is owning a startup company. The benefits of using online computing technology are that it provides an automated solution to the problem, leading to network untouched and continuous execution of the production server. To get out of this IaaS security risk, you can refer following instructions:
A rapid and non-intrusive method to overcome the problem is Discovery. Unlike the traditional IT infrastructure, the cloud does not depend on the Network scan, it allows accessing of IaaS APIs. No danger of false positives, no effect over the network transactions, etc., are included in this idea.
The process of managing operations on IaaS and traditional IT is totally different. IaaS is processed by APIs and code, and instead of testing security misconfigurations with entropy, it is better to setup configuration via APIs. Make use of present templates, which are programmed by the Security Labels Benchmarks like CIS security.
Enable Shadow IT in IaaS
Enterprises find it challenging to work with the concept of Shadow IT in business because things become more complicated. They find it difficult to ensure IaaS security from their end and hence, avoid its usage. Although the purpose of originating Shadow IT was only to provide work flexibility in an IT business, things went quite wrong. Several users from all around the world ask that is Shadow IT a problem? A simple answer to this question is 'Every coin has its two faces, and the same thing is with Shadow IT technology'.
Enterprises of any domain can take out best of Shadow IT by assuming cloud computing security as a serious concern. They can adopt GDPR compliance and other security standards to ensure the protection of business vital content. However, it is not at all possible for a simple IT admin to create a secure environment for Shadow IT. This requires a cloud security expert or security-as-a-service vendors like CloudCodes. As a suggestion, we only want to recommend one thing that 'if you ensure that security will be taken as serious concern from your end then only, use Shadow IT. Otherwise, users will find this concept as devil and spread negative rumors among other individuals.'
Vulnerabilities Detection System
This is the another IaaS security risk in which use of software and information, is not secure from vulnerabilities. Keep one thing in mind that CSPs aren't responsible for Workload security. This means that users need to adopt a vulnerability management system in their enterprise cloud environment. The program should be capable enough in becoming compatible with sudden changes in day-to-day operations. One needs to achieve an enhanced approach with fast recurring scans, more automation, and deep analysis.
The benefit of using such a system is that – even if vulnerabilities occur on a machine then, an instant action will take place. This action might be blocking access to the cloud's content for unauthorized users. After this, an instant alert message gets mailed to the admin in which entire attack details are provided. To ensure cloud security at a higher level, enterprises are suggested to adopt vulnerability detection software for their business.
Conclusion
No one knows what's gonna be with them the next morning! It is better to enforce preventive measures before the matter goes out from hand. Industry authorities are strongly recommended to take IaaS security as a serious concern. If they want to reduce the burden or stress of securing data on the IaaS platform then, they can appoint a CASB solution provider for their business. A team of experts will be working on business content (stored on the cloud), enabling organizational customers to grow their firm in a secure way.