Perform Image Analysis in Digital Forensic Investigation
With the increasing use of electronic gadgets has also led to an upsurge in the digital forensics investigation. One of the major reasons is that these gadgets are cost-effective, which renders amazing features. One of the most liable roles in the digital forensic investigation is image analysis in digital forensic that acting as a proof in lawful examinations.
Nowadays, the sharing of indecent pictures through email messages has become a part of digital crimes. Since pictures can be used as a major aspect of proof in managerial, civil, or criminal cases. The legal investigation of digital forensic image analysis has been drastically increased to find the origin of a photo to connect a person, gadget, or a place.
The primary difficulties confronting investigators is to decide the origin of a photo and what type of content in the pictures has been included. Therefore, in this blog, we will discuss what is forensic image analysis and how to do a forensic analysis of digital image.
What is Image Analysis in Digital Forensic?
Digital forensic image analysis is the process of analyzing useful data from digital pictures using advanced image analysis techniques. Sometimes attackers sent obscene images through emails. Therefore, during investigation, forensic experts face complex challenges in finding the evidence from emails, attachments, etc.
Image analysis can be done in many ways such as to examine the metadata or properties of an image, GPS location of an image, skin tone analysis, etc. So, let's discuss how to analyze images and how image analysis software works.
How to Analyze Images?
To perform a forensic analysis of digital image, investigators perform different techniques such as:
Analyze metadata of an Image
Geolocation image mapping forensics
Perform Skin tone analysis of an image
Perform color code analysis of an Image
Analyze metadata of an Image
The principal investigation procedure includes metadata, in which the information of the image is being considered. By finding specialized components in metadata during the image analysis of digital forensic, it helps investigators to examine emails. Digital cameras and scanners automatically add metadata into the images they create. Digital photograph processing applications like Adobe Photoshop allow users to add or edit metadata to the image.
Geolocation Image Mapping Forensics
Geo location Image Mapping helps for image analysis in digital forensic. It can be used to discover the topographical area of the picture from where it was taken. Typically, while capturing a picture, the gadget will store some related data inside the picture like "Name, Dimensions, Date, Item type, and so forth". Whenever the user takes a picture with GPS enabled gadgets, it will store the location details which contain "Latitude, Longitude, and Altitude".
Skin Tone Analysis of an Image
This feature finds the source of suspected pictures by analyzing the skin tone shade of the people from the picture. This technique of digital forensic image analysis helps to identity the skin tone of an image. This helps to know whether the content relates to pornography or child pornography. It searches through numerous pictures and find those which consist of obscene image content.
Color Code of an Image
The color code of an image is represented by the Hex Code of an image whose components include usually RGB values. RGB values define the intensity of Red, Blue, and Green color. On account of RGB, the primary worth pair implies red, the second to green and the third to blue, with decimal values extending from 0 to 255, or in hexadecimal 0 to FF (#RRGGBB).
An Efficient Image Analysis Digital Forensics Software
The investigating officers can analyze limited number of images manually. However, to analyze several images it will consume a lot of time. Moreover, the manual image analysis is not a feasible approach, when there are bulk images to examine.
Thus, to examine images in bulk, it is suggested to use third-party software. At this point, the Email Forensic Software MailXaminer is the best solution that enables forensic examination of images. It is used by countless investigators for image analysis in digital forensic. This tool provides the features for forensic image analysis, such as skin tone analysis, GPS location, metadata analysis of an image and much more.
Step-by-Step Process to Perform Image Analysis Using Tool
You can add individual email files as well as bulk files by uploading CSV. Thus, to add an email file, just click on Add Evidence and select your email file. This software support multiple email file formats such as OST, PST, EML, MSG, MBOX, etc.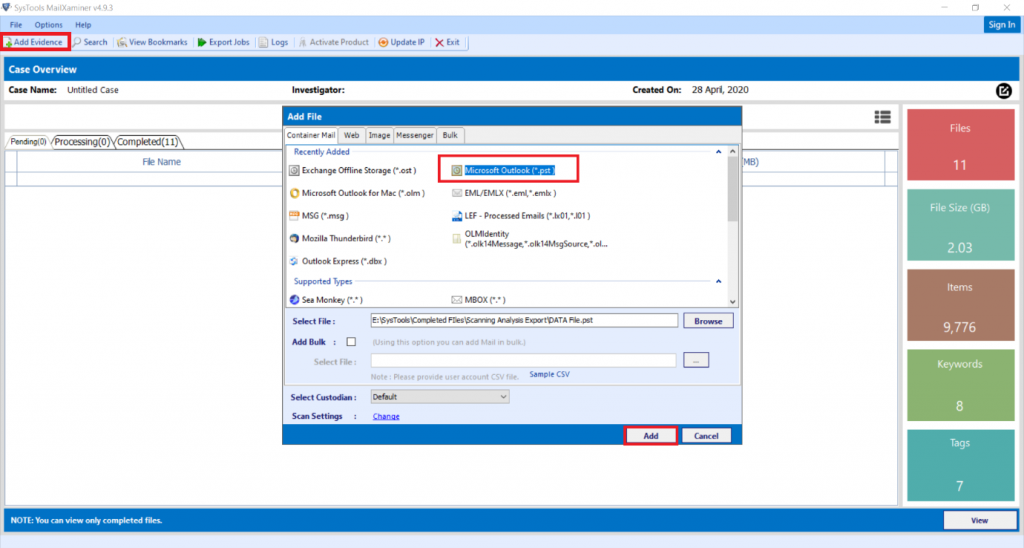 After adding the evidence file, go to the Media tab and click on the Images option from the left corner of the screen. You can view all the images attached within the emails in the Media tab. Moreover, the software also allows to view images in Thumbnail view, List view, and Gallery view.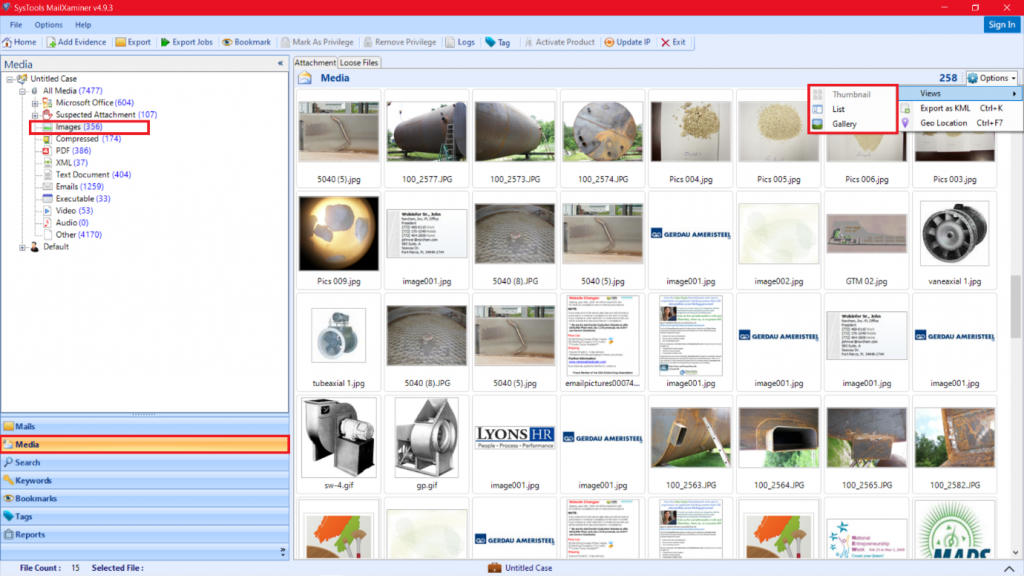 For the better image analysis in digital forensics, investigating officers can view the metadata of an individual image just by right-clicking the image and choose preview button.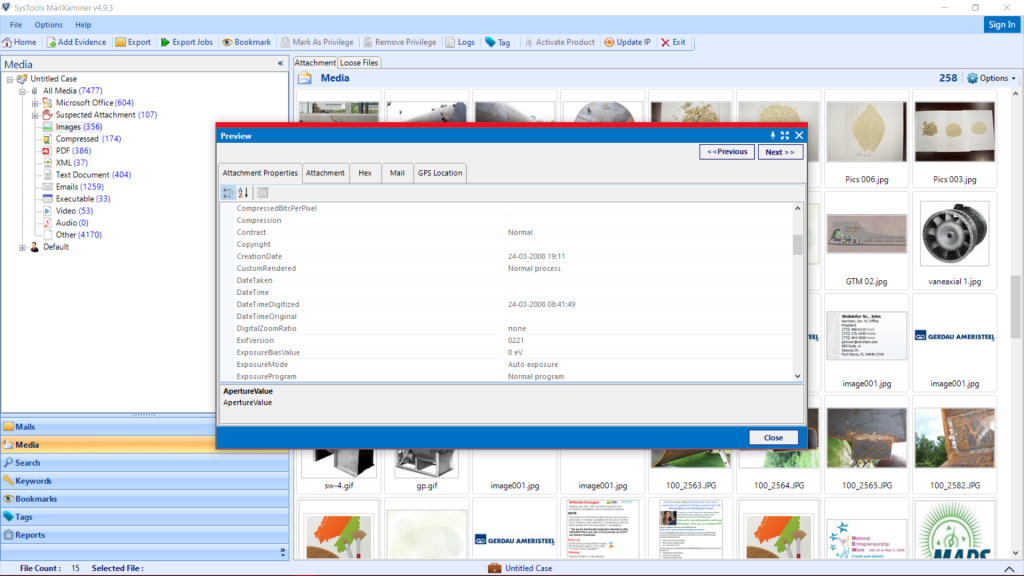 You can view the color code or hex code of an image while implementing the image analysis.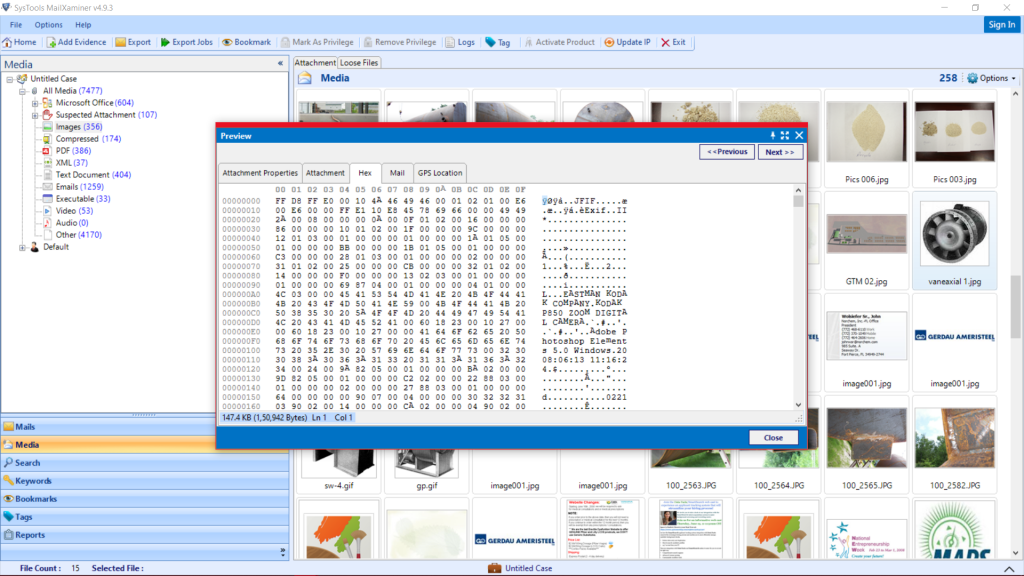 To view the GPS location of an image, select the GPS Location tab and it will show the location where the image was captured.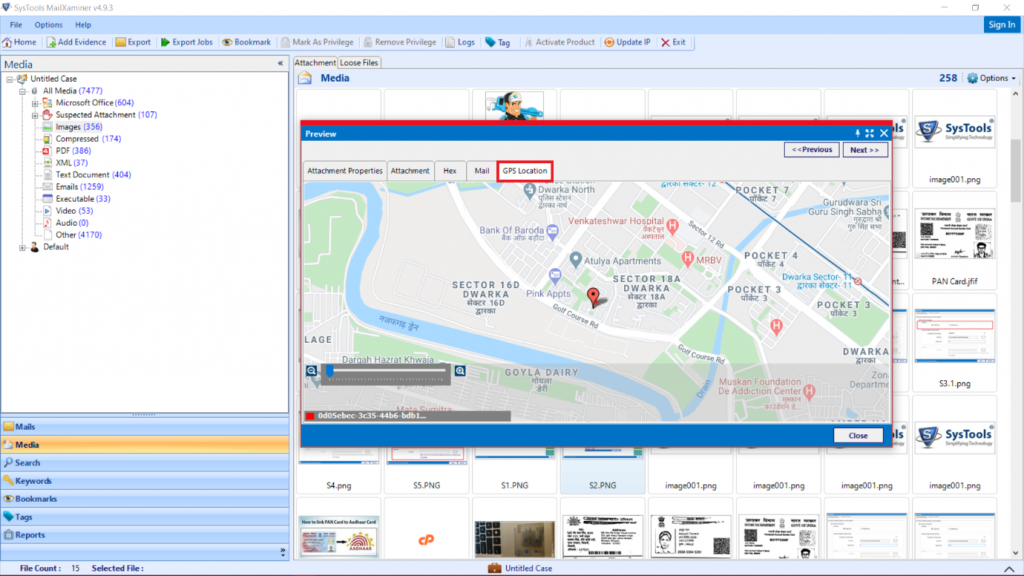 The Closing Note
So now, it is no more a complicated task to analyze images for forensic investigation. Though one can use manual tactics to find the image's metadata, however it will consume a lot of time. Using the efficient digital image forensics software such as MailXaminer, one can effortlessly examine the suspected photos. Moreover, the software provides advanced options to perform image analysis in digital forensic like GPS location analysis, color code analysis, skin tone analysis, etc.