How to Import CSV Contacts to AOL? Complete Guide
Ivanna Carlos
| Modified: February 16th, 2023 ~ 3 Minutes Reading
Are you looking for the process to import CSV contacts to AOL? If yes, then this is definitely the right blog you are looking for. In this article, we will explain the complete process of transferring a CSV file to AOL account. So, let's start the process.
"Hey, I'm trying to transfer all my vCard files to AOL Mail, but when I tried to do that, I found out that AOL only imports contact files in CSV formats. Can someone help me with vCard csv to vcard.csv and then transfer the csv file to AOL? Any help is highly appreciated."
CSV stands for Comma Separated Values and is a computer file format. CSV files can easily be opened with a spreadsheet application such as Microsoft Excel. However, many users want to import contacts file to AOL profiles. Because this files can be opened easily by various applications. Here we can easily manage email data from user mailbox.
On the Other hand, AOL stands for America Online and is designed as AOL. AOL mail is a free web-based email service provided by Verizon Communications. It is also known as AIM which stands for AOL Instant Messenger.
Need to Import CSV Contacts to AOL Mail
The AOL mail will import contacts only in CSV, TEXT, and LDIF format. The need to import contacts into CSV arises from here. Apart from this, AOL provides many features which are not supported by Outlook. Some of them are mentioned below:
AOL provides the feature of virus protection
Shows the number of people who are online
AOL supports the feature to check to spell
Cleans spam emails automatically
Alternative Solution to Transfer CSV File to AOL Account
It is the most Recommended Software for technical and non technical users. It allows you to export multiple users from Excel CSV to AOL Mail account. With this application you can easily convert Excel file to HTML, MSG, TXT and other formats along with all its related contact details.  This app has all the advanced features like manual mapping, advanced conversion mode, interactive user interface etc.
The application shows a preview of the selected Excel CSV file before starting the file conversion. The preview will show the file contents in the original file. The application is available for Windows and Mac computers. Get a free trial here to test the software's features.
Few Easy Steps to Import CSV Contacts to AOL 
Now, you have to import the CSV file into AOL. You can follow the below-mentioned steps to proceed with this method.
Open your "AOL" account with credentials
Navigate to the "Contacts" option
Click on "More"
Next Click on the Import Option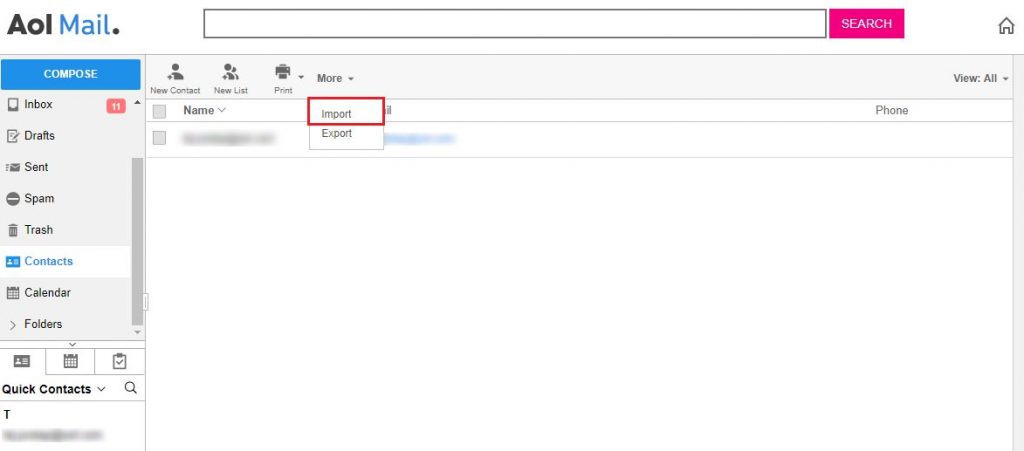 Now, your contacts whether it is from CSV will be now imported into AOL.
Conclusion
The above article discusses one of the best and most reliable solutions on the market to import CSV contacts to AOL. So that you can test the working and functionality of the software, the company offers a free version of the application that only moves a few emails from an Excel CSV file. For more information and assistance, please contact us.