"Hey, I am trying to transfer all my vCard files to AOL mail, but when I have tried to do so, got to know that AOL only imports contacts file into CSV formats. Can anybody please provide me with the solution to change vCard into CSV and then import CSV contacts to AOL. Any help is highly appreciated."
"I have started using AOL mail application for quite some time. Before that, I was using Outlook to store my mail and contacts. Now, I want to transfer all my Outlook contacts to AOL. Can anybody provide me the solution?"

If you are trying to import all your Outlook contacts file or vCard to AOL, the best way is to convert your Outlook or VCF contacts files into CSV, then import CSV contacts to AOL.
Before proceeding with the blog, let's take a look at the AOL mail application.
AOL stands for America Online and is designed as Aol. The AOL mail is a free web-based email service provided by Verizon Communications. It is also known as AIM which stands for AOL Instant Messenger.
Helpful Tip: Use SysTools vCard Export to quickly export Outlook contacts to CSV file and import into AOL email application to user contact details
Need to Import CSV file to AOL contacts
The AOL mail will import contacts only in CSV, TEXT and LDIF format. The need to import contacts into CSV arises from here. Apart from this, AOL provides many features which is not supported by Outlook. Some of them are mentioned below :
AOL provides the feature of virus protection
Shows number of people who are online
AOL supports the feature to check spelling
Cleans spam emails automatically
Manual Method to Import CSV Contacts to AOL
There are two cases when you import CSV file to AOL contacts
First, from vCard contact file
Second, importing CSV from Outlook
Case 1. The case one arises when you have only vCard file and when you want to import it into AOL. As we have discussed that AOL only import contacts into CSV formats. Convert your vCard into CSV, after that import CSV contacts to AOL. Follow the below mentioned steps:
Press "Window + S" and search "Contacts" on your Windows
A "Contact Window" will appear
Import your "vCard into WAB" using the Import option
From there you can export this "VCF file into CSV"
Case 2. Importing CSV from Outlook
This case arises when you have to transfer your address book from Outlook to America Online mail. Proceed with the following steps to convert your Outlook PST contacts to CSV, then import CSV contacts to AOL.
To convert the Outlook contacts into CSV
Open your "Outlook" profile
Click on the "File" menu from the navigation wizard
Choose "Import and Export" Option
Choose "Export to a file" from the dialog box
Select "Comma Separated Values" from the drop down list
Click on "Next" and then "Finish"
Import CSV file to AOL contacts
Your contacts have been imported from vCard as well as Outlook into CSV. Now, you have to import CSV file into AOL. You can follow the below mentioned steps to proceed with the method to import CSV contacts to AOL.
Open your "AOL" account with credentials
Navigate to the "Contacts" option
Click on "More"
Then import "CSV"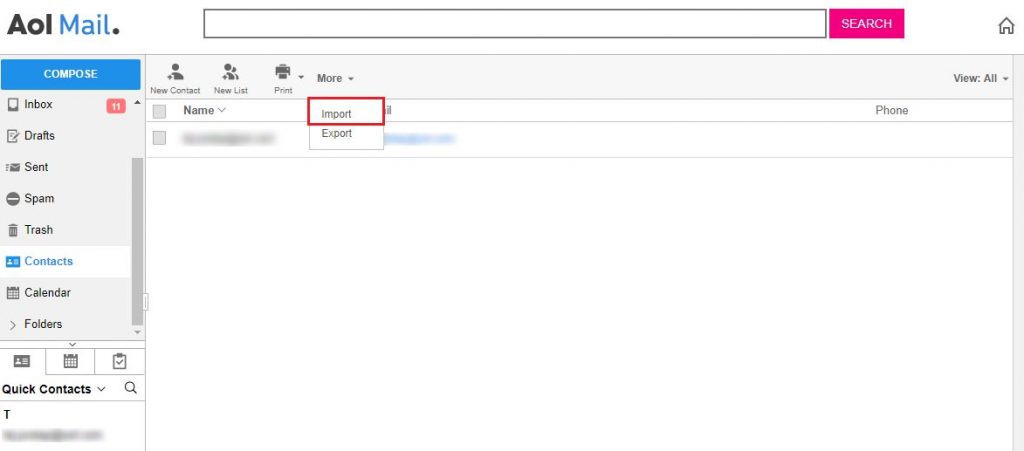 Now, your contacts whether it is from vCard or Outlook will be now imported into AOL.
Alternative Solution to Import CSV Contacts to AOL
If you are trying to import Outlook contacts to your AOL mail client, first you need to convert it into CSV format. For which the manual method is quite tedious and time taking. Instead of that, use an automated solution like SysTools vCard Export Tool. The tool will convert all the Outlook PST contacts into CSV format and also exports Outlook contacts to vCard.
Conclusion
The above blog discussed the various method to import CSV contacts to AOL. There are manual as well as the automated solution. Users can go for any of the technique but it is highly recommended to use an automated solution to convert your PST to CSV.