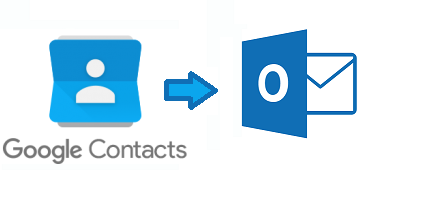 The usage and demand of Microsoft Outlook is increasing day by day. Despite the fact that Google Apps offers many web applications and many advanced features, people tend to shift towards Outlook. While Shifting to Outlook it is necessary to move the documents, contacts, calendars, etc. to Outlook. In this article, we will be discussing the commonly available manual and expert methods to migrate Google Apps contacts to Outlook.
User Query 1: I want to move all my contacts stored inside my Google Apps account to Outlook. I heard that, in order to import files to Outlook, they have to be converted to PST file format. How can I convert my Google Apps Contacts to PST file format easily? Any suggestions are accepted.
User Query 2: I work for a company which uses Google Suite services. Now we are planning to Switch to O365. Is there any way to move domain contacts to Outlook. We cant afford any kind of data loss as these are very important and confidential for us. Can anyone suggest any easy method for Google Apps backup Contacts keeping all this in consideration.
Manual Methods to Import Google Apps Contacts to Outlook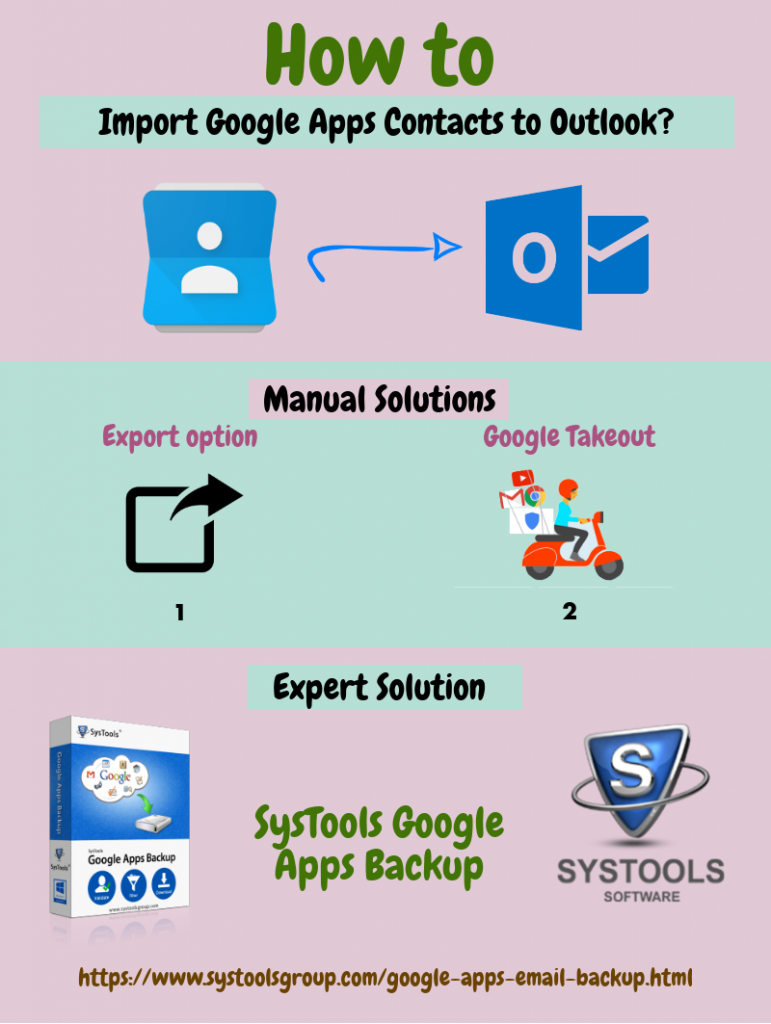 1. Use Export Option to Move Contacts from Google Apps
To migrate contacts from Google Suite, you can follow the steps given below:
Log in to the Google Apps account & Open Google Contacts
Select the contacts which are to be exported using the check boxes provided
Click on More >> Export
Now select the Outlook CSV / vCard format from the export options
contacts.csv / contacts.vcf will be automatically downloaded to the local folder
Import this CSV/ VCF file to Microsoft Outlook
2. Use Google Takeout for Google Apps Download Contacts to Outlook
Google Takeaway is a reliable utility to create archive of Google Apps data. In this case, in order to download the contacts using Google Takeout, one can follow the given steps:
Sign in to Google Apps account
Open My Account >> Personal Info & Privacy >> Control your Content
Click on Create Archive to proceed.
Select the data to be included in the archive. Here select the contacts only
Select the file format (vCard, CSV or HTML) in which contacts have to be exported.
Choose the zip file format
Click on Create Archive & the files will be available for download after archiving
Download the zip files and extract it to access the files in the specified format
Import the Files to Outlook using it's inbuilt methods
Limitations of Using Manual Methods:
Being a simple text file, CSV will not export the images and attachments associated with the contacts
vCard files will be opening one by one which will be hectic in case of large number of contacts
Time consuming in the case of large data
Expert Solution to Export Google Apps Contacts to Outlook
Even though the manual methods mentioned above are efficient up to certain extend, they causes several problems as well. Due to the drawbacks mentioned above, manual solutions can be a bit confusing and troublesome. Here we can make use of the SysTools Google Apps Backup Tool which is an effective solution for the google apps download contacts. This expert tool is much more useful than the free solutions mentioned above. Few important features of the tool are:
Download & Save Google Apps contacts in Outlook PST file format
2 ways to Take Archive: Single User Account & Domain User Backup
Requires Valid Username & Password to import Google Apps Contacts to Outlook
Imposes No File Size Limitation: Tested with 2 TB data
Download Contacts from Google Apps to local folders in specified file format
Requires Smooth Internet Connection for the Quick Archive of Google Contacts
Summary
While choosing between manual and expert utilities, it is always better to go for the expert tool. Because expert utilities are developed to overcome the difficulties raised by manual solutions. If you are a user who cares about the security of your data as well as your account, you can opt the Google Apps Backup Software. It will help you to download and save all the items of your G Suite account including contacts in a specified format.