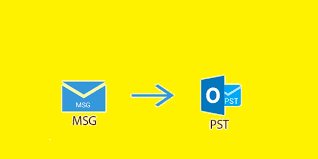 If you are looking for a solution to import multiple MSG files into Outlook in bulk without any loss of data, then you are on the right page. In this blog, we will discuss the quick methods by which the user can import MSG files into Outlook 2016 effortlessly and efficiently.
MSG file format contains single message information like date, sender's or recipient's information, subject and message body including formatting and hyperlinks. Users can simply create MSG files by just drag and drop. But, while importing multiple MSG files into Outlook at once, it becomes difficult and time consuming. Multiple number of MSG files can lead to data loss and difficult to manage. In the section below, we have discussed the prompt method to perform this task in a proficient manner.
Quick Solution to Open MSG File in Outlook
In order to import MSG to Outlook, you can try SysTools MSG to PST Converter tool. This will allow you to import MSG files into Microsoft Outlook without changing the original format of email messages. It provides the guarantee that there will be no loss of data and that the complete integrity of the data will be well maintained. The software allows you to convert MSG file to PST format by which you can easily transfer MSG files in Outlook 2019, 2016, 2013, 2010, 2007 and other below versions.
Steps to Import MSG files into Outlook 2016
Step 1. Download MSG to PST Converter Tool and launch in your system.

Step 2. From the Explorer Window, users can easily select the files. Once, the file is uploaded the user can preview it on the "Normal Mail View" tab with different options like Hexadecimal code, Properties View, etc.
Step 3. You can also convert MSG files to PST file in bulk. After selecting the emails or the folder, right click on it & select Export. You can select the folders alternatively as well.
Step 4. Then, Export Options will be displayed on the screen. You can split the PST files also and lastly, select the location to save the file by clicking on Browse.
Step 5. After that, click on Export. The Progress will be displayed to you. Finally, save the Export Report.
Step 6. To import MSG files into Outlook, open Outlook first and then, click on File Menu.
Lastly, Open the Outlook Data File >> Select the File to view.
Features of MSG to Outlook PST Converter
This software provides unique functionalities which makes it peculiar from other tools that are available in the market. This application is the first choice for the experts and is highly recommended for the import process.
Efficiently convert multiple MSG files to PST file. It gives you the option to split the resulting PST into smaller parts as well.
Supports to import MSG files into Outlook 2016 and other editions like 2019, 2013, 2010, 2007, etc.
Easy-to-use interface allows non-technical users to use it easily.
It has no 2 GB file size restriction. It generates a UNICODE PST file.
Can be easily installed in the latest versions of Windows. Outlook installation is not required to convert MSG to PST file format.
Option to automatically detect the files and therefore speed up the process.
The aforesaid method comes with a demo version which will in return provide you with the better understanding of the tool. It is convenient for the non technical users as well. Software will maintain the folder hierarchy unharmed and whole even after the conversion process.
Manual Method to Import MSG files into Outlook 2016
There are 2 manual methods in which you can import and open MSG file in Outlook. Follow the below mentioned steps:
Process 1: Drag and Drop
Step 1. Create a new folder within the Inbox folders or as per your necessity in Microsoft Outlook.
Step 2. Rename the newly formed folder. Now, drag all the MSG files one by one, which was saved previously in the local drive to the recently made folder.
Step 3. After that, when all the MSG files are imported, users can open and read the MSG emails easily.
Step 4. Users can easily view the MSG emails with all the attributes like contents, attachments, etc.
Process 2: Copy and Paste
Step 1. Go to the location where you have saved your MSG files and copy all the files.
Step 2. Open Microsoft Outlook and simply paste the copied files in any desired folder of Outlook.
Limitations of Manual Ways to Import MSG files into Outlook 2016
The manual ways are time consuming and tricky. It will not help you to import bulk of MSG files in Microsoft Outlook. The drag-and-drop method works for a single MSG file at a time and therefore takes a lot of time. This approach is only feasible when the number of MSG emails to be imported into the Outlook application is limited. The manual method only works when Outlook is installed on the system. This could lead to inconsistency and data loss if e-mails with the same topics exist.
Concluding Words
In the above article, we have discussed the manual and third party solutions to import MSG files into Outlook 2016. If you have multiple MSG files then, choosing the third-party tool is a smart decision because it is fast and reliable and let you open MSG file in Outlook without any data loss.