How to Import VCF File to Horde Webmail? – Get Hassle-Free Solution
Summary: Are you looking for a way to import VCF file to horde webmail? But you are confused, because till now you haven't found a solution for this, now don't worry, this post will help you to clear all your doubts. Read full blog and learn step by step process to transfer VCF contacts to Horde.
Before you start the process of transferring VCF to your Horde account, let us first learn about Horde web application.
What is Horde Webmail
Horde Webmail Client or Internet Messaging Program is a free browser-based messaging package. The Horde app allows users to view, send and organize email messages and share contacts, calendars, files, tasks, notes and bookmarks. It is widely used by web hosting and telecommunication companies to provide users with complete email management tools.
Before We go ahead with the process, let us find out what kind of problems the users are facing.
"I am looking for such software. Which helps me to transfer my important contacts to Horde webmail. Can you recommend to me one of the best software which can do this task easily.
Hey, I'm trying to transfer all VCF contact files to my Horde account, but when I try to transfer, I find that there is no direct way to perform this task properly. Can anyone tell me a solution to move VCF into the Horde webmail without losing important information? Any help is welcome. "
Suggested Software to Import VCF File to Horde Webmail
There is no direct solution to transfer VCF contacts files in Horde webmail so to do this task you have to first convert all VCF contact files to csv, after that you have to import the csv files to Horde webmail. You can use SysTools VCF to CSV Converter Tool to easily convert multiple VCF to CSV format. This amazing app is available for both professional and on-professional users. The Utility that supports VCF files from all platforms such as Microsoft Outlook, Mozilla Thunderbird and Gmail In addition, all vCard versions. Supports vCard 2.1, 3.0, and 4.0.
Try It Now For Free Trial
Simply download the free version of Software that can export up to 10 contacts. You can see the actual working process with the help of this software. The free version performs the same function as the full version, but only imports some contacts. You can also buy the full version of this application if you want to import all the contacts into Horde at once
How to Import VCF File to Horde Webmail – Working Steps
Step 1: Convert VCF to CSV Format
First, you have to Run the Software in your system
Click on the Add File button
Locate and choose the folder to be added to the software. Hit on the OK button.
Select the Radio button to convert to the "CSV" option. then click on browse button
Go to File and select it. Then click the ok button in the software user interface
After the completion of the export process, Now, click on the OK button.
Step 2: Import CSV File to Horde Webmail
Login to your Webmail account
Select "Contacts" in the upper right
Click the "Import / Export" button.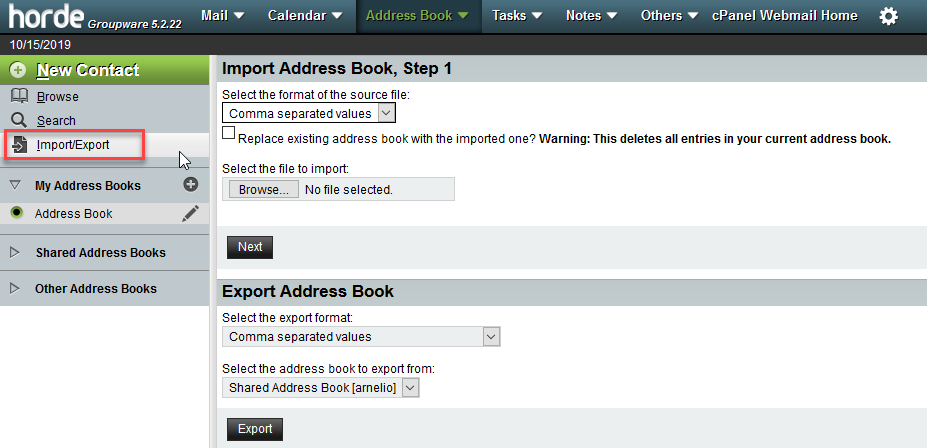 Click Comma Separated Values ​​from the pull-down menu. Choose the box labeled "If you are importing CSV file data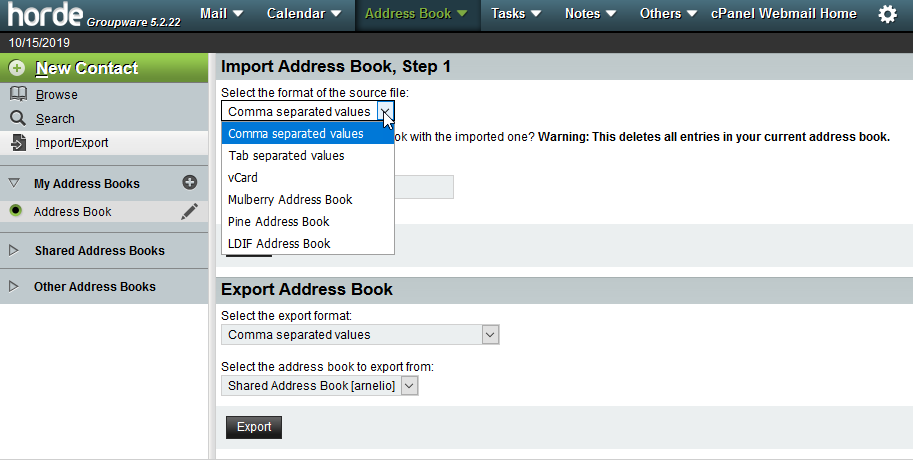 Choose the format of the file you are importing.

Click Select File> Import
Conclusion
In this blog, we have explained about migrating VCF File to Horde Webmail. With the help of vCard Viewer Pro users can easily Import VCF file to Horde Webmail Without losing any important data. It is a tool that is 100% safe and guaranteed.