Know-How to Merge Different PDF Files in One PDF File
Shini Mohan
| Modified: June 16th, 2023 ~ 4 Minutes Reading
Summary: If you are looking for a quick solution to merge different PDF files in one PDF file then you are landed in the correct place. Here, we will provide you the reliable solutions that will surely help you to merge your PDF files in one PDF file.
As we all know, PDF or Portable Document Format is the most used file format to deliver the data. PDF files do not require any particular software application, hardware, and operating system while sharing and opening it. That's why many users prefer PDF file as a reliable way for the communication.
Despite the advantages, there are times when users find it difficult to manage a large number of PDFs. Managing multiple PDF files can become a tedious task as the chances of files misplaced or lost due to accidental deletion is more. In such situations, merging them into one PDF file is the best way to handle. So that users can easily utilize, manage, and the sharing of files become easy and effortless.
Why User Need to Merge Different PDF files in one PDF File
There are multiple reasons that give the several benefits to merge PDF files in one PDF such as:
1. To avoid the loss or deletion of PDF files.
2. Save the time consumed to open multiple PDF files.
3. Sharing of the file becomes easy.
4. Handle all data in a single place.
5. Fast data accessing and easy file handling.
6. Print different documents at once.
Also Read: Know how to Split PDF Pages Offline?
How to Merge Different PDF Files Using Adobe Acrobat Pro
1. Open Adobe Acrobat Pro to merge PDFs and click the Tools tab and select the "Combine files" option.
2. Click on "Add Files" to insert the different PDF files you want to merge.
3. After selecting all the desired PDFs, click on the "Combine Files" button.
4. Now save the merged PDF file and then click on the "Save" button.
Note: To merge files, you need to purchase the full version of Adobe Acrobat Pro as the free version does not provide an option to merge files.
Merge Different PDF Files in One PDF File Using Professional Software
The most simple and reliable way to merge different PDF files in one PDF file is using the SysTools PDF Merger Software. This tool allows you to easily merge files without altering the data of the original documents.
Also, the tool supports password-protected PDF files and offers two options to merge files- Create New PDF and Merge in Existing PDF. With the Create New PDF option user can create a new PDF file while the "Merge in Existing PDF" option allows the user to choose any existing PDF so that all output PDF files will be merged with it.
For Windows
For Mac
Here are the steps to merge different PDF files into one file
Step 1. Download and install the PDF Merger software.
Step 2. Next, click either Add File(s) or Add Folder button to select PDF files.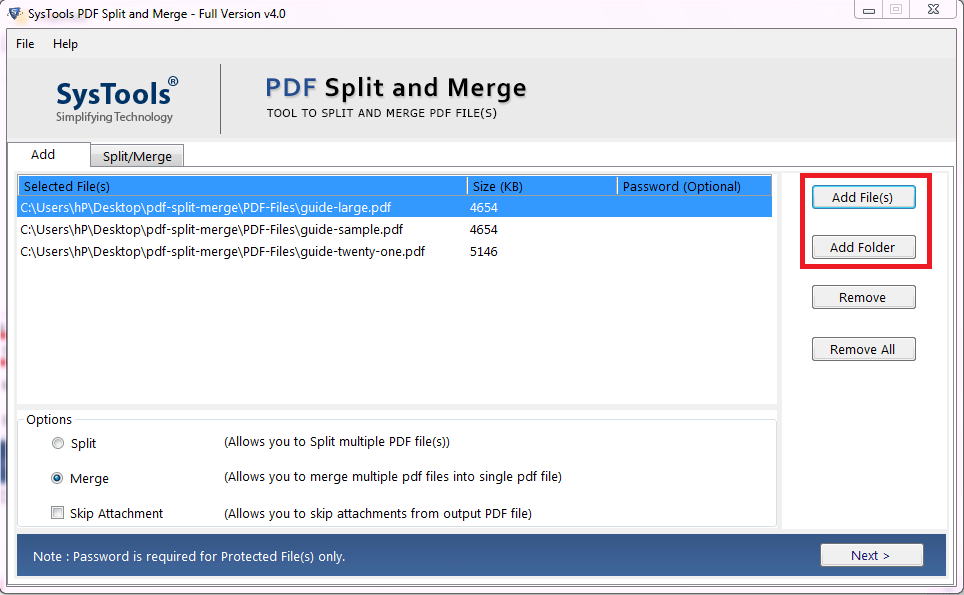 Step 3. Choose the Merge option and then click on the Next button to merge different PDF files in one PDF file.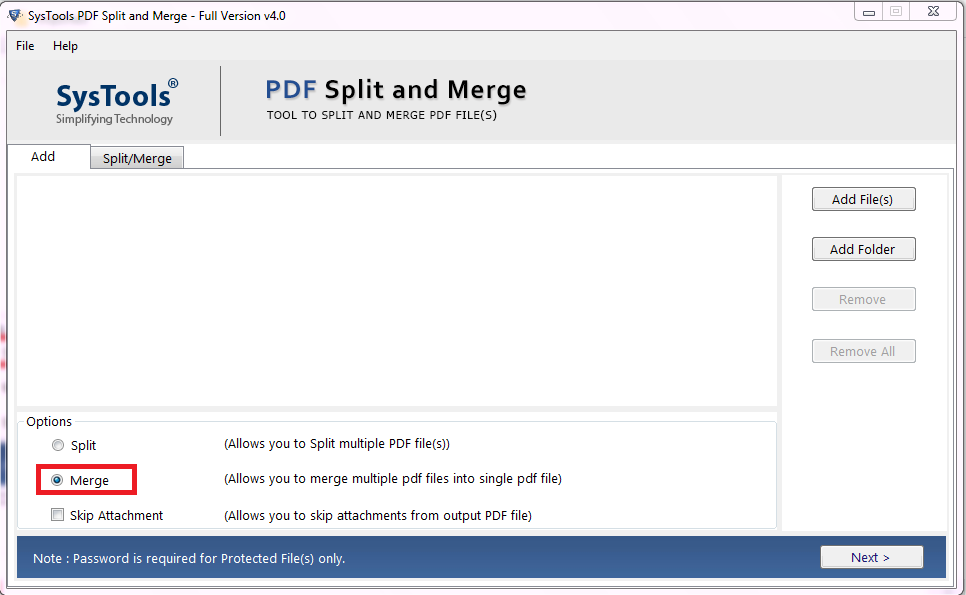 Step 4. Select a Merge Option from Split Merged PDF by size, or Merged PDF by Page Range.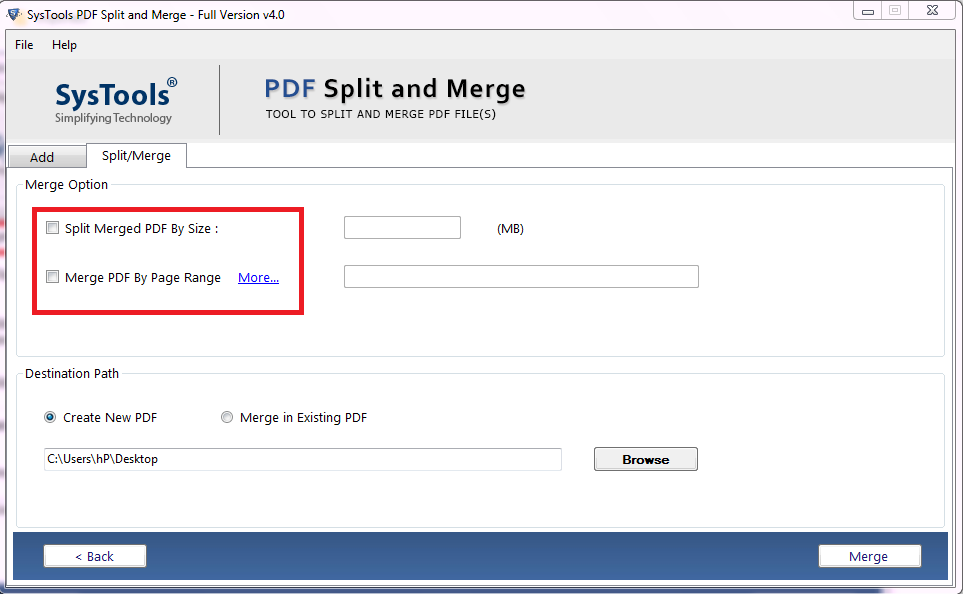 Step 5. Now, choose either create new PDF or Merge in the Existing PDF option and then click on the Merge button.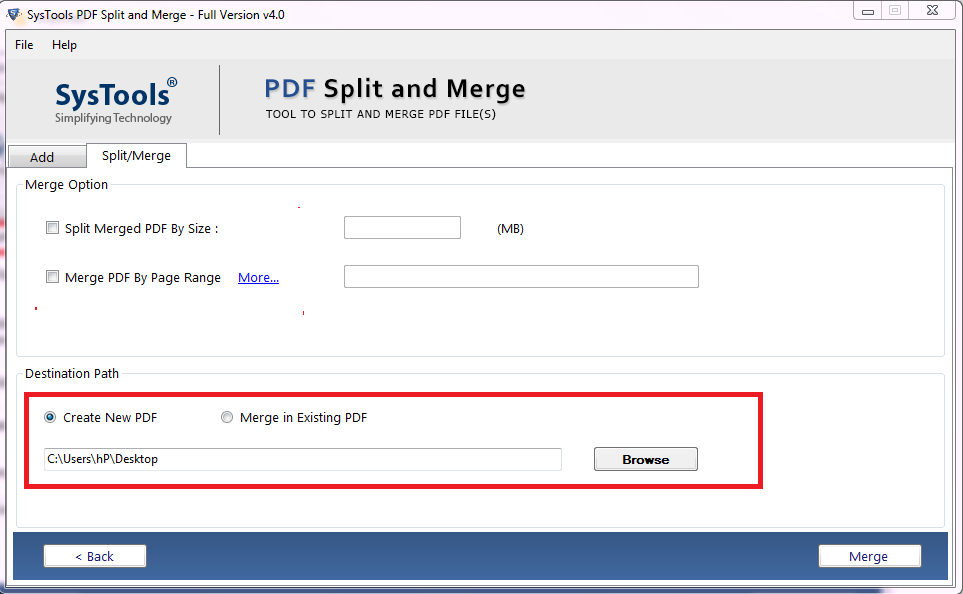 Step 6. As the process is completed, the software will display a message showing "Merging of PDF Files is completed successfully".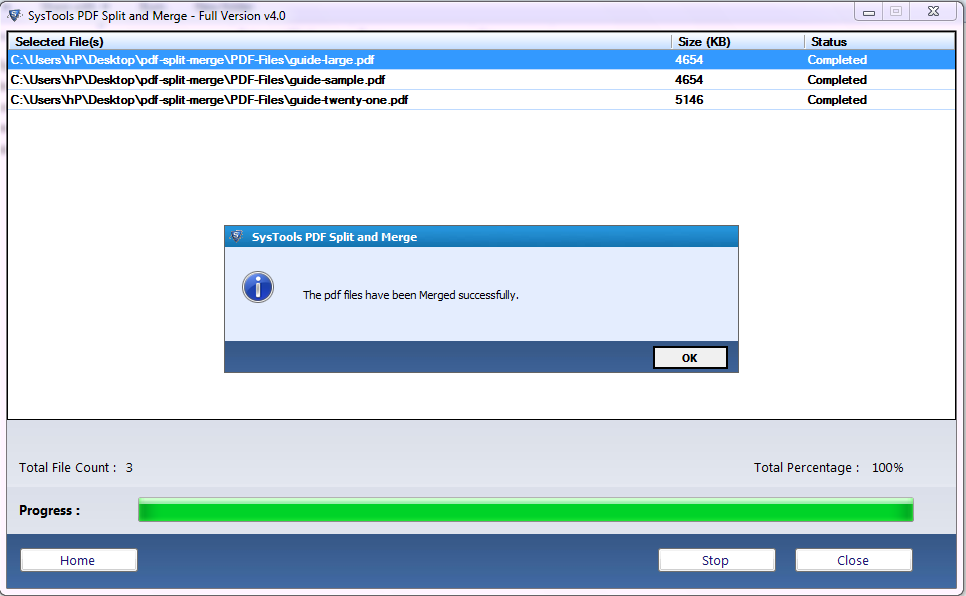 Users may also read a similar post to know how to Combine Multiple Documents Into One PDF
Conclusion:
After reciting the above blog, now we know how to merge different PDF files in one PDF file. However, users cannot merge the files if they do not have the full version of the Adobe Acrobat Pro DC program. In such situations, it is suggested to use the automated solution for merging PDFs. This utility is efficient to use and it offers a simple GUI. Both solutions are explained here, users can opt for any solution according to their requirements.