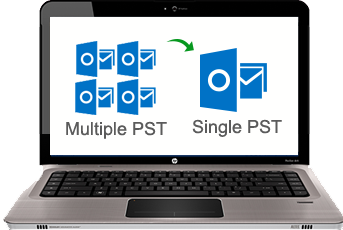 Summary: Do you want to merge Outlook PST files into one to manage data efficiently? Still haven't found a reliable solution? Then don't worry, this blog will help you. The following is a quick and 100% illustration of how to merge multiple PST files to existing PST file. In this blog, we will discuss the quick and accurate solution that any inexperienced user can easily combine their files.
Outlook has become a well-known application that is used for both Office and personal use. This feature makes it easy for users to send or receive an email, save contacts, manage calendars, and more. Microsoft launches the latest version of Outlook with great features from time to time. However, users have many problems with Outlook, such as Data corruption, access to PST file, OST or PST file is too large, multiple Outlook PST files, etc. In this section, we will explain the solution to the problem with multiple PST data files.
It is always difficult to manage multiple files, which affects the performance of Outlook. To fix this problem, merge PST files to an existing one in Outlook 2019, 2016, 2013, 2010, 2007 is the best solution. So many users want a quick and easy way to combine PST files because the manual process is lengthy and complex. Therefore, we will first discuss the immediate and best solution to merge two PST files or more files into one.
Instant Solution to Merge Multiple PST Files to Existing PST File
Use SysTools PST Merge Software, which is the best and expert-recommended utility to accomplish this task. With this tool, novice users can easily merge Outlook PST files because of its simple interface. It helps the user to combine Outlook data files like emails, contacts, calendars, and other items. In simple words, you can merge two Outlook inbox folders into one, merge Outlook contacts from multiple folders, combine two Outlook calendars, etc.
First of all, you need to download the PST Merge tool and install it on your system.

Simple Steps to Merge Multiple PST Files into Existing PST File in Outlook are as follows;
Step 1. Click on Add Files or Folder option to select .pst files.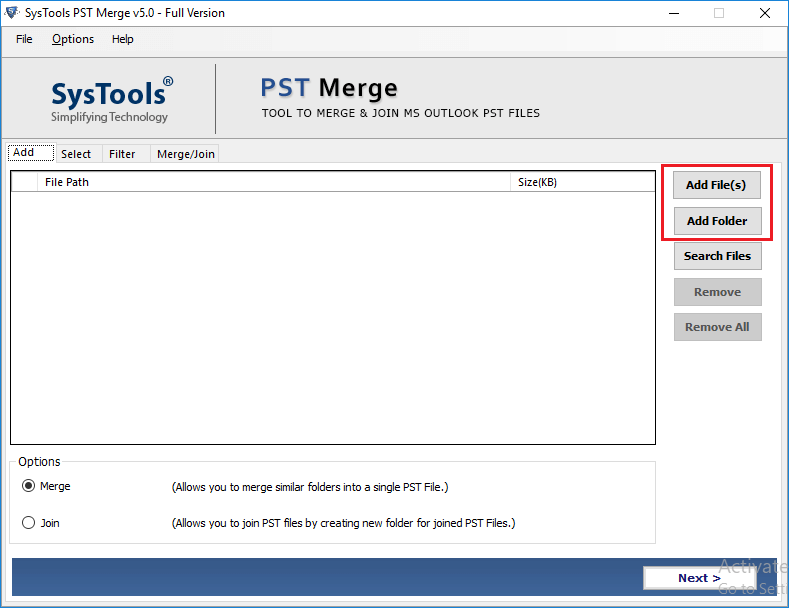 Step 2. Click on the Merge and press Next.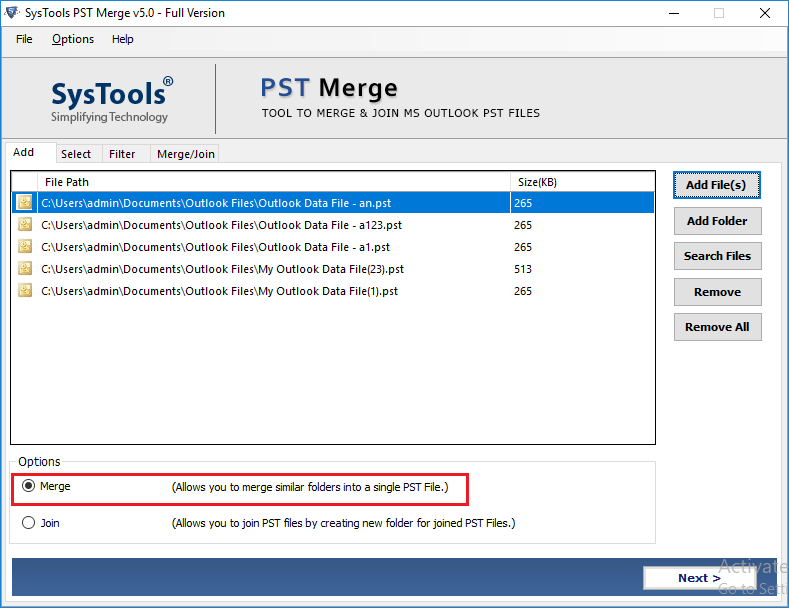 Step 3.Click on the Merge in Existing PST file.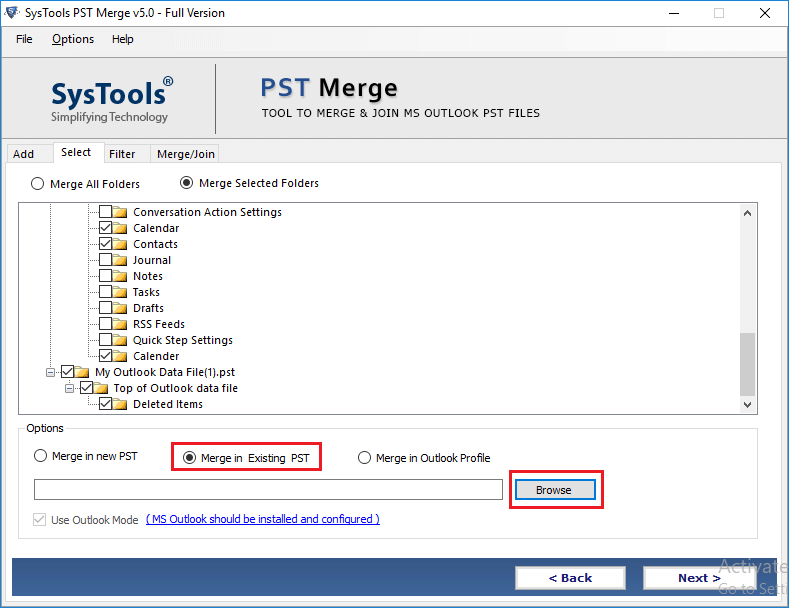 Step 4. Browse for the existing PST file with you want to merge PST files in Outlook.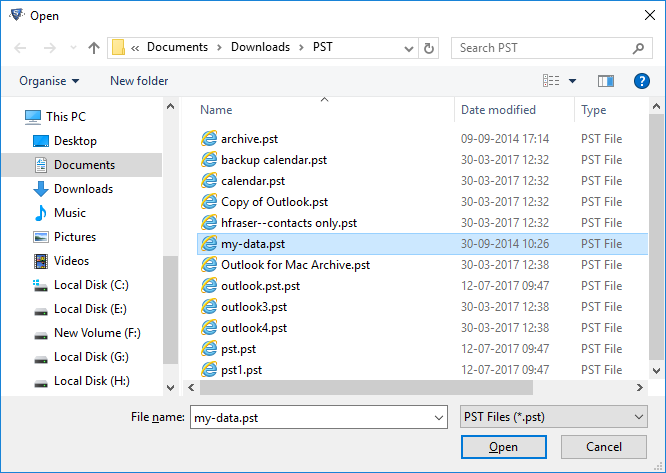 Step 5. Choose options: Split PST file, Exclude Deleted Items and Exclude Junk Folder.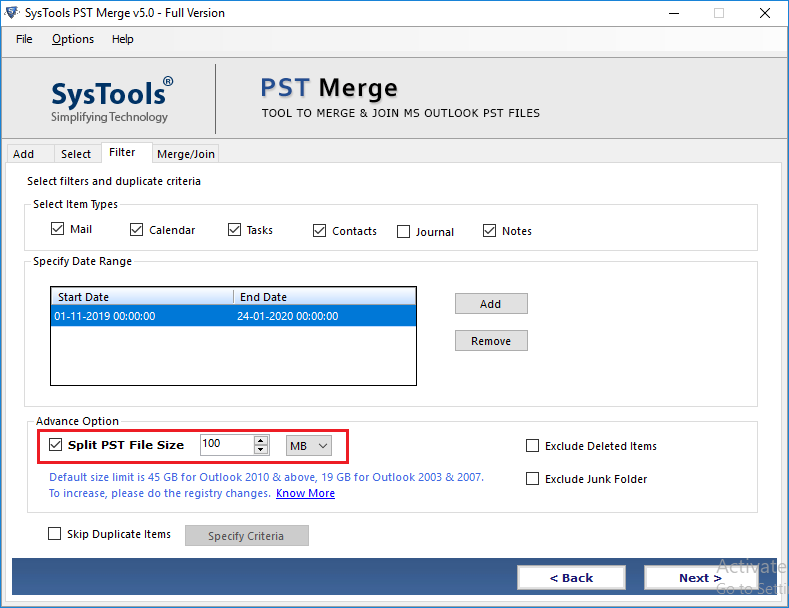 Step 6. You can check the "Skip Duplicate Items" box to remove duplicate Outlook items. Click Next to start the process.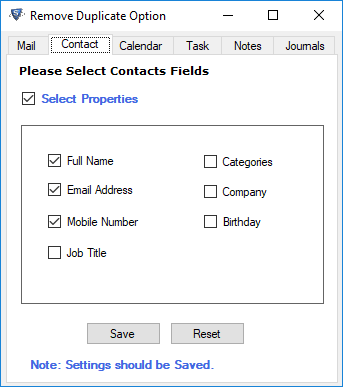 Points to Remember
If you want to combine PST files to existing PST file, you should remember these points for error-free completion of this task:
Microsoft Outlook should be installed and configured on your machine.
The PST files which you want to combine with the existing one are not corrupt and not in use by any program or application.
How to Merge Multiple PST Files to Existing PST File Manually?
The manual process is a free solution to merge PST files to an existing one in Outlook, but it is very lengthy and time-consuming. You can use the Import/Export feature of Outlook to combine PST files with an existing one.
This manual method is absolutely perfect if you have 4 to 5 data files. If you have multiple PST files, this process is very tedious. Because users have to repeat the import process for each PST file. Outlook gives permission to import a single PST file at a time. For a better approach, you can simply go with an alternate solution.
This tool also has an option to combine archive PST files with all information in a hassle-free manner. With this one can able to combine password-protected, active and network Outlook files. This will also work with both ANSI and UNICODE PST files. It gives a guaranteed solution in just a few steps. The best part of this tool is that it provides an option to merge into new PST files, existing PST file or Outlook profile.
Final Words
Combine PST files manually is not as easy task if users have large number of PST data files. Here we proposed the best software, which helps users to effortlessly and securely merge multiple PST files to existing PST file in Outlook 2019, 2016, 2013, 2010, etc. You can choose the automated solution for a quick, secure, reliable, successful results to merge PST files to an existing one.