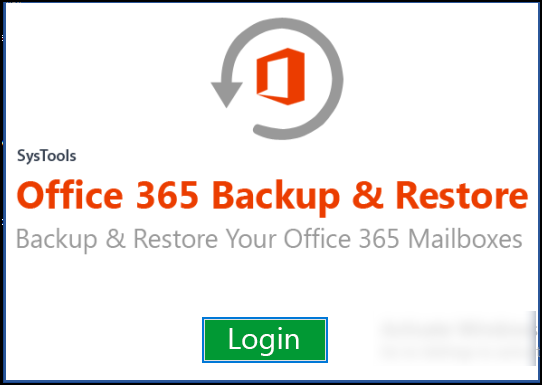 Microsoft Office 365 prides itself because it provides dynamic, collaborative workplaces to its customers. The cloud productivity suite also renders compliance, accessibility support, Industry-leading security measures and attention to privacy. But, according to research, data loss and protection are still major concerns for Office 365 users. Thus, in order to secure the Office 365 data, it is necessary to save a backup copy on local system. This article describes the best Office 365 backup software solution in detail.
Why is it Required to use Best Office 365 Solution?
There are lots of people working on Office 365, but they do not think about any disaster. In case of some hindrances like misconfiguration, client sync issues, the presence of ransomware and malware, they may lose their Office 365 data items. Data can be also deleted either accidentally or intentionally by end-users.
Hence, Office 365 database backup plays an important role to recover the lost Office 365 information. Because, if users want to get back their data then it will only possible when they have created a backup file. In the absence of backup, a company can lose their valuable information. Therefore, taking database backup using the top Office 365 backup solution is suggested.
How to Create Backup of Office 365 Email Database?
As backup plays a vital role in the recovery process, so users need to choose an ideal Office 365 backup technique like SysTools Office 365 Email backup solution. Because it is one of the most preferred applications that enable users to archive data items from Office 365 account and save them either in PST or EML format. It also allows backup all Office 365 data items such as emails, contacts, calendar in the local machine.
However, you can also download the emails along with their attachments from either a single or multiple mailboxes of Office 365 domain. Apart from this, the utility provides the customized backup and also maintains the folder hierarchy even after converting Office 365 data to PST file.
In addition to it, you can save the resultant PST or EML file data at any desired location from your system. However, this Office 365 backup software is compatible with Windows 10 and all below versions.
Working Procedure of Best Office 365 Backup Software Solution
In order to create a backup of Office 365 data with the help of SysTools Office 365 Backup software, follow the given below steps:

Step 1: First of all, install and run the Tool.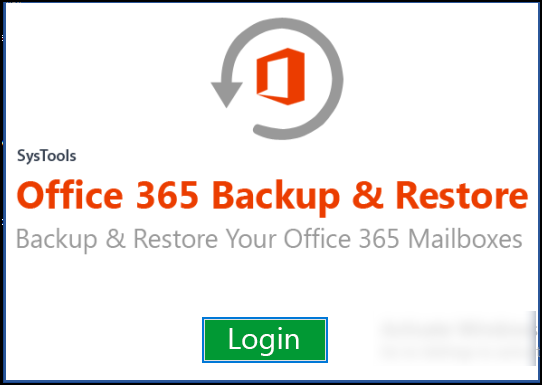 Step 2: Log in with your Office 365 account.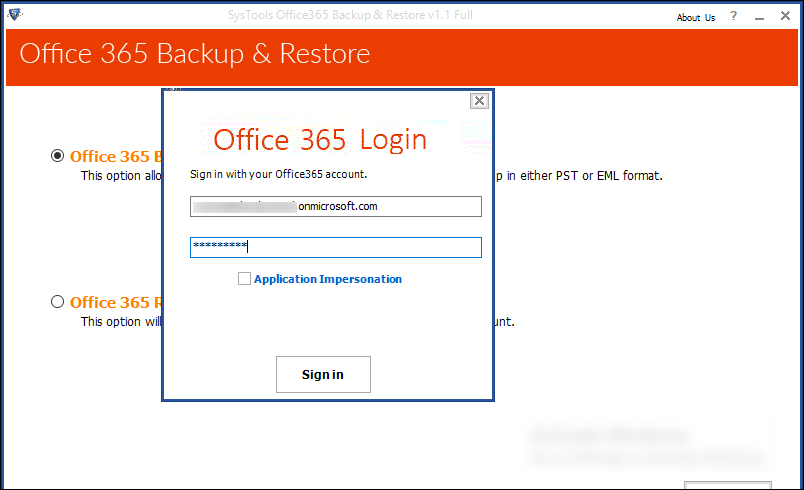 Step 3: Afterward, choose the Office 365 Backup option.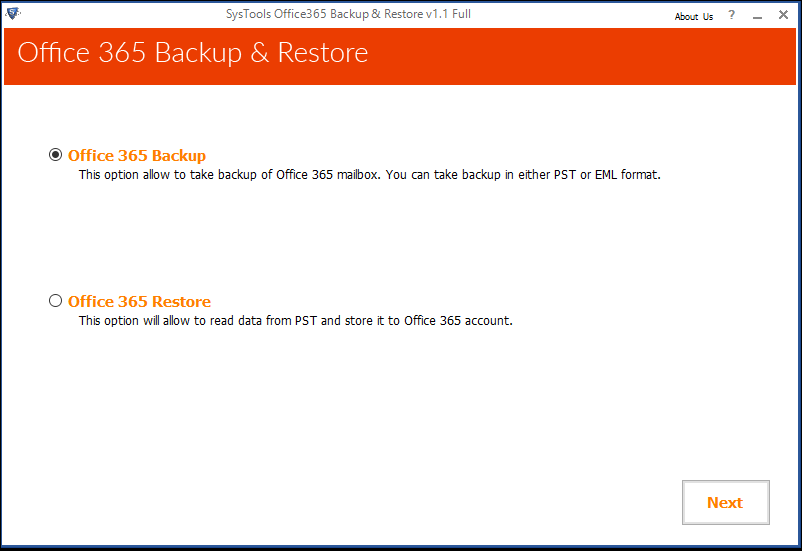 Step 4: Click on Browse to provide a location to save the resultant backup file.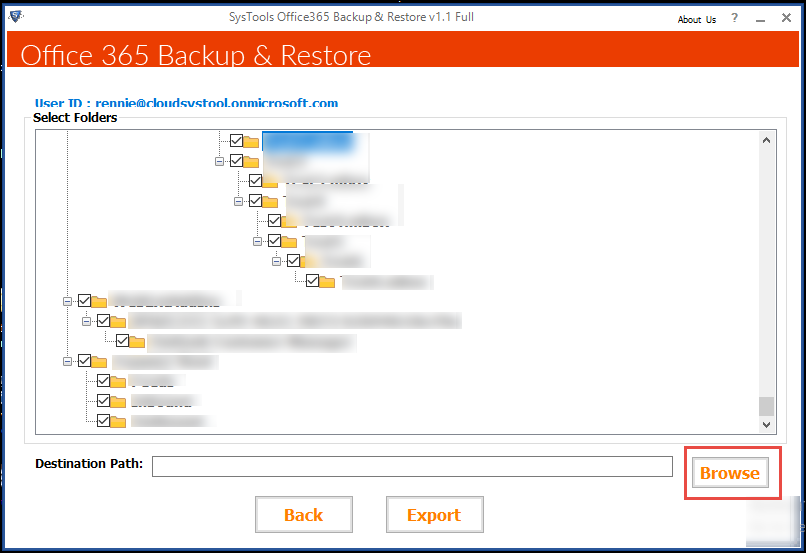 Step 5: After that, choose the file format – PST or EML and other advance settings.
Step 6: Finally, click on Start to initiate the Office 365 database backup process.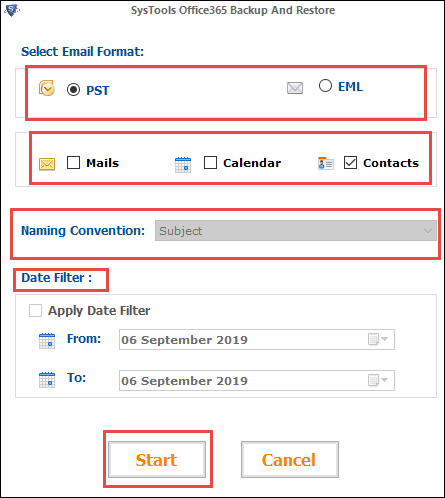 User Reviews
"There are many utilities available on the internet using which users can save their cloud data into their local system. I have tried some of those applications, but this is the top Exchange Online backup solution that I ever got. It offers amazing set of features which made my entire job hassle-free and convenient."
"One of my friends lost his data from Office 365 mailbox while working on it. Then after two months, he realized that he had lost some of his crucial emails and calendar events and he cannot even retrieve them from cloud. So, I suggested him to use this best Office 365 backup solution and save a local copy of his mailbox data on his system. He now takes backup of his data regularly, so he doesn't have to face same situation again."
The Final Words
In this write-up, we discussed the process to take a backup of Office 365 database using the top-rated and best Office 365 backup solution. Because, Office 365 data is very crucial and when people lost any of the information, they have to face lots of difficulties. However, Office 365 database backup is very much important for any hazard situations such as data corruption, data loss, malware detection, stolen devices, and physical damage of device. Therefore, users are suggested to use a reliable solution i.e. the third-party utility that can easily take backup and save them in the local machine.