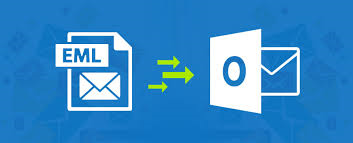 EML means electronic mail format. It is a file extension of an Email and it is developed by the Microsoft Corporation. Its purpose is to store the emails offline. MS Outlook is a most popular email client which is using globally. It is the standard format used by Microsoft Outlook Express and other email programs. The header of this file includes the sender's and receiver's email address, the subject line and the time and date when the message was sent. 
We can transfer EML files to Outlook 2019, 2016, 2013 application by some manual methods. 
In this write-up, we will explain you how to transfer EML files in Outlook by using few methods, you can transfer files manually and automatically. An automatic solution to transfer EML files is the best and reliable solution through which you can easily transfer your important files and  save them on your system.

Change The Default Applications to Open EML Files 
The default program is the program that Windows uses to open a specific type of file such as a music application, Outlook or any other application. In simple words, it means when you click right, a specific application always opens, that application is called default. Go to the Default App dialog box with the following steps;
Windows 7
 Start >> Default Program >> Associate a file type or protocol with a program.
Windows 8 and Windows 8.1
 Start >> type – Default Programs >> Associate a file type or protocol with a program
Windows 10
1. Start >> Settings >> Apps >> Default Apps >> Choose default apps file type
2. The file extension list will appear on the screen, find the .EML file extension.
3. Click on the application icon behind it or click the 'Change program' at the top in Control Panel.
4.  At last, a pop-up window will appear on the screen, select Outlook from it.
5. By doing so, it will set MS Outlook as the default application for EML files.
Methods to Transfer EML Files to Outlook
There are multiple ways to transfer EML files into outlook 2019, 2016, 2013 but all methods are not safe. The manual methods are free but are prone to data loss. So, we are explaining to you all the manual methods but are not recommended to perform. 
Method 1 – Transfer EML Files to Outlook Using Window Live Mail
Launch both Windows Live Mail and MS Outlook on your desktop.
1.  In Windows Live Mail, go to the File tab.
2.  Click on export and select Email Messages.
3.  Select Microsoft Exchange and click on the Next button.
4.  Now, select the mail folder you want to export from Windows Live Mail. Then click on the OK button.
5.  After all this process, click on the Finish button.
Method 2 – Open EML Files in Outlook By Using the Outlook Application
This method can be used when EML files are separately saved on the desktop and no EML-supported email client is installed to access them. But, it is mandatory to have Outlook on your desktop to perform the given instructions.
1. Open Outlook on your computer.
2. Navigate to the location where EML files are saved and then select all the files that you want to transfer to Outlook 2019, 2016, 2013.
3. Before transfer EML files to Outlook, first you will need to create a new file folder in Outlook because you can not transfer any EML file to an existing (inbox, draft, etc.) folder in Outlook.
4. As of now, you have created a new file folder, so, you can easily transfer EML files into Outlook. For that, just drag the selected EML files and drop them into the Outlook application.
Reasons For Not Using Manual Approaches
1. Possibility of overwriting – There are lots of reasons for overwriting. As we always have a lots of mails and if we are processing to transfer EML files to Outlook and in between, we received few new more mails, then, at the time of pasting mails into outlook there may be a possibility to copy and paste email again. For instance, if we have 100 mails and we are importing these mails into Outlook and by doing so we received 10 new more emails then at the time of importing it will import 210 emails into Outlook.
2.  Time-consuming – In all the manual approaches we face some time delay issues while transferring the EML files into Outlook. There might be chances of having multiple folders with different EML files. As a result, while transfer EML files you will have to transfer from one folder at a time. You will need to repeat this for every file.
3. No change in existing folder – In Outlook you can not change and add anything in existing file folders. So, while transfer EML files to Outlook you will have to add your folders accordingly.
4. No migration of Multiple Accounts – If you have multiple accounts and you want to open EML files from every account then you can not perform this task because migration is not allowed by these applications. You will have to migrate individually.
Method 3 – Transfer EML Files to Outlook Using the Smart Approach
There are several manual approaches to open EML files in Outlook but they are not reliable. Hence, there comes a need for a Smart tool with advanced functions that can easily transfer EML files to Outlook.
One such tool is SysTools EML to PST Converter. It allows you to convert EML files to PST files (MS Outlook). It also includes items such as emails, tasks, attachments, notes at once. It supports unlimited files of any size. 
Features of Using the Smart Utility to Transfer EML Files to Outlook
1. View emails in multiple modes – It gives you the benefit to view your email in different types of modes before exporting EML to PST. You can simply view in modes like Hex, Property, HTML, MIME, Attachments etc.
2. Option to create separate PST to each folder –  While using this application, you create a PST file for each folder. To use this feature you need to go to the export option and there you will get an option to create PST for each folder.
3. Select date range to export selected Emails – In this software you will get an option to transfer EML files to PST file format. To activate this option, you have to go to the Export option and then go to advanced settings, there you will get an option to select the EML files according to date. 
4. Option to split resultant file – Through this utility, you can split the resultant files. If you want to split a single file into multiple files then this converter provides options to split into MB and GB size. 
5. Preview Emails with Attachments – This application provides you an in-built facility to preview emails with attachments. This software enables to export of attachments along with into PST format. 
Step by Step Guide to Use this Utility for Transfer EML Files to Outlook
Download and Install the Software on your local computer and follow the below-mentioned steps. 
1. Select EML folder to view email
2. Now, go to the menu bar and click Export.
3. After selecting the file type, tap browse to save the file after exporting.

4. Select Make New Folder or you can also select an existing folder of your choice to export selected data into a folder. Now, Click OK.

5.  At last, tap Export button.
Conclusion
In this tutorial, we have discussed several ways to transfer EML files to Outlook. There are different manual methods that can be used to transfer files but not recommended because they have some limitations. Therefore, to open EML files in Outlook, you'll need to use the SysTools Software application because you will get a lot of options to view and convert your files into multiple file formats. In addition, this application gives you the security of your data.