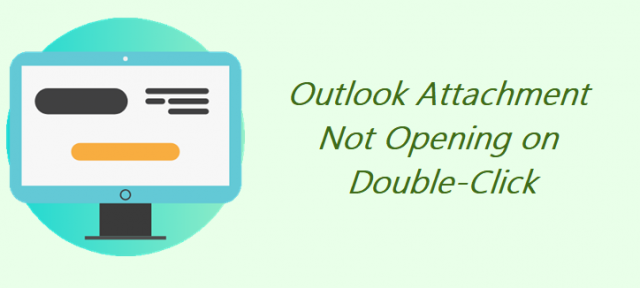 Summary – Seeking for a solution to fix Outlook attachment not opening on double-click? Then you are absolutely on the right page because this article is totally based on what are the reasons for this issue and how to resolve it without losing any data.
Well, a lot of individual users and companies use emails as their primary mode of communication. According to the report of statista.com, the total number of sent and received emails is 319.6 billion per day in a year 2019. However, an average office worker receives around 100 to 120 emails per day. Many of those emails contain attachments. So if you are thinking that you are alone who facing this issue, then you are not. 
Reasons Behind Outlook Attachment Not Opening on Double-Click
We know that email attachments are very crucial data for businesses because certain official documents, invoices, memos are sent through email. Therefore, it is an annoying and very big problem when you cannot open is after a double-click.

But nothing happens without any reason. So in this section, we are going to discuss some major reasons behind this issue.
Corrupted file sent via email attachment.
Certain symbols in the name of the email attachment file.
Unknow or Malicious file format.
Slow double-click speed of the pointing device.
Absence of comparable software or incorrect file associate
Third-party antivirus software
Outlook Add-Ins is also responsible Outlook attachment not opening on double-click issue.
Best Suggested Alternative Solution

If you are getting attachment not opening on double-click issue, then you can try the automated solution. SysTools Outlook Attachment Extractor is a tool that can easily download all your email attachments from multiple emails in just a few minutes.
How to Fix Outlook Attachment Not Opening on Double-Click Issue
After knowing the reasons behind the problem now you are ready to solve the issue. Because when we know the reason behind any issue or error then, we can work on them to fix it. Therefore, in this section, we are going to discuss all the troubleshooting steps and methods to resolve attachment not opening on double-click in Outlook.
Note: Follow the steps carefully to avoid any kind of data loss.
Remove the Symbol from the File
As we said above, if there are any symbols such as (+), (?); or any other symbols in the file, then you not able to open the attachment. So in this scenario, you have to ask the sender to correct the filename and send it again.
Check for Corrupted Files
While opening the attachment if you get "The file is corrupt and can not be opened," then ask the sender to check the attachment and sent it back if it's worked on its computer. If the file is not working on the sender computer then ask to send another file.
Unblock the block Attachments
Microsoft Outlook blocks those attachments which have an unknown format. Files like .exe, .bat, or other excitable files may contain viruses or malicious malware. So in order to protect your data Outlook block these attachments. Now, If you have to open those files then you have to ask your administrator to change the settings of Outlook.
Increase the Click Speed Of Pointing Device or Computer Mouse
Sometimes due to the slow speed of double-click of your mouse, you will encounter Outlook attachment not opening on double-click. So, in that case, you have to increase the double-click speed of your mouse. To increase the speed follow the listed below steps:
Click on the Start button and search for Control Panel.
After that, choose the Hardware and Sound option.
Now under the Device and Printers option select the Mouse option.
From Mouse, option looks for the Button tab and slide the Double-Click Speed slider toward fast to increase the double-click speed.
Now, click on Apply and then the OK button to save the setting.
Check for the Software Requirement
Outlook attachment not opening on double-click also happens when the software which is required to open the attachment is not installed on your computer. So in that case check the file format of the attachment and also check is there any software available on your computer to open that file. For example .pdf is a document file format that is widely used to share the document and to open this file you have Adobe Reader or other PDF reader software installed on your computer. So check for the format and their associate software to resolve this issue.
Check for Antivirus
Some of the antivirus and Firewall protection also block email attachment to protect your data. So if you sure about the attachment then you can disable your antivirus program to resolve the issue of Outlook attachment not opening on double-click.
Note: Always disable your antivirus as a temporary basis and after the process is completed enable it once again.
Quick Way To Download Outlook Attachments
We hope that above discussed techniques will resolve your issue of Outlook attachment not opening on double-click. But if nothing works for you, then you have only one solution is left and that is save the attachment from Outlook.

So, to download the attachment you can try an automated tool because the toolkit is capable to download multiple attachments from multiple emails at once in just a few clicks. Also, the tool saves you data as well as your time too. Because if you trying to download the attachments manually then, you have to download it one by one which is so time-consuming process.
Concluding Thought
Whenever you not able to open Outlook attachments in Outlook, go through this comprehensive guide. Here we have discussed all the possible methods to resolve the Outlook attachment not opening on double-click issue.