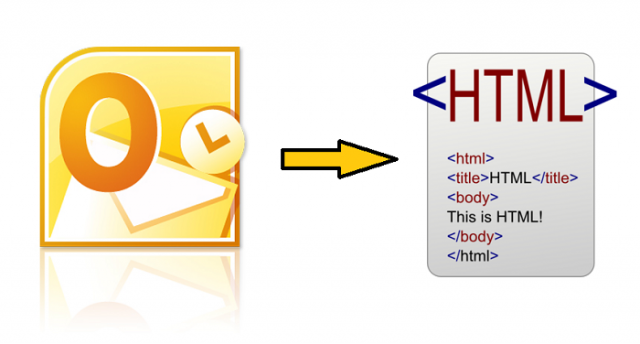 Nowadays, it has become a trend to store Outlook email to HTML. As HyperText Markup Language is a reliable and effective way to read your Outlook email in an effective way, many users are turning to HTML. Here, in this blog, we are going to discuss each and every possible solution including the manual and automated approach to save emails from Outlook to HTML.
First, let's take a look at the HTML Format

HTML stands for Hyper Text Markup Language is a standard markup language. HTML with Cascading Style Sheet (CSS) and JavaScript makes the cornerstone for the World Wide Web. In Outlook, HTML is contemplated as default message format for Outlook. It best suited traditional way to open an email message when documents are to be created with many fonts, color, ordered and the unordered list.
Now, let us move forward towards the techniques to transfer Outlook email to HTML.

Methods to Export Outlook Email to HTML
There are two approaches to backup emails from Outlook to HTML.
We will discuss each method with full description.
1. Manual Workaround
Follow the below-mentioned steps to transfer Outlook Email to HTML manually.
Download & Run Microsoft Outlook.
Choose the emails which can be saved with the help of left mouse button by clicking once.
Go to the File menu and select the "File Save As" option. A new window will pop-up on the screen.
Browse the folder where you want to save Outlook email as HTML.
Confirm the file name in the "File Name" dialogue box. The subject of the email is populated by default. If you wish to change the file name, then you are required to replace the default file name in the dialog box.
Now, select the HTML the "File Save As" option.
In the end, click Save and then continue to convert Outlook email to HTML.
Limitations of the Manual Workaround
The above discussed approach is simple and easy but it can be used for single files only. This solution is not reliable for multiple email files. To move Outlook email to HTML, users have to repeat all the steps every time. But do not worry, we have a very sure shot solution for this problem also. Let's discuss that in the next section.
2. Automated Solution for Outlook to HTML Conversion
To overcome this issue, SysTools developing team has designed a perfect tool for you. Use the best PST Converter tool to move Outlook emails to HTML. This utility also has some amazing features. Not only HTML, it also supports PST to MSG Conversion.
For Windows

For Mac

Steps to Convert Outlook Email to HTML are;
Step 1. Install the software and click on Add Files button.
Step 2. Preview emails and click Export option.
Step 3. Select HTML format from the list.
Step 4. Choose destination and click Export button.
Author Suggestion
From the above blog, it quite clear that HTML is the most profound way to save Outlook mail to HTML. There are manual as well as automated approaches. Users can go for any of the methods according to their choice but it is highly recommended to use an automated solution as it more reliable and efficient.