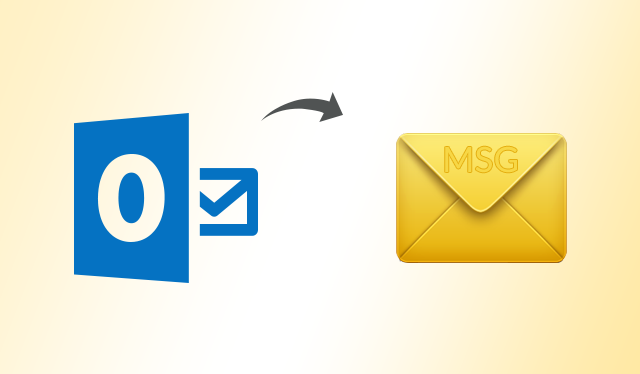 Nowadays, a pretty large number of users are concerned about their crucial data. They want that their data should be stored in a safe, secure and organized manner. As Microsoft Outlook is one of the most favored email application which is used by many users and enterprises throughout the world. It stores its entire mailbox data such as emails, tasks, journals, contacts, calendars, etc. in the PST file i.e. Personal Storage Table. If a user wants a single email in a single file then it is stored in MSG file in Outlook. There are several queries from the user's side to save multiple Outlook emails as MSG files. Some of those queries are listed below:
User Queries:
"I have a large number of emails stored in the PST file which are not even required and I want to save selected emails from them. Can anyone please help me to export Outlook emails as MSG format so that I can save them into my system."
"Hi, I have a lot of emails in my MS Outlook account and I want to send some of my emails to one of my friends. But, rather than forwarding, I need a solution using which I can save multiple Outlook emails as MSG files so that I can send them once to my friend. Please provide me a solution. Any help will be appreciated."
What is PST File?
A PST file is a Personal Storage Table supported by Microsoft Outlook. It contains all the email messages, contacts, calendar, address book, etc. All the items are stored in a single PST file. There are two types of PST files i.e. ANSI PST file and UNICODE PST file. In older versions of MS Outlook, PST file is created in ANSI format and has a file size limitation of up to 2GB but in Outlook 2003 and its later versions, PST file is created in UNICODE format and has a size limitation of up to 20 to 50 GB.
About MSG File
MSG file is a file which stores single email in it and has .msg as its file extension. It is a simple text file and contains simple ASCII text for headers, hyperlinks, main bodies as well as attachments. The major benefit of exporting PST files to MSG format is that it can be used for storing as well as archiving purpose. A user can download single email from Server to open and view messages along with its attributes.
Why Users Save Multiple Outlook Emails as MSG
Sometimes, users have to export Outlook files to MSG file format to make the execution process easier. Some of the common reasons are mentioned in the following section:
As the PST files have a predefined size limitation, so it increases the chances of data corruption if the PST file has a lot of data stored in it.
If there occurs a need to save multiple emails from Outlook then backup can be created of that file but it is not a good option.
If a user has to send more than one email to someone but the user has so many emails stored in PST file then it becomes difficult for the users to search and send selected email messages.
Save Multiple Outlook Emails as MSG Files Manually
The manual procedure to transfer Outlook messages to MSG is explained in the easiest steps mentioned below:
Create a new folder in your system.
Launch Microsoft Outlook.
Go to the Inbox Folder where all the email messages are stored.
Now, choose the emails one by one and export them to the newly created folder using drag and drop method.
If you have a lot of emails, then you have to repeat the above steps until you end up exporting all the emails.
Note – The manual method has some limitations such as it consumes so much time if you have to save a pretty large number of Outlook messages.
Trouble Free Solution
The above-mentioned method is undoubtedly the easiest method to export PST to MSG but if a user has a lot of email messages to be converted then this procedure doesn't prove to be a feasible one. So, to save your time and efforts, there is a third party solution i.e. SysTools PST Converter which can easily save multiple Outlook emails as MSG format. Users can use this software to perform batch migration which will them save a lot of time.
Conclusion
After analyzing the issues faced by the users while performing the export process using the manual procedure. We have discussed the automated solution which can be used to save multiple Outlook emails as MSG files in a batch. Users can use this tool to perform the export process without any threat of data loss or data corruption. Later, users can open MSG file in Outlook after the conversion process is completed.