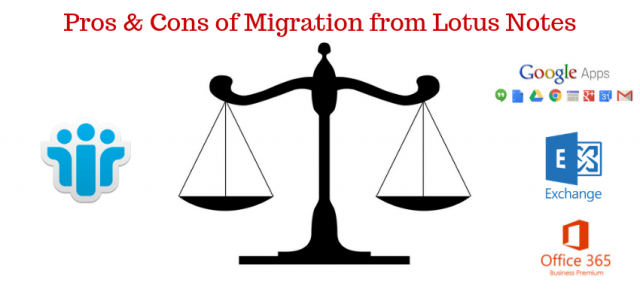 In this fast-paced digital world, there are lots of programs and applications struggle to seek users' attention. IBM Lotus Notes is one of the applications that become the conspicuous choice due to its advanced and beneficial email administration. It offers a great solution for collaboration, information sharing, and related functions in any business. Apart from this, Lotus Notes is quite complex to use and not suitable for non-technical users. It is also an expensive application. So it is natural that most of the Lotus Notes users are eager to migrate into any other cloud-related technologies like Office 365, Exchange, Google Apps, SharePoint, etc. Read to know what are the pros & cons of migration from Lotus Notes.
However, migration of Lotus Notes is not always beneficial; it also has some bad consequences. In this post, we will shed light on results of both sides of Lotus Notes conversion. Because we are going to tell you both the pros and cons of migration from Lotus Notes.
Also Read: How to Move From Lotus Notes to Office 365?
Why it is Beneficial to Migrate From IBM Lotus Notes?
There are some limitations of Lotus Notes due to which people need to switch from this email application. After migration, all limitations will be removed so it is good to migrate Lotus Notes account. At a high-level of organization acquires the following business advantages of migration from Lotus Notes.
Storage Capacity
IBM Lotus needs large space in RAM to save the mailboxes. It will be costly for users to get a RAM with huge storage capacity. So, it is convenient to migrate Lotus Notes to any other application like Office 365 that offers a lot of space at less cost.
Synchronization & Design
Lotus Notes always suffers from the low synchronization with Domino Server issue. It reduces the performances and causes irregularity in email services. Also, Lotus Notes has designing issue, so it is not able to keep all data safe. Hence, it is better to migrate from IBM Notes.
Common and Familiar
Generally, users prefer to choose a common and familiar application like MS Office, G Suite, etc. It increases the onboarding speed and overall efficiency. Also, if you are using IBM Notes, you don't have integration with a large number of software. After migration, Lotus Notes users will never face these issues.
24 * 7 Hours Support
Another pros of migration from Lotus Notes to other cloud-based technologies is that they provide 24*7 hours support to users. When people come across with any problem, they can directly send their query to the support team to fix that issue.
Disadvantages of Migration From Lotus Notes Migration
As compared to other applications, Lotus Notes has some ingenious features that are not provided by any of the cloud based technologies. Some of the unique features of Lotus Notes are discussed below that proved as cons of Lotus Notes migration.
Stability
IBM Lotus Notes has been a very stable and fixed application that remains constant in the market. Also, it will likely keep on remaining the stable because it is going to offer its service for the next twenty years.
Security
With increasing the accessibility of technology, the attacks on the surface will higher. But, IBM Notes is built more securely. It is not easy to do malicious activities on Lotus Notes. Because it creates a replica and all activities are performed on replica file, not the original file.
Administration
If talking about monitoring and handling IBM Server, it will be easier as compared to other servers like Exchange, Office 365, etc.
Suggestion for You: If you want to migrate your IBM Domino Server or Lotus Notes to any other cloud technologies such as MS Exchange Server, Office 365, and MS Outlook. Then, you can use
SysTools Lotus Notes Migration Tools
. It is single software, which is completely able to Export Lotus Notes or Domino Server to various cloud-based applications. Apart from this, it provides an option to exclude duplicate contacts and maintain file internet header, read/unread status of emails, and hierarchy.
The Bottom Line
Majority of the users rely on IBM Lotus Notes. But, due to any certain reasons, people want to migrate from Lotus Notes to any other program. However, there are both pros and cons of migration from Lotus Notes. So, in this post, we have discussed both perspectives of Lotus Notes conversion.