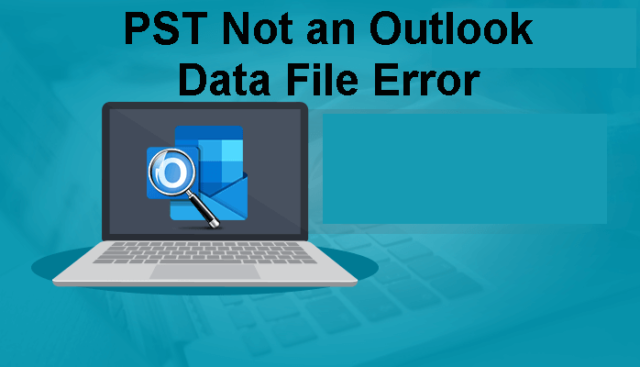 PST file which is a short form of Personal Storage Table and we all know that this file is used as an Outlook storage file But there are users who encounter an unusual error message "PST not an Outlook data file error" while opening and importing the Outlook PST file to another machine.
Basically, the Outlook data file stores many items like emails, contacts, calendars items, and many others. And when users encounter this type of error, then they are afraid of losing the data of Outlook.

Well, if you are one of them and want to get rid out form this error, then you ate landed on the right page. Here in this blog, we are going to discuss the reason and the troubleshooting techniques to fix the same.
Now, before going toward the solutions let's first understand the reasons behind this issue so that you can easily.
Reason for PST Not an Outlook Data File Error.
If we talk about the reasons for this error, then there are several reasons that main reasons and here in this section, we are going to discuss them.
The PST data file corruption is one of the main reasons for PST not an Outlook data file error. Because if your Outlook pst file is damaged, then Outlook is not able to open it. And when we talk about the reasons, why Outlook data files corrupt, then are various reasons available like:
Improprate Outlook Termination- Yes there is a proper way to close Outlook, but there are many Outlook users who simply click on the Windows Close button to close the Outlook application. Now, this is the wrong process to close the Outlook.
Oversized Outlook PST- An oversized Outlook data file is not only the reason for Outlook data corruption. But it also affects the overall performance of the Outlook.
Now, the second reason for PST not an Outlook data file error is wrong Outlook installation or wrong configuration of Outlook profile.
A bad sector in a hard drive is referred to as a tiny space that appears to be defective. And due to this, you will face this PST not an Outlook data file error.
Well, after knowing the reasons for this error now let's move towards the troubleshooting methods to fix this error message.
Ways Resolve PST Not an Outlook Data File Error
Yes, you read it right that here in this section we are going to discuss some the manual techniques to fix this error message. So go through the section and try the procedure.
#Method 1: Check For Hard Disk Error
As we said earlier in the reason part that hard drive corruption or bad sector in your hard drive is also the reason for the PST not an Outlook data file error. So to fix this error is is important to fix the corruption of your hard drive and to this just follow the below steps:
1. Click Windows + R key together to open Run Command
2. Now, enter "Cmd" to open the command prompt panel.
Note: Open CMD using Run as Administrator
3. Now, in cmd.exe type "chkdsk disk name: /f" and then click on the "Enter" key.
4. Now, there are more possibilities that the disk check will perform. Wait for a while to check out the results.
When the check disk process is completed, then close the command prompt section and restart the system, and then start Outlook again. Now, if your PST Not an Outlook Data File Error persists, then there might be possibilities that the PST file got corrupted. Let's proceed to the next step to repair the PST file.
#Methdo 2: Repair Outlook Data File
As we said above the Outlook data file corruption is the biggest reason for Outlook being inaccessible. So it is very important to repair Outlook data files in order to fix the error. Now the best part is that Microsoft itself provides an inbuilt Inbox Repair to repair the Outlook date file.
This Inbox Repair Tool also called 'ScanPST.exe' in Outlook is used to repair minor corrupted or damaged PST files. Now, to run this tool first you have to locate the utility on your system. The tool has a specific location depending on the Outlook and Windows version you have. So. follow the below path to locate the Scanpst.exe on your system:
For Outlook 2007
C:\Program Files\Microsoft Office\Office12
For Outlook 2010
C:\Program Files\Microsoft Office\Office14
For Outlook Outlook 2010 64 bit
C:\Program Files (86)\Microsoft Office\Office14
For Outlook 2013
C:\Program Files\Microsoft Office 15\root\office15
For Outlook 2016 & 2019
C:\Program Files\Microsoft Office\Office16
1. After locating the Scanpst.exe utility double click to launch scanpst.exe to open it.
2. After this click on the Browse button to add the PST file
3. Click the Start button scanning process
4. Once the scanning process is over you get a message with an error found
5. Now, click on the Repair button to repair the corrupted Outlook PST file.
6. After the execution of the Inbox Repair Tool is completed re-open the Outlook program to check the error "PST Not an Outlook Data File Error" is resolved or not.
Alternative Way to Repair Outlook PST Corruption
Well, the above method is a very suitable approach to errors that have been deleted in the file Outlook.pst. But as we said above that theScanpst.exe is only capable of repairing PST minor corruption and if the PST corruption is a major one, then it will not go to fix it. So, in that situation, you have no other option except to try the third-party tool. And if you want the best and effective solution, that repairs any type of corruption from Outlook PST, then you can try PST Repair Tool.

It is one of the most searched Outlook recovery tools because it provides many advanced features that help you to repair corrupted PST file resolve Error have been detected in the file Outlook.pst.
The tool is also capable of repairing encrypted Outlook PST files and also capable of recovering data from permanently deleted Outlook files.
Conclusion
PST not an Outlook data file error is not the common error and due there are not that many solutions available on the internet. Now, after considering the requirement here in this blog wet have discussed the two best ways to fix the error. In addition, we have also mentioned the automated method to resolve the error.