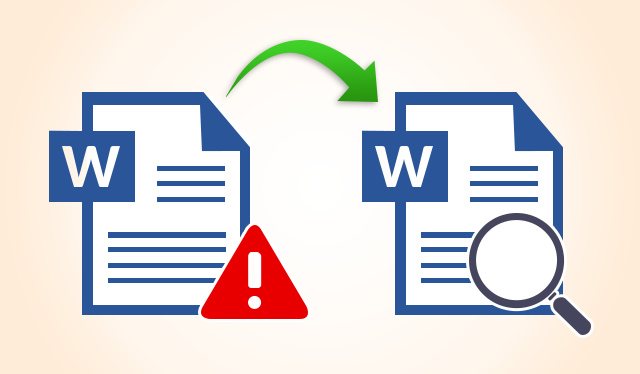 Repair Corrupted Word File 2013 with Quick and Trouble-Free Solutions
Microsoft provides Word application as part of the Office suite for document creation and editing. It is also available as an App in Office 365 for saving and accessing document online anywhere from the cloud. It stores files in DOC in DOCX format on a Windows PC. They often encounter problems that require measures to repair corrupted Word file 2013. It is a common problem for many users. They look for solutions online for an easy fix. Some of those steps have been mentioned here in this post. First, let's talk about the few fundamental measures to know how to fix a Word document that is corrupted, damaged, or failed to open. Read and implement the steps carefully to ensure a Word file recovery in a hassle-free way.
Possible Solutions to Repair Corrupted Word File 2013
Before proceeding, make sure to create a copy of the corrupt document in question and save it on an external or flash drive. This is can be used as a backup if repair measures go wrong. Here are the solutions to recover Word document data easily.
Solution#1 Read Document in Different Format
Some code corruption can be resolved by saving Word document in a different format.
First, try the RTF format to preserve the formatting and styling used within the file.

If that does not help try the TXT format to fix damaged Word file.
Also, one can try opening the Word document in another text editor like Notepad or LibreOffice.
Solution#2 Run CHKDSK to Repair Corrupt Word File
To begin, compare the date/time stamp of the corrupted and the backup version of the file. If they are different then the issue is with the operating system or the hard drive.
If it was an email attachment, download it again from the Sent items folder. Then, save it in a separate folder that the damaged one and compare the two.

Next, go to Start >> Run and type in CHKDSK and click OK button to fix Word corruption problem.

Now, this will remove errors from the file system of a partition and possibly fix the document as well.
Solution#3 Use Word Built-in Text Recovery Feature
Open your MS Word 2003/2007/2010/2013/2016, go to File >> Open.

From the Open dialogue box, select 'Open and Repair' from the drop-down list.

Now, This will recover Word document data in a text format but the graphics will be lost.
Solution#4 Use Last Saved Version
First, If there is a version of the DOC file saved anywhere, copy it to the same or a different computer.
To recover Word document data, open and use any of the previously saved copies. Any minor edits can be easily recreated.
Limitations of Manual Approaches
While trying to repair damaged Word file 2013, 2010, 2007, 2005, 2003, we found that there are some users who are not comfortable with the manual methods, because of following few reasons:
Tricky and confusing steps for a home or a non-technical user.
The manual way cannot fix any high-level Word file corruption or any major problem.
Some of the ways discussed may affect the data stored within.
Images may disappear is saving in TXT format.
Fix a Corrupted Word Document via an Automated Approach
The manual ways can be a bit of technical jargon for a regular user. It is a hassle to understand and follow all the steps without data loss. Many people look for workarounds for resolve the issues related to Word document recovery. There are some few users looking for a third-party tool that can repair corruption and retrieve lost data. One such efficient software is the Word Recovery application. It is a simple solution to all DOC and DOCX file related issues.
Conclusion
There can a lot of problems if a Word document does not open or is inaccessible. There can be important data stored which can get lost. It can have adverse legal effects in a large organization. It is better to repair corrupted Word file 2013 and the other versions, as soon as possible and recover data. There are measures that can be undertaken to do this manually. Some of these have been mentioned in this post. For issues that cannot be fixed using regular means, one can go for the automated tool to repair a damaged .doc/.docx file.