How to Resolve Thunderbird Out of Disk Space Error Problem
Akshay Vats
| Modified: March 31st, 2021 ~ 5 Minutes Reading
Mozilla Thunderbird has been an open-source and reliable desktop mail client and is also among the most popular email clients. It can store a user's personal information in a unique account. It does not only provide the email feature, but it is possible to organize contacts, events, appointments, and tasks as well. Thunderbird contains the bulk of data in one platform, this will create the Thunderbird out of Disk Space error problem.

Consider a scenario:
"Last week my Thunderbird folder Inbox is full and unable to hold more email messages. For increase Thunderbird mailbox I had to delete Thunderbird unnecessary emails. Unfortunately, I have received the same alert for received messages once again. In fact, I have tried all possible things to resolve "Thunderbird out of disk space" error from the un-installation of Thunderbird. Now, I am totally fed-up and finally want to know a suitable method to resolve Thunderbird out of disk space error issue as soon as possible to increase Thunderbird mailbox space."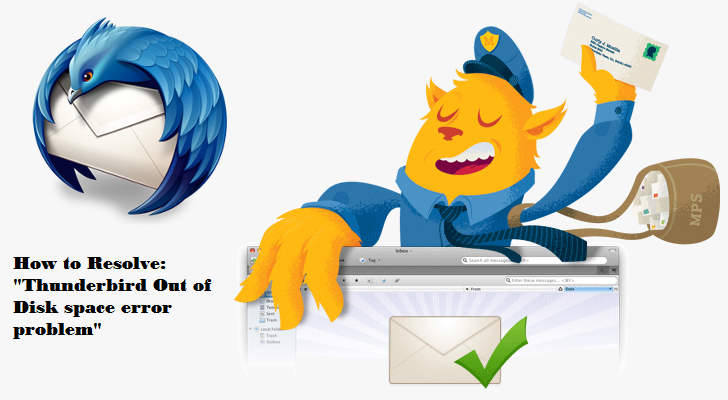 Another Thunderbird Query- Fix Unable to Open Temporary File in Thunderbird
Resolve Thunderbird Out of Disk Space Error
There are two major processes i.e. Delete Thunderbird unnecessary emails and compact thunderbird folder Space both for increase Thunderbird mailbox to resolve Thunderbird out of disk space error problem.
Compact Thunderbird folder space
When a particular message has been removed from Thunderbird, it is only marked as a deleted item. Thunderbird identifies this mark and removed the items from the display list. However, it is still present there. For the actual deletion of Thunderbird emails, then users must compact the Thunderbird folder space.
Go to the File >> Compact Folders to compact all the folders.
For individual folders (such as Inbox), right-click on it and select Compact.
The user needs to compact Thunderbird folder space on a regular basis for each and every mailbox folders. By choosing to perform it on a weekly basis, it will become a quick and simple process to resolve "Thunderbird out of disk space" error problem.
To increase the Thunderbird mailbox space, one can backup the emails in a USB, cloud or another storage system. Mozilla Thunderbird allows moving emails in bulk to another folder within the local hierarchy of folders.
Open a folder, select an email message and hit Ctrl+A button to automatically select all the emails.
Then, drag the selected emails to a new folder in the Local Folder section.
Now, click on Local Folder and click "View settings for this account"
Copy the directory location and open it in file explorer. Copy all the files from this location and move them to USB, cloud or other storage media.
Now, delete the emails from the Local folders. The files are now safely moved to a backup location and the Thunderbird mailbox is cleaned up.
Keep the Inbox Empty
As instructed above, emails can be moved to another location, out of the Thunderbird system and can be accessed later.
In a simple way, there is no need to delete Thunderbird emails and lose them forever to resolve the error. You can simply keep a backup of Thunderbird data and then empty the entire Inbox folder.
Note: To locate and backup Inbox folder, simply go to its Account Settings > Server Settings and open the location given in Local directory section.
In the storage location, user can view that each mailbox folder has two files with a common name. One is the no-extension file while the other end with .msf extension. Basically, MSF is the index file, which is associated with the specific folder and is not important from the backup point of view. In the absence of the file, Thunderbird will create a new index.
So, simply move and backup the Inbox folder having no extension.
Another Alternative
Another way is to simply move the Inbox data to another folder and let Thunderbird create an empty Inbox again to receive the next set of messages. To resolve Thunderbird out of disk space error with this method, follow the steps:
First of all, select the Inbox folder.
After this, go to the Tools menu bar and then, select the Thunderbird Account Settings
Next, choose the Server Settings from Thunderbird Account Settings.
Now, the user can view a local directory on the right bottom of the window. Copy the shown path.
Open this path in Windows file explorer.
Now, close Thunderbird.
Now, delete the Inbox.msf file and rename no extension Inbox to another name of your choice (such as Backup-26-may-19).
Finally, restart the Mozilla Thunderbird application and the Inbox folder will be empty with another folder named Backup appearing in the Thunderbird panel.
Conclusion
This issue will occur because of the large-sized data files (greater than 4 GB) available on the Windows OS. In case, users have the inbox or any of the folders in Thunderbird exceed this file size, it can give you the Out of Disk space error. We conclude all the possible methods to resolve Thunderbird out of disk space error problem. This involves compacting folders, cleaning Thunderbird or simply moving the data to another folder.