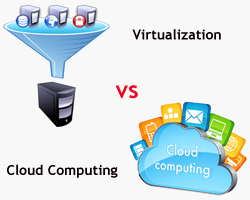 Is Virtualization and Cloud Computing are similar or there is some difference? How cloud virtualization and cloud computing related? Which is better for business purpose? Do you actually know the difference? If not, then it is totally fine, as there are so many non- IT people who do not know the dissimilarity between both. Virtualization is many times confused with the term cloud computing. There is no doubt that both the technologies are almost similar, but they cannot be interchanged. In addition, the difference between both of them is enough to affect business decisions. The main difference between virtualization and cloud computing is that Virtualization is an advanced technology and on the other hand, cloud computing is the service, which depends on this technology.
In this is blog i.e. Virtualization Vs Cloud computing, we will try to clear out all the elements that create confusion in users mind.
What is Virtualization Technology?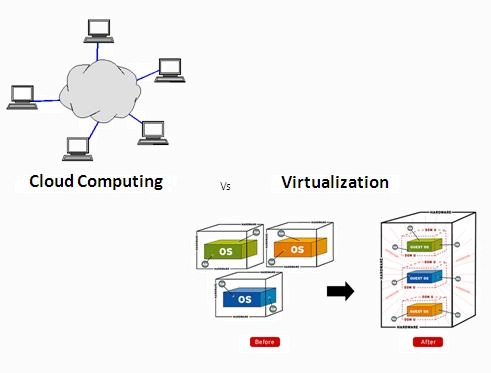 Software that divides physical infrastructures for the creation of several dedicated resources is virtualization. It is the basic technology that powers cloud computing. Virtualization software makes it feasible to run numerous operating systems and numerous applications on one server simultaneously. Moreover, it enables businesses to lessen the costs of IT while increasing the effectiveness, consumption, and elasticity of their existing computer hardware. The technology, which is behind virtualization is called virtual machine monitor (VMM), which is responsible for the separation of the computing environment and actual physical infrastructure. Virtualization makes workstations, storage, servers and other independent of physical hardware layer.
What is Cloud Computing?
Accessing programs or data over the internet instead of the computer's hard drive is known as cloud computing. In addition, it is not about the hard drive. Whenever users save the data or run programs from the hard drive, it is known as local storage and computing. The whole thing becomes close to the users, which leads to the easy and fast access to data for that one or the other computers present on that network. Moreover, This technology is a service whose foundation is based on virtualization. In this, the collective computing assets, software or data are delivered on service per demand basis through the internet.
Advantages of Virtualization
Maximize resources
Virtualization can lessen a number of physical systems users require, and they can obtain more value out of the servers. Virtualization allows utmost use of the hardware investment.
Run Multiple systems
Users can run several types of applications and even different operating systems with virtualization.
IT budget integration
The administrator of IT can decide that resources they need to virtualize. This results in the customization of virtual machines as per the requirement.
Appropriate for Small Scale
Virtualization is technology with, which users can make better use of the capacity of the server and need to maintain less number of servers
Increase In Infrastructure Efficiency
As a matter of fact that virtualization reduces the number of physical servers necessary for functioning and hence leads to enhance in the effectiveness of the organization.
Higher Availability
There is no effect on another server at the time of maintenance of an individual server. This maintenance can be done without bothering about the downtime problems.
Increased Privacy
Virtualization is limited to the people of a particular organization; therefore, it decreases the risk of interference from external sources.
Advantages of Cloud Computing
Cost Proficient
As compared to the other technologies cloud computing is available at a much lower cost. It lessens the estimated expense of the company as it reduces the charges of software updates, expenses of storage, maintenance, etc.
Simple & fast Setup
One of the best thing about this is that is can be deployed easily and the system gets into the functional mode in less time. Users need not waste the time to install servers, appliances, etc.
Pay for Selective Services
Everyone wants to pay less and in this, users need to pay only for those services that they are using. It is not required to spend in any other systems like email services, anti-viruses, storage of off-site and so on.
Increased Scalability
It also lets the organization or enterprises to modify operational & storage needs as per the requirement. Users can use the services whenever is required.
What is good for Business Purposes?
These are some factors, which resolve the issue of how to choose between Virtualization and Cloud Computing for the purpose of business:
One of the major deciding factors is that who is going to provide the best support and which is less challenging in the integration with other systems.
Cost is the other factor. This includes the cost of operational expenditures, capital expenditure, the total cost of expenditure, security needs, etc.
Businesses who use work more on operational expenditure (OPEX ) that have less IT staff and fewer security concerns generally use cloud computing. On the other hand, a business that requires greater control for integration and works more on capital expenditure (CAPEX) is more virtualization orientated.
Conclusion
Virtualization and Cloud Computing are two technologies that are very famous nowadays. In their initial stages, they are only available to large-scale enterprises, but now they are available for small-scale enterprises as well. Both words often create confusion in the mind of users. Therefore, to resolve this confusion we have thoroughly discussed the difference between virtualization and cloud computing along with their respective benefits. We have learned that virtualization vs cloud computing both have their own benefits.