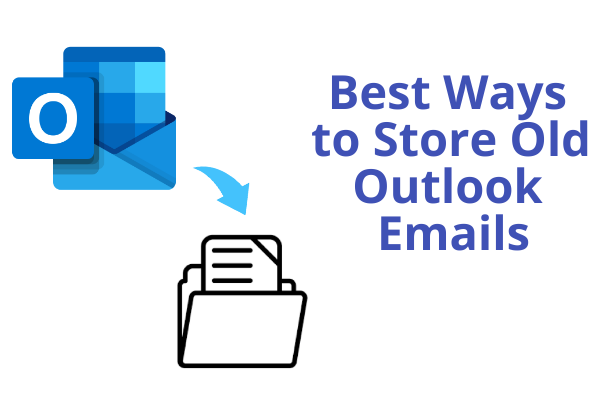 With years of usage, MS Outlook gets clumsy. If you are someone who cares about clutter-free mailbox, email management is something you should practice regularly. Today, we came up with a new tip for Outlook email management which is, best ways to store old Outlook emails.
Many Outlook users, specially those who use it for business purposes, complain about emails overflowing their mailbox. But they just cannot blindly delete the old emails, can they? Because, they might need to access the information stored in those emails any time in future. In such situations, they have to save old emails of Outlook somewhere safe other than the Outlook mailbox folders. To know how to manage old emails, read on.
Best Ways to Store Old Outlook Emails
When it comes to saving the old emails of Outlook achieving Outlook emails tops the list. In this blog too, we will describe that method first.
Archive Outlook Emails with Outlook Options
MS Outlook offers a feature to archive old emails of Outlook. Users can enable the Auto archive feature using the steps mentioned below:
a. Open Outlook and click on File > Options > Advanced.
b. Click on AutoArchive Settings under AutoArchive section.
c. Check the box "Uncheck the Run AutoArchive every n days" and enter a value in the box beside it.
Now, Outlook will automatically archive the emails when it becomes older than the specified day.
Manually Archive Old Outlook Emails
If you want to store old Outlook emails only when necessary, you can use this method.
a. Open MS Outlook 2016 and click on File -> Tools -> Clean up old items.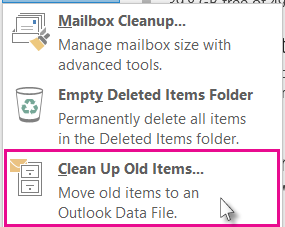 b. Select the radio button "Archive this folder and all subfolders" and choose the folder you want to archive. (This to archive the complete data of that folder)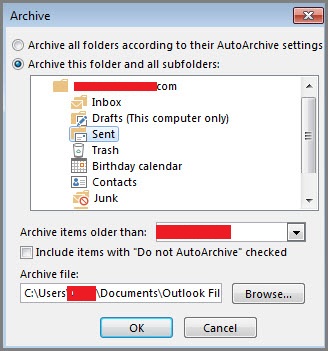 c. Enter your chosen date in Archive items older than box.
d. Click OK to store the archived data in a separate PST file.
Store Outlook Emails as MSG
Another common way to store the Outlook emails outside Outlook is the drag-and-drop method. This method is also popular among users as it is free of cost and easy to perform. This is how you can store old Outlook emails easily:
a. Open MS Outlook and click on the folder from which you want to move the old emails.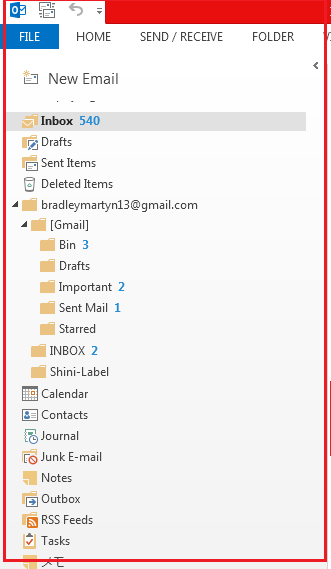 b. When the email list of that folder is visible, drag the required email and drop it on the desktop of your system.

c. That email is saved as MSG file outside Outlook now. One can open that email using Outlook anytime later.
d. Delete that email from your Outlook account and free the space. Repeat the same process for other emails too.
Smart Way to Store Old Outlook Emails Outide Outlook
In case you want to know "how do I save old emails outside of Outlook" you may try the alternate method: SysTools Outlook PST Converter. This tool offers numerous options to convert the Outlook emails and store them on any folder or location of your system outside Outlook. You can save the old Outlook emails in convenient formats like PDF, plain text, document and HTML that will also allow you to access those files with Outlook installation. Now, let us tell you how to run this utility:

1 . Open PST Converter Tool and click on Add File.
2. Go to the location of your PST file and open it.
3. The emails can be previewed with attachments.
4. Select the emails you want to save and click on Export.
5. Choose the file format of your choice on the next screen.
6. Click on Adv. Settings for selective migration and other settings.
7. Choose the location from local system or external drive. Users can even create a new folder for storing data.
8. Click on Export button to store the old emails of Outlook.
Once this process is done, you can delete the emails from respective Outlook folders.
Plus Points of Choosing Software over Native Methods
Option to store old Outlook emails in PDF, EML, MSG, Plain Text, HTML, DOCX, RTF, etc. formats
Freedom to choose any folder of computer to save the emails to protect files from PST corruption
Select any number of individual emails or emails belonging to any date range with date-filter
Simple yet short method that can be performed without constant supervision of the users
Conclusion
If you are looking for the best ways to store old Outlook emails, this blog is for you. Here we have described multiple methods for archiving old Outlook emails with both native and alternative methods. Both the common methods and alternative application have been mentioned here. Now, readers do not have to wonder, "how do I save old emails outside of Outlook?" They can read this blog and choose the method they want.