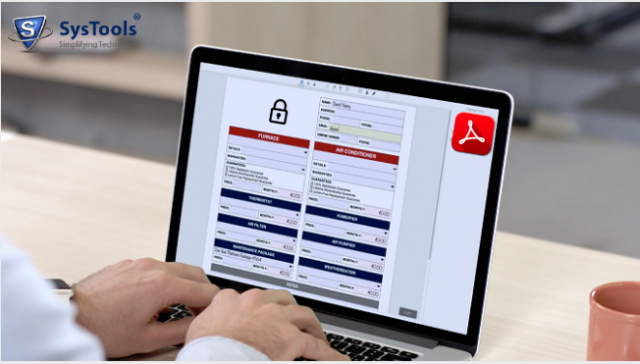 PDF is the eminently used file format these days. It facilitates advanced features and functionalities to their users. But, sometimes users may face difficulties when they required to fill PDF forms. Because the attributes of PDF files will not permit us to edit them. Mainly, the PDF is secured file format as compared to others. So, here we come up with the best 2 ways i.e. manual and SysTools PDF File Unlocker software to solve cannot fill in PDF form issue. Before proceeding forward, initially go through the below-listed queries, that will help you understand more about this scenario:
User's Query
"Yesterday, I have downloaded the form and I am using Reader XI. But, I can't type in PDF form fields. There is no typewriter icon. I have always been enabling to fill up in the forms for last years. What's wrong happen?. Please provides me an appropriate solution to fix cannot fill in PDF form fields issue. Thanks in advance."
"I have been trying to enter text in a form in Adobe Reader X, but I keep getting an error saying the settings have been changed. When I see security preferences it says that filling of the form field is not allowed. Though, when I open it in Acrobat Acrobat Pro program, the security settings state not allowed. Any thoughts, on how to make it permissible. I have no idea how to fill out a PDF form that is not fillable. Any help would be appreciated."
Can't type in PDF Form – Use this Manual Solution
As per the above-discussed queries, we have taken into consideration. And we are coming with manual steps to fix the issue i.e. cannot fill in PDF form fields. If you are having an issue then, check the following instructions:
Problem-solving tips for completing PDF forms
If you are having any trouble filling in and submitting forms, check the following instructions properly:
1. You should have to ensure that the security settings allow form filling. Firstly, go to File>> Properties >> Security.
2. Here, make sure that the PDF consists interactive or fillable form fields. Most of the times, form creators forget to convert their PDFs to interactive forms, or they intentionally design a form you can only fill in by hand. If you can not type in the form fields, then the fields are possibly not interactive.
3. At last, check for additional capabilities and restrictions in the purple document message bar, just below the utility area.
Cannot Fill in PDF Form – Use this Professional Solution
As per, the above-stated manual solution does not provide any surety to give you an appropriate result. It might be possible that the PDF form fields are not editable because PDF file is secured with permission password. Means, the PDF form that you need to alter is password protected. In such situations when you can't type in PDF form, you may need to remove restrictions from PDF form first then proceed forward.
However, if you have Adobe Acrobat Pro full version and you know the permission password. Then, you can use Acrobat Pro to unsecure PDF form. But, if you have forgotten the password then, you can go with an effective software named "PDF File Unlocker".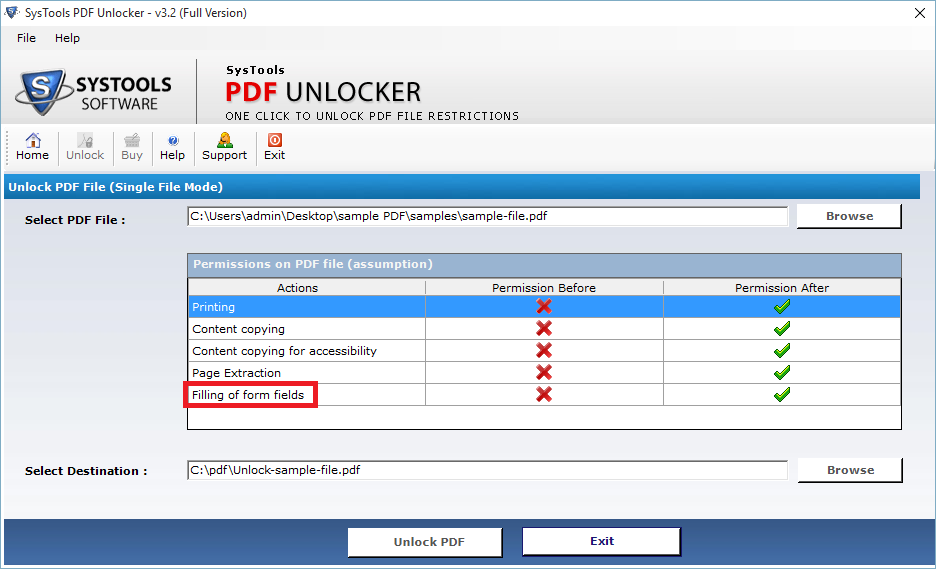 With the help of this software, you can easily and simply unsecure password protected PDF forms. This removes all kind of restrictions like printing, copying, editing, extracting, enabling PDF form filling, etc. This tool can be used to remove security when users cannot fill in PDF form fields.
Now, to fill and add any information in the provided field. You need to opt an alternative. This is an eminent software called as SysTools PDF Form Filler Software. With the help of this utility, you can simply click on a PDF form field without any hindrance. This software permits a user to open and fill out PDF forms for free. This tool is developed with an advanced feature so, it facilitates the option to edit text in PDF form.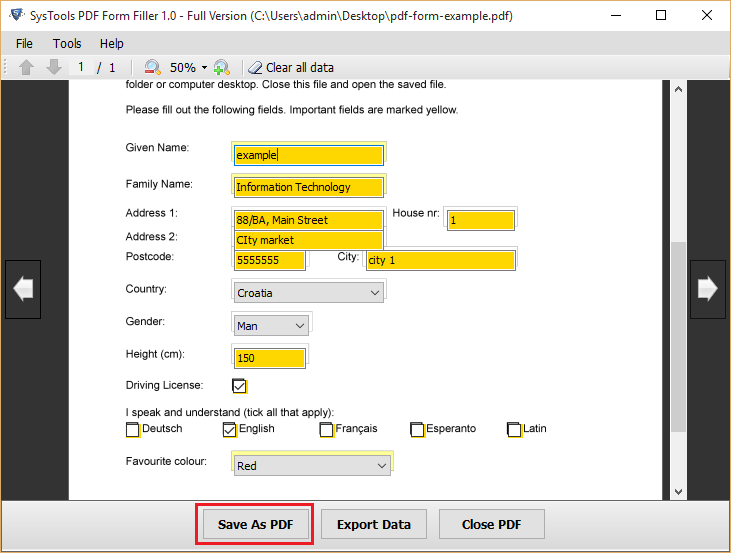 Moreover, it furnishes an understandable user interface. So, a novice user can also take help of this tool without any hesitation. PDF form filler application allows you to save and export data from fillable PDF forms. Using these two utilities you can easily resolve cannot click on PDF form fields issue.
Final Words
In this article, we emphasize the best 2 problem-solving solutions to resolve cannot fill in PDF form fields issue. Mainly, we have discussed the manual way and professional tool to do the same. As we all know, that the free technique having some limitations. So, it is recommended to go with efficient alternative tools as described in the blog. However, to fill out a PDF form that is not fillable, firstly it is needed to remove security from it. After that users can easily fill the data in PDF forms.