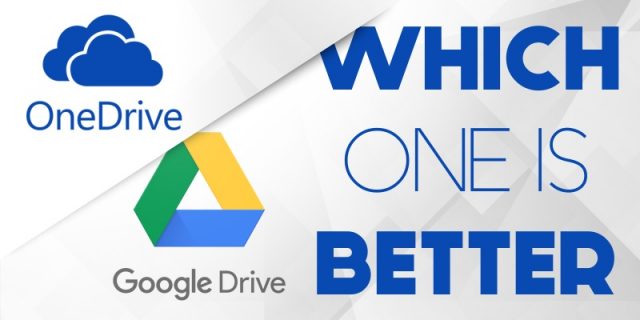 Are you trying to find difference between G Drive and OneDrive but, still unable to catch them? Don't worry, this article will help you in clearing all your doubts. Here, we have illustrated a deep comparison on G Drive vs OneDrive depending upon different parameters like storage capacity, price, accessibility, etc.
Utilization of the decent cloud storage is practically the core demand in today's scenario, either it is regarding work or anything else. However, everyone have their own set of opinion that which one they finds the best. Talking about Google Drive vs OneDrive then, both have been the best cloud-based services on their own perspective. But, now a question arises that what to choose and why? This blog covers the major difference between Google Drive and OneDrive that users need to compare : G Drive vs OneDrive
Helpful Tip : If someone is already using G Drive and wants to migrate to OneDrive then, they can utilize SysTools G Drive to OneDrive Migration Tool. It will help them to carry away the entire file transferring procedure in an easy and hassle free manner.
Answer to the Question – Google Drive Vs OneDrive : It is totally the user's requirement and capability, which they need to fulfill either from G Drive or OneDrive. Therefore, we have drawn a table for comparison between Google Drive and OneDrive that will enable users to properly learn that what they actually need and hence, what to choose.
G Drive vs OneDrive : Know Difference between Google Drive and OneDrive
Features
Google Drive
OneDrive
Price
$ 1.99 One-time payment
$ 3 Per Month
Cost
It comes in a free version, or $50 per user per year premium version
It is free mail client and it allows 25 users on a single domain with a limit of 5 GB per user
Application Integration
G Drive is pre integrated with Google's developed suite. These applications are

Docs
Sheets
Slides
Forms
Documents

OneDrive is integrated with following applications

Work Document
Excel Workbook
PowerPoint Presentation
OneNote Notebook
Excel Survey
Plain Text Documents

Use and Accessibility
Google Drive supports all desktop clients on Windows and Mac, except of Linux.
This creates a drive folder on screen, which can be accessed and manipulated just like the other folders. It also provides offline data accessing. Mobile users can access Google Drive just by downloading its app.
OneDrive will run on almost all of the operating systems, except of Linux.
In this, all the devices are connected with one server and thus, one can view and edit files seamlessly without wasting time in transferring files. Users will be able access their files from any web browser without any hassle. Mobile users can access this app on Android, iOS, Windows Phone, etc.
Storage Capacity
It offers 15 GB storage to its users at no price. This capacity is divided between Drive, Gmail and Photos.
It also provides 5GB storage for free. This can be increased depending upon the subscription plan.
File Sharing
Users can share content, both at the folder and file level
It also have a 'Share With Option'. It manages file sharing, which have

No password protection for links
No way to set link expiry dates
No separate page to audit shares

Users can share files and folder from their desktop client, mobile app, or browser interface.
OneDrive does not provide option to password protection links. It has option to include sharing by email or generating a link that anybody can use. OneDrive has added a "shared" page to audit what content has been shared.
List Of Features

Massive Storage Space
Store Any File
Share Any File
Secure Platform
Save Gmail Attachments
Powerful Search
Google Photos
Chromebook Compatibility
Massive Integration with Third Party Apps
Work Offline
Scan Documents

Cloud storage
Cross-platform syncing
Mobile application
Data loss protection
Business collaboration
Windows and Mac compatibility

Privacy And Security
Google Drive provides strong TLS encryption with two-factor authentication and the files on the servers are protected with 128-bit AES encryption.
OneDrive works on SSL encryption to transfer data and two-factor authentication, which is available as an option. It has a PFS (Perfect Forward Secrecy) in an offer, which stops hackers from using an intercepted session key.
Syncing
G Drive is Google's file sync app. It lets you store all of your files online to your Google Docs documents, and keep them synced with all of your devices.
OneDrive sync apps formerly. It lets users to save their files online, modify Office documents for free on Office Web Apps. Users will easily be able to access your online files from PC.
Services
It includes various services like for communication it has Gmail, Calendars, Google+, and Hangout, for storage it has Docs, Slides, Forms, Sheets, and for collaboration it has Sites, to handle services and users it has Vault.
It offers Group sharing, where users can create a group alias and share all documents with those people who are members.
Wrapping Up
Now wrapping up the article by covering all points regarding Google Drive vs OneDrive  by comparing between Google Drive and OneDrive . I think this blog might help to clear your confusion and you are able to learn that which one is best. In case you want to migrate from Google Drive to One Drive, recommended is G Drive to One Drive Migrator by SysTools having great reviews. I hope this blog is helpful for users who needs to know the difference between Google Drive and OneDrive.