How to Convert .msg Contacts to vCard – Top 3 Methods
Email contact has become popular in today's modern world, where virtually anyone is connected to technology. In the industry, several email services are available to communicate and establish contact with one another.
Outlook is one such common application that, through its features, enables users to develop effective communication. MSG format is used to store all contacts for a specific email profile. As a result, each Outlook contact can be viewed as an MSG file. However, in some cases, many users prefer to convert .msg contacts to vCard format to access Outlook contacts independently as .vcf.
Instant Solution: MSG to vCard Converter will convert all.msg files to VCF format.

Why is vCard Format Beneficial?
If you've converted your contacts from MSG to vCard, you may take advantage of the Format's following benefits:
The vCard contacts can be quickly viewed without the need for an email client or a desktop client to read their content.
It is simple to send a vCard through Bluetooth. As a result, the connections can be easily exchanged by using the common functionality of cell phones.
The vCard files can be conveniently connected to other email clients, such as Gmail. As a result, you can exchange Outlook contacts with another program as well.
The primary benefit is that vCard files can be accessed without an internet connection.
Outlook contacts can also be saved as a vCard file to create a backup of multiple Outlook profiles in a single location.
It is one of the simplest methods for converting contacts from an MSG file to vCard format, which can be viewed on handheld devices, computers, tablets, etc.
Steps to Transfer MSG Contacts to vCard
Outlook in-built utility is effectively useful to extract vCard files. When MSG files are extracted into vCard, it extracts full information along with the name, email address, phone number, organization, and other contact info. These are the steps you need to follow to perform the conversion from MSG files to vCard.
Method #1: Save .MSG Contacts to vCard
Launch MS Outlook and navigate through Contacts.
Choose the Outlook contact to be stored as a vCard.
Select File Option.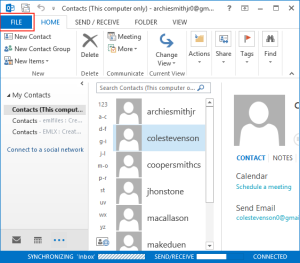 From the file menu, select Save as Option to start the process of exporting MSG to vCard.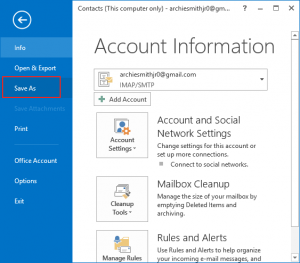 Next, to save MSG to VCF, choose the vCard option under Save As Type option.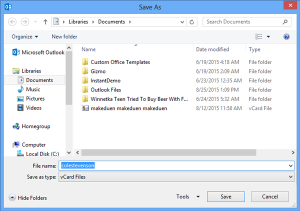 As a result, users can conveniently export MSG contacts to vCard by following the steps outlined above. It generates a vCard file for the contacts, which was exported from the Outlook profile. These steps can be repeated independently to export the MSG file to vCard.
Method #2: Convert .MSG Contacts to vCard via Business Card
Another method for exporting several MSG to vCard is to forward the business cards as follows:
Launch the Outlook program and navigate through Contacts.
Then, go to Forward Contacts >> business card.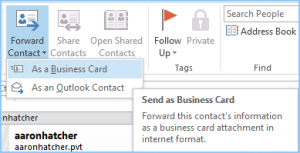 Enter the email address of that contact for which you want the MSG address book to vCard migration.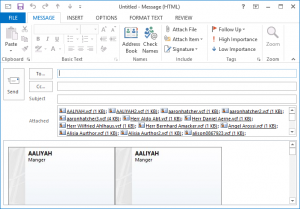 Then send the email to the user-specified email address.
Next, open the email to extract the attachment of the contact.
Click on the Download Attachment, this will extract the contacts as vCard.
The above-mentioned approach can download MSG files into vCard Format, but it would become a time-consuming and tedious task for a large number of contacts.
To avoid it, you can use the direct approach explained right here.
Method #3: Export MSG to vCard using Business Card
Users can use the MSG to vCard tool to convert all of their MSG contacts into VCF file format. Other than this, users can also convert MSG to EML, and MSG to MBOX without Outlook. After conversion, users can quickly view VCF file contacts on various email clients and platforms.
Download and fully install the tool on your device
Navigate to the folder that contains the Outlook Message contact file.
In the software interface, preview newly added messages with attachments.
Choose the Export option to start the conversion process.
Noteworthy Features of MSG to VCF Converter
Using this tool you can perform full MSG contacts migration
This tool provides dual-selective and bulk transfer
There is no file size restriction to save as VCF
It supports both MS Outlook and Windows operating systems
Maintains the quality of MSG contacts intacts and in their original state
Keep data integrity in check and perform an error-free conversion
Steps to Convert MSG to vCard on Mac OS
Download and install the conversion software on your Mac system

Select and add the desired MSG files
To apply the filters, select "VCF" and click the "Advanced Settings" button
Transfer all Outlook Mail data to vCard on Mac by clicking the Export button
Conclusion
Considering the user query of users to convert .msg contacts to vCard format, we have covered three effective solutions. To reduce the time consumption and error-free conversion, you can choose the direct approach method or the manual solution mentioned in the article.