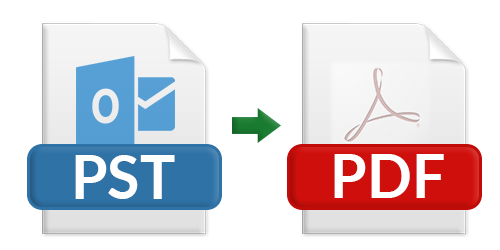 Outlook PST to PDF Converter is the most appropriate approach for the users to export PST file to PDF file format according to their requirements. This tool easily allows users to convert PST to PDF Adobe Acrobat efficiently and that too in few seconds. Different email clients are used in the organization for sending and receiving the email messages and the attachments. Users are using different email clients as per their demands. But, among all the email clients, Microsoft Outlook is one of the most demandable email client and first preference of every user to manage their data. This article will discuss different techniques to migrate PST file to PDF.
Microsoft Outlook and Adobe Acrobat Reader are two different applications which support different file formats. Outlook is the first preference of every user as their default email platform for email communication. MS Outlook has two file formats which are OST and PST. Outlook PST file is commonly used to store complete data items of Outlook in it. Whereas PDF file format is supported by Adobe Acrobat. It is used to view the PDF file in a system. The PDF format is a document file format which is so secure that it can be used to store the data items in it.
Manual Technique to Convert PST to PDF Adobe Acrobat
Open Microsoft Outlook on your machine.
Navigate to File → Select Save As.
A new window will pop up, where users are required to select the File Type as an option & select HTML format.
Browse and select the location to save the HTML file and Click Save Option.
Open the HTML file by navigating the following sequence:
Choose HTML file → Right Click → Open with → Microsoft Word.
Now, open Microsoft Word and select File → Save As → Choose File Type as PDF.
Now, open the resultant PDF File.
Limitations of Manual Approach
The manual approach to convert PST to PDF Adobe Acrobat is a time-consuming process which creates a hassle for the users while exporting a large number of Outlook PST files in a PDF file format. This approach is only suitable to migrate either one or two files in the PSF format. It is also not a reliable solution for the users to convert PST to Adobe PDF file format. Sometimes, it may also lead to the corruption of data files. So, users are always suggested to take a backup of Outlook PST files before performing the Manual Approach.
Professional Third-Party Approach
For the perfect results, users are advised to use Outlook PST to PDF Converter which is suggested to the users to convert PST file to PDF file format. It is a multi-featured tool offering several options to the user to make the task simpler. It also comes with a user-friendly interface that can easily be understood by the novice users as well.
Key Features
Some of the unique features of the Software are:
Performs batch conversion Outlook to PDF file in no time.
It can convert all the mailbox items of Outlook data files to PDF format.
Provides option to preview all the PST data items in PDF file format.
Capable to maintain the internal folder structure of the Outlook data files after the conversion process.
Conclusion
In the above blog, we have discussed both the Manual and Professional third-party approach to convert PST to PDF Adobe Acrobat. Both the methods have their own benefits and limitations. But, due to the Manual Method limitations stated above, it is clear that most of the users prefer to go for the Professional approach instead of the Manual Approach to move Outlook to PDF Adobe.