Eudora is an old, obsolete technology created by Qualcomm, a subsidiary of Microsoft. It used to be a desktop-based email client for classic Mac OS, Mac OS X, and Windows operating system. Eudora stores email files in a .mbx format and save the file on the user's computer locally. Many users still have their old mailboxes in Eudora that they forgot to upgrade or did not wish to at the time.
Many continue using Eudora despite the fact that it is no longer supported by Microsoft. Others prefer moving emails out of Eudora to a more advanced emailing client like Outlook. The advanced security, filtration and cloud services offered by Outlook attract many. The mailbox storage file for Outlook is saved with a .pst extension. This is a personal storage file that stores emails locally on a user PC.

To import Eudora to Outlook, file conversion is needed i.e MBX file to PST file format. This way one can view Eudora emails in MS Outlook. For those looking for a solution to move Eudora Mails in Macintosh computers, look no further. This post clearly describes the steps and ways to convert Eudora to PST. An alternative solution is also described. Read more to find out which option will be best suited for converting Eudora MBOX to PST.
Manual Solution to Import Eudora MBX to PST
To transfer emails from Eudora to PST, Outlook for Mac must be installed on the local machine. Moving around emails is a risky task. One must completely understand the risks involved before proceeding to migration. It is highly recommended that a backup is prepared for all emails that are being moved to prevent data loss.
Following is a manual procedure to export Eudora to MS Outlook 2011 computers. The step can only work for Qualcomm Eudora version 5.0 and above. Repeat the following steps to move Eudora Mail to PST in Mac and above versions in Mac computers.
Note: Mac Outlook 2011 is required for the process that is no longer available. Plus, it's a Mac app, not a Windows one. Opt for the next method that will convert Eudora MBOX to PST on Windows.
Open Outlook 2011 application on your Mac computer.
Next, go to Tools from the top navigation bar and click on Import.
Then, an Import box will appear. From the Begin Import page, select the option that says, Information from another application. After that, click on the right arrow from the bottom right corner to continue to the next step.
From the Choose an application section, select the option for Qualcomm Eudora(5.0 or later). Click on the right arrow, to continue moving to the next step.
From the Import items page, select the items that need to be imported from Eudora. Just check the box next to Mail. Then, click on the right arrow to move to the next step.
Now, Browse to the folder path where the Eudora MBX file is saved. Once the file is located, click on the Choose button. This will start to import Eudora MBX to PST Outlook 2011 for Mac.
Once the import is completed, click on the Finish button.
Limitations of the Manual Process
Incomplete Procedure: The suggested manual process only moves Eudora emails to MS Outlook 2011 for Mac computers. It does not convert Eudora MBX to PST. To access Eudora Mail from Mac computer to Windows, a longer procedure is needed. One which involves using multiple different email client applications and different file formats.
Limited Support: The manual procedure only works for Eudora 5.0 and later version. An upgrade is needed for Eudora versions 2, 3 and 4.
Lack of Data Integrity: It is not ensured that emails will be in the same formatting as in the original mailbox. Many times, the send and receive dates of emails are changes or emails are in HTML code format. This makes emails difficult to read or use as the email metadata has been modified.
A Perfect Solution to Convert Eudora MBOX/MBX to PST
The manual process does not do justice with the emails by changing the formatting and properties during transfer. There are also other limited support issues that make many users who stay away from the manual approach. People look for alternative workarounds that make the entire task to move Mac Eudora Mail to MS Outlook easier. They prefer professional solutions that aim at keeping the email metadata and formatting intact.
One such tool is the Eudora to Outlook Converter. It is a proven solution used by many home and professional users. It can move Eudora's email to PST format without much hassle. It is very easy-to-use and user-friendly.

It works for all the Eudora variants, that includes:
Eudora 7 & below: These versions create MBX files to store emails and Attach folders to store attachments. The software has an auto-detect feature that automatically identifies the database of Eudora including the MBX and attachments.
Eudora 8 & above: these versions are the open source versions that resemble Mozilla Thunderbird. They store emails and attachments within MBOX files. The software converts Eudora MBOX to PST without any problems.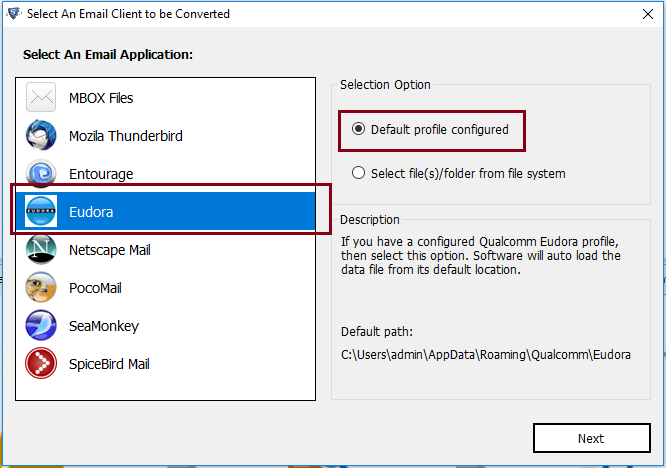 Final Words
There are many solutions available to export Eudora email to PST in Windows computer. But none for Mac operating system. It is difficult to find good alternatives to convert Eudora MBX to PST for Mac. One such perfect solution has been described in the post. It is essential to choose the best alternative in exporting important conversations from one computer to another. There are always chances of data loss during transfer. Hence, it is again advised to backup all emails on a separate drive on the computer or on another. And then try any data transfer mechanism.