Export Lotus Notes Address Book to Excel – Two Best & Easy Ways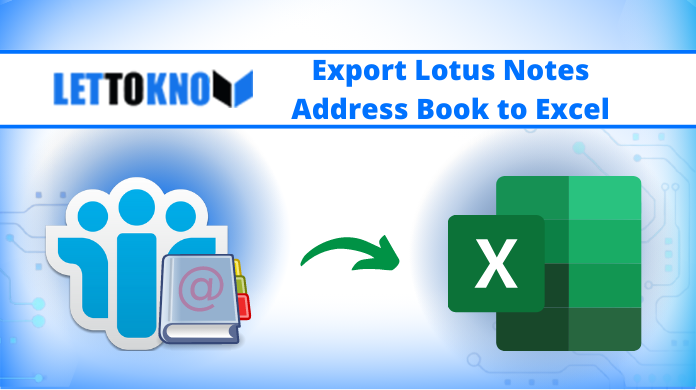 If you have come to this page, then you are most likely seeking a technique to export Lotus Notes address book to excel. And if you answered yes, you've arrived at the right spot. Today's post will walk you through the most straightforward method for exporting all of your Lotus Notes contacts to Excel. So, continue reading the write-up and you will be able to complete your tasks with ease.
Well, Excel supports CSV file format and it is one of the most used file formats for storing contacts. Basically, it provides a well-managed tabular structure for storing data such as contacts.
Furthermore, a CSV file is an OS-independent data file, which means it can be opened on any device. As a result, many users wish to export Lotus Notes address book to Excel and there are several options for doing so.
Reasons to Export Lotus Notes Contacts to Excel?
The Lotus Notes export to CSV software saves contacts in the names.nsf file. However, sharing any of the contacts with non-Lotus Notes users is exceedingly difficult.
As a result, people convert NSF files to CSV for a variety of reasons. Some of the advantages of using a CSV file are as follows:
Hundreds of contacts can be saved in Excel.
Excel CSV is a file format that can be opened on any device, regardless of the operating system.
Contact information may be stored and sent more easily with Excel files.
After acquiring the reasons, the main issue is how to make this work begins. So, to find out the solution, read this blog to the end. Evidently, in the next part, we'll go through the step-by-step method to export data from Lotus Notes to Excel format.
How to Export Lotus Notes Address Book to Excel?
In this part, we'll show you how to convert NSF contacts data to CSV using the free technique.
1. Open the IBM Notes program to initiate the Lotus Notes export to Excel.
2. Select Contacts from the drop-down menu.
3. This opens the application in a new tab with a Lotus Notes Address book.
4. You may now study all contracts and their accompanying documents in this newly created tab.
Then, from the drop-down menu, pick Export Contacts from the list of options.
5. You may now choose whether to export all or selected contacts from your address book using the Export Contacts wizard.
5. Choose 'How much information do you want to offer for each contact?' from the drop-down menu. – Do you want to include all fields or only the most important ones?
6. The Save as section allows you to choose the location and name of the resultant CSV file.
7. Click the Export button after selecting Comma Separated Value (.csv) from the Save as type drop-down menu.
8. Wait until the task is finished. Following that, you can export data from Lotus Notes contacts to Excel CSV.
Import Lotus Notes Address Book to Excel
1. Once you have exported the name.nfs file to CSV, then the Excel
2. Now, click on the File option and, then choose Open.
3. Browse the converted file and click on Open.
Best Automated Way to Export Lotus Notes Address Book to Excel
As earlier mentioned, the manual method is incapable of saving huge numbers of contacts in CSV due to the time constraint and the risk of losing data integrity such as images and logos. So, in this tough situation, to overcome the restrictions of the manual method, we'll provide a solution in this section that can convert any number of Lotus Notes contacts to CSV fast. So users can easily open it through Excel.
SysTools NSF Converter is the tool that allows you to convert the names.nsf file to a CSV file without any limitations. It's one of the safest and most reliable ways to convert Lotus Notes contacts to CSV. Along with CSV, this program export Lotus Notes contacts to vCard and exports Lotus Notes mailbox data to EML, MSG, MBOX, and PDF file formats.
The Tool's Working Step
Step-1. To start, download and install the app on your system.
Step-2. Click the Add File(s) or Add Folder to NSF Files button after opening the tool and selecting the Select NSF Files(s) radio option.
Step-3. From the Export Format drop-down box, select CSV.
Step-4. Select Contacts from the drop-down menu under Select Categories. Select the Exclude duplicate contacts option to get rid of duplicate contacts.
Step-5. From the Advance Conversion Settings menu, choose Maintain Folder Hierarchy and other advanced options.
Step-6. To save the produced file, pick the Destination location.
Step-7. Finally, to save Lotus Notes Contacts to CSV, pick the Export option.
Step-8. Once the NSF file is converted into CSV then simply open the file with the help of Excel.
Why Tool Over Manual Method
The tool has a lot of great features, and we've highlighted a few of the more significant ones in this area.
Emails, contacts, and calendars from Lotus Notes may be exported to a variety of file formats.
Maintaining folder organization, HTML formatting, and Internet headers have been simplified.
Allow the canonical name to be converted to SMTP format.
Use the Multiple Naming Convention options to save the modified data.
Data from Lotus Notes may be converted directly from the Domino Server.
Also Read: How to Save Lotus Notes Emails as PDF Safely
Wrapping Words
We all know that Excel is one of the best places to store data like contacts hence the reasons many Lotus Notes users want to save Lotus Notes data to Excel. So, here in this blog, we have discussed two best methods to export Lotus Notes address book to Excel. So go through the write-up and choose the right one for you. Even as per IT experts this is the best way for Lotus Notes export to CSV.