Export Lotus Notes Contacts to vCard – Top Three Ways
Akshay Vats
| Modified: September 27th, 2022 ~ 4 Minutes Reading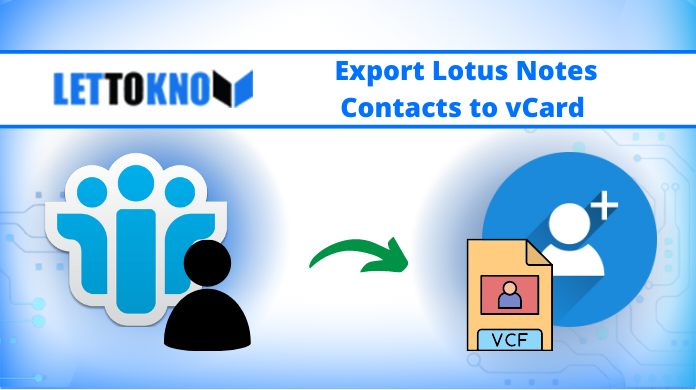 Do you want to export Lotus Notes contacts to vCard format? Then you are on the right path because this write-up is going to be very helpful for you. Here we have come up with an effective and foolproof solution to convert NSF contacts to VCF format.
Basically, Lotus Notes saves its contacts files into NSF format which is only compatible with Lotus Notes only and if you want to share the contacts file then you have to change the format of the NSF contact file. And vCard is a universal well-known standard format for saving contacts or sharing contacts. Hence, most of the users want to convert their contacts to vCard. It contains all the contact details like a contact name, number, email address, home address, business address, images, and much more.
Moreover, when users want to access Lotus Notes contacts outside it, then VCF is the best file format became it is supported by almost every device and email client. But before moving towards the procedure, let us know the benefits of choosing the VCF format.
Also Read: Export Lotus Notes Address Book to Excel File Format
Why do Users need to Export Lotus Notes Contacts to vCard?
Well the answer to the above question is very simple, VCF provides users more flexibility and features like
VCF format is OS independent file format that means it is applicable universally
vCard files are more convenient to store and share contact details
VCF files are compatible with almost all devices like phones, tablets, and computers. Also supported by most of the email clients like Outlook, Gmail, Thunderbird, and others.
How to Export Lotus Notes Contacts to vCard Manually?
Well, it is true you can migrate Lotus Notes contacts to VCF. But there is a catch in it you can only export single contacts at a time. So, if you have to export multiple NSF contacts to vCard then it is not that worth it. Now, to migrate single Lotus Notes contacts to VCF then follow the below steps:
First, launch Lotus Notes on your system
Now, go to the Contacts section
After that select contact that you want to export into VCF
Now, click on the File option and choose the Export option
Under Save as option choose vCard
Enter the Name of the contact file
After all settings, click on the Save button to save contact
How to Export Lotus Notes Contacts to vCard Smartly?
As we know the manual method is not capable to save multiple contacts in VCF and the one-by-one method takes so much time in order to export NSF contacts to vCard. So to fulfill the limitation of the manual method here in this section we are going to introduce the tool that can easily migrate Lotus Notes contacts to VCF without losing any contact details.
The SysTools NSF Converter is one of the most trusted and secure ways to export Lotus Notes to vCard. Along with contacts, this tool is capable to convert emails into four different file formats such as EML, MSG, MBOX, and PDF. The tool also gives the option to convert contacts directly from the Domino Server.
Step-1. Step to Convert NSF Contacts to VCF Using Tool.
Step-2. First Download the software and install it.
Step-3. Now, launch the tool and choose the NSF Files(s) radio button and click on the Add File(s) or Add Folder to NSF files.
Step-4. You can also add the entire Domino Mailbox using Domino Server IP Address and Password.
Step-5. Select the vCard option from Export Format for NSF files.
Step-6. Under Select Categories choose Contacts.
Step-7. Tick out the Maintain Folder Hierarchy option under Advance Conversion Options.
Step-8. Select the Destination location to save the contacts to vCard.
Step-9. After all setting, click on the Export button to export Lotus Notes Contacts to vCard.
Why this Software?
The software comes with some amazing features that full the limitations of the manual method some of them are listed below:
The tool is capable to convert Lotus Notes emails, contacts, and calendars.
It capable to maintain folder structure, along with HTML Formatting and Internet Header
Option to convert the canonical name to SMTP format
Comes with Date Filter option and Naming Convention
Also Read: Convert Lotus Notes NSF to Thunderbird
Conclusion
Export Lotus Notes contacts to vCard is the most common query asked by many of the Lotus Notes users. Hence, here we have discussed two easy methods to convert NSF contacts files to vCard. So, now you can choose any of the discussed above methods according to your requirements.