How to Save Lotus Notes Emails as PDF in A Safe Manner
Akshay Vats
| Modified: September 28th, 2022 ~ 4 Minutes Reading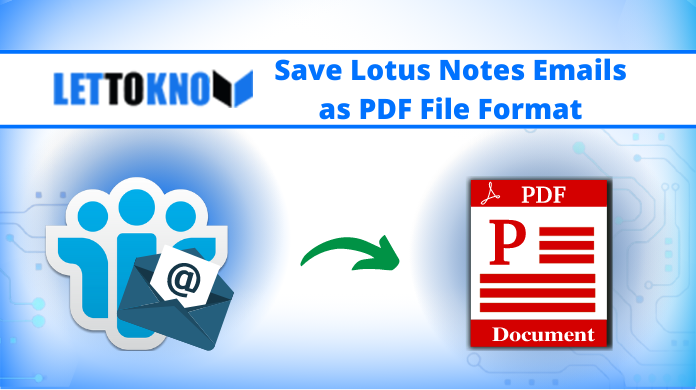 If you are seeking for a solution on how to save Lotus Notes emails as PDF then follow this article. Here you will know the perfect solution to save multiple HCL Notes emails to PDF. So keep reading the guide to know the solution.
Well, we know Lotus Notes, is a very popular enterprise-level email client. It offers various security and enterprise-level features such as – user directories, team rooms, file sharing, instant messaging, discussion forums, contacts management, to-do lists, emails, micro-blogging, blogs, calendars, and many others in NSF file format.
Basically, there are various reasons like security, archiving, conversion, sharing, and so on to which one may wish to convert NSF to PDF. But due to lake of methods users can do it with exact precision. Also, PDF is one of the most used file format for hard copy documentation. Along with that it is platform-independent so that users use it to make presentations, backing up documents, collect documents for government purposes or for legal procedure.
Why do Users want to Convert Lotus Notes Email to PDF?
Device Compatibility – The first reason is that PDF is device independent file format, which means users can open this document on any device without thinking about the OS.
Offers Data Security and Sharing Option – PDF occupies less space so is a very good option for document sharing. Along with that it offers various security features and restricts PDF files from operations like copy, print, read, etc by authorized users.
Evidence for Legal Purpose – All the data forensic investigators and lawyers want to save Lotus Notes emails as PDF format for getting genuine evidence. Hence it is the top choice of data investigators and lawyers.
Easy Printing – There are lots of users who want a hard copy of emails and we know that we can not print the NSF files. So the conversion of NSF to PDF helps those users and provides an easy printing solution.
How to Save Lotus Notes Emails as PDF Smartly
Now, if we are seeking the direct method to export NSF files to PDF then there is no direct method available. So, in that situation, to complete this conversion process we recommend the SysTools NSF Converter Tool.
It is the most trusted, software to convert Lotus Notes email to PDF. Along with PDF this tool also offers three more file formats like MBOX, EML, MSG. It converts NSF emails, contacts, and calendar data items. The tool has not posed any file size restrictions, hence a user can export NSF files of any size or any number of NSF emails.
Also Read: Move Lotus Notes NSF Data to Thunderbird
Steps to Convert Lotus Notes to PDF Using Tool
Step-1. First, download the tool and install it.
Note: Make sure Lotus Notes 9.0.1 is installed and configured
Step-2. Choose Select NSF File(s) radio button and click on the Add File(s) or Add Folder.
Note: If the NSF file had a password the provide it.
Step-3. You can also add files directly from Domino Mailbox just enter the Domino Server IP Address and Password.
Step-4. Under Export, option Select Export Format and choose PDF format.
Step-5. From Categories, option select the Mails option to save Lotus Notes emails as PDF selectively.
Step-6. Select the Advance Conversion Option like HTML Formating, Internet Header, Maintain Folder Hierarchy, etc.
Step-7. Select the Destination location to save the resultant file.
Step-8. Once all is done click on the Export button to start the procedure.
Manual Method to Save Lotus Notes Emails as PDF
If you are seeking a free solution here in this section we are going to discuss the manual method to save NSF emails to PDF.
1. First open Lotus Notes email client on your system.
2. Now, drag and drop the email to save to the desktop.
3. The dragged emails will be saved as an EML file.
4. Now open these files using MS Outlook.
5. After that Click on File Save As.
6. Then select HTML as the saving emails type.
7. Now open the HTML using MS Word and save it in PDF format.
Also Read:
Conclusion
There are many Louts Notes users keen to know how to save Lotus Notes emails as PDF but due to the absence of direct manual method users are not able to complete this task. Hence, to make the tasks we have come up with this write-up where we have discussed the best and most cost-effective solution that will help users to export Lotus Notes emails to PDF easily without any data loss.