Many people, especially those people who work in an organization, use Outlook email client for dealing with emails, contacts, and calendars every day. Apart from its advantages, Outlook still has some shortcomings like Microsoft Outlook 2016 / 2013 does not provide the tight integration with iDevices or Mac computers like iPhone does. Also, many users are using Outlook 2013 / 2010 for their business and using iPhone for the personal use. But, sometimes, they need to work from the home. Thus, they want to export Outlook contacts to iPhone 8 / 7 / 6 / 5 to access all the address book easily on their iPhone. Because contacts are the crucial as it keeps us connected with others. Once it has lost, it is very time-consuming and hard to rebuild. Therefore, it is necessary to transfer Outlook address book to iPhone 7 / 6. But, this is not an easy task. There are many users who faced the problem in migration, one of those user's query is given below:
"I manage all my work & personal email and contacts in Outlook on my Windows 8.1 computer system. Recently, I received my first iPhone 7S from my father on my birthday. So, I started using the Outlook app on my iPhone, but I have access to a list of recent contacts only. I cannot access my full list of contacts. So, I need to move all address book of Outlook in my iPhone. Does anyone know how to export Outlook contacts to iPhone? Many many thanks for any advice."
Now Let's take a look at a simple and efficient Outlook to vCard Export operation.
How to Export Outlook Contacts to iPhone?
Getting MS Outlook address book to iPhone 8 / 7 has always been a bit of a puzzle. In this article, users get a complete guide on how to transfer selected contacts or entire contact list of Outlook to iPhone. We will discuss the quick and direct way to migrate Outlook contacts to iPhone without any risk of deleting any contacts that are already saved on your device.
Export Outlook Contacts to iPhone through Professional Tool
Although, it is not possible to transfer Outlook contacts to iPhone directly. So, a user can take help from a third-party tool named as the vCard Export tool. This software is very easy to install and use. It can export Microsoft Outlook 2016 / 2013 / 2010 contacts to vCard then, this vCard is imported into the Gmail account.
After that, a user can open all contacts in iPhone by using their Gmail. This software provides an option to open and preview all Outlook contacts in vCard format with their all attributes. Moreover, this tool has multiple advanced features such as migrate single PST, transfer contacts in bulk, auto-detect, etc. This is also facilitated with an option for quick scanning of PST contacts and perform migration of MS Outlook contacts into vCard easily. By using this utility, a user can combine and migrate / move Outlook contacts to multiple email application also.
Working of vCard Export tool to Migrate Outlook Contacts to iPhone
If you want to transfer Outlook address book to iPhone 6 / 5 in simple and convenient way. Then, perform these step by step procedure, which is given below:
Step 1: First of all, Download, Install and Run the vCard Export tool.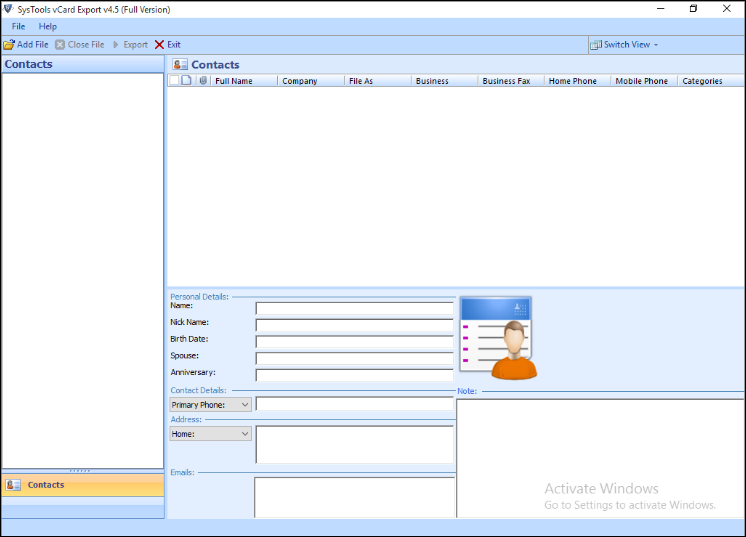 Step 2: After that, add Outlook contacts file or folder in PST format that you need to migrate.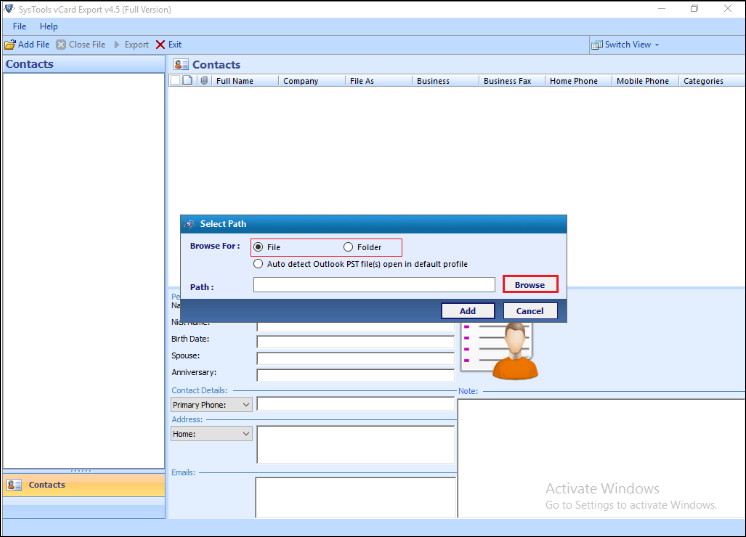 Step 3: In this step, Preview of all your Outlook 2007 / 2003 PST file or folder contacts.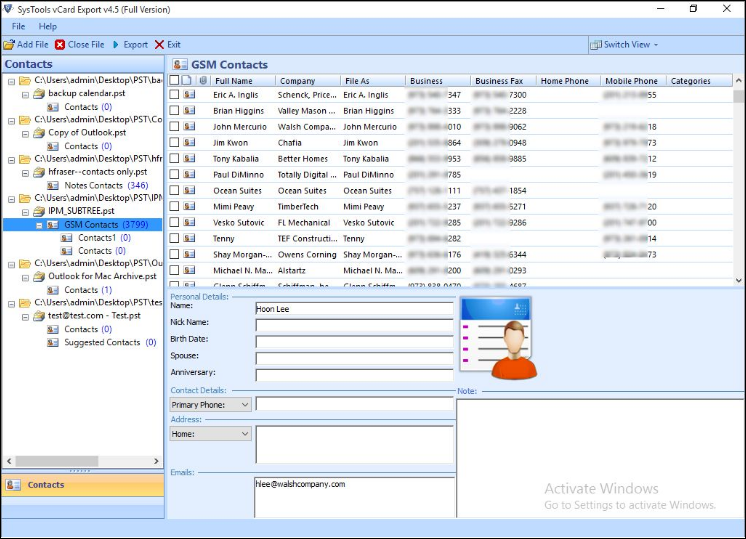 Step 4: Finally, Export the Outlook contacts into vCard.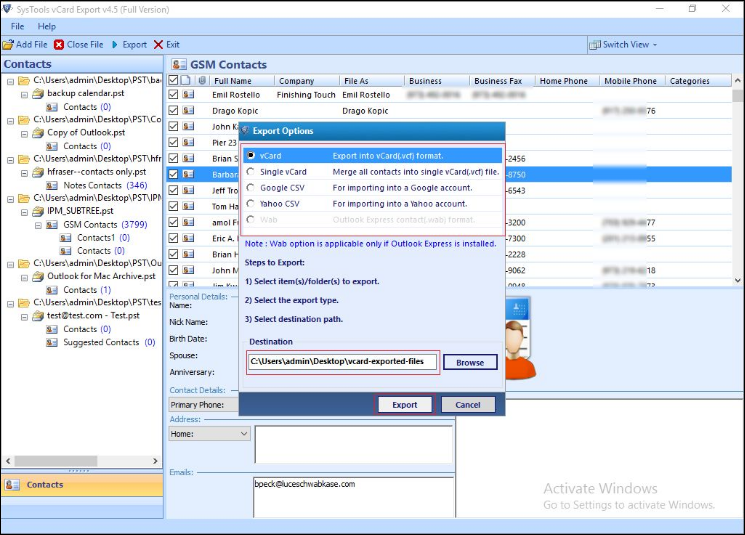 Import vCard into iPhone
1. Log in your Gmail account with credentials.
2. Choose "Contacts" from the navigation panel and click on "More"
3. Select "Import" and select the file which you want to import
4. Download the imported VCF files from the Gmail account
Now, you can easily view your Outlook Contacts in iphone.
The Final Words
We know that Contacts is very important for all. So, every users want to safe the address book from any disasters. Also, they need to access their contacts in everywhere and every devices. Therefore, sometimes, they need to migrate / move Outlook address book to iPhone.
From the above discussion, it is clear that how to export Outlook Contacts to iPhone. So, it is highly recommended to use an efficient and error-free solution vCard Export tool. It allows users to selectively transfer / move contacts from Outlook to iPhone 8 / 7 / 6 / 5 just with simple operations in the vCard. This vCard is imported into user's Gmail account, which can be easily used on the iPhones.