How to Extract Data from Exchange EDB File to PST? Complete Solution
Admin
| Modified: September 4th, 2021 ~ 6 Minutes Reading
If you are looking for the solution to extract data from Exchange EDB file to the PST file format in a simplified and efficient way. Then, this article is best suited for you. Here, we will guide users and provide smart solution that helps users to extract data from Exchange database to the Outlook data file in a simplified manner.
Microsoft Exchange database file store mailboxes and data items such as: mails, notes, contacts, calendars, tasks, journals, etc… and all this Exchange data is very essential for users and in IT company or any other industry vertical in which Exchange Server is using.
As we all are aware about that the EDB file is the main repository of the server and it is prone to corruption. When any mailbox database gets corrupted or damaged then users won't be able to access the mailboxes and it's items. Also, it would disrupt the work-flow and there are chances of data loss.
In addition to this, the users or company have to face the repercussion of losing Exchange data. You can read the consequences given below when the organization lose the data:
They have face heavy financial loss
Their growth will stop
It client and users start losing faith in them
Have to fave legal charges and penalties
In worst case, there are chances that they may run of business
These are the major problem they have to go through and to avoid all these issues it is necessary to extract all the data from the Exchange database file to the Outlook PST. In case, if any of this situation occurs they users have the PST file in form backup and they can use that file to retrieve and access the data backup by importing to the Exchange Server or MS Outlook.
Solution to Extract Data From Exchange EDB File to PST
Generally, users use the Exchange Admin Center and PowerShell cmdlet to extract the Exchange database data such as: mailboxes and data items to the Outlook data file but nowadays there are most users who are new to the Microsoft Exchange Server environment and they don't know the solution to extract / export Exchange EDB file data.
Also, it would be difficult for them to understand the manual solution to perform conversion because it need to have technical knowledge, skills, and expertise to work and understand the solution. So, they want to avoid all the technicalities and complexity of the manual solution and require an efficient method to extract data from Exchange database to PST file in a hassle freeway.
Along with novice users the Exchange admin and user are also looking for the advance solution which easily extract the Exchange EDB file data to the Outlook data file to save their precious time and effort.
Drawback Of Manual Method
It doesn't extract data from the offline/dismounted .edb file
Cannot work properly with the corrupt Exchange database or mailboxes
According to the size of the mailboxes it take time to extract or export Exchange data
Even a little mistake would disrupt the entire process
Users should have in-depth knowledge, technical skills, and hands-on experience
Automated Wizard to Extract Data from EDB File to PST
You can use the SysTools Exchange Export Tool which is used by many technical and non-technical users to bulk export or extract various mailboxes such as: enabled, disabled, exclude dumpster, hosted, journal, corrupt, disconnected and data items like – mails, contacts, calendars, notes, tasks, journals from Live Exchange Server 2016 / 2013 / 2010 / 2007 / 2003 to the PST file format in a simplified way without using any command. This tool can migrate Exchange Mailbox to PST.
This advanced utility auto-detect, scan, and load the AD (Active Directory) and provide option i.e. include sub-domain user's which allow users to search the Exchange database mailboxes with sub-domain. It is necessary to have the Live Exchange Server environment to your migration machine while your are extracting or exporting the Exchange data.
It offers date filter option which allows users to export the Exchange mailbox data items within a specified date range. Also, it provides the additional feature from which you can delete the emails when the extraction of Exchange data is done. Generally, users can do it to free up space. It generates the export report in CSV file format which allows users to view the summary report of export Exchange database file data.
Working Steps to Extract Data from Exchange EDB File to Outlook PST
1. Download, Install and launch the utility in your local system
2. Then, insert the Exchange credentials >> Choose the Exchange Server version and select the include sub-domain user's checkbox >> Click on the login button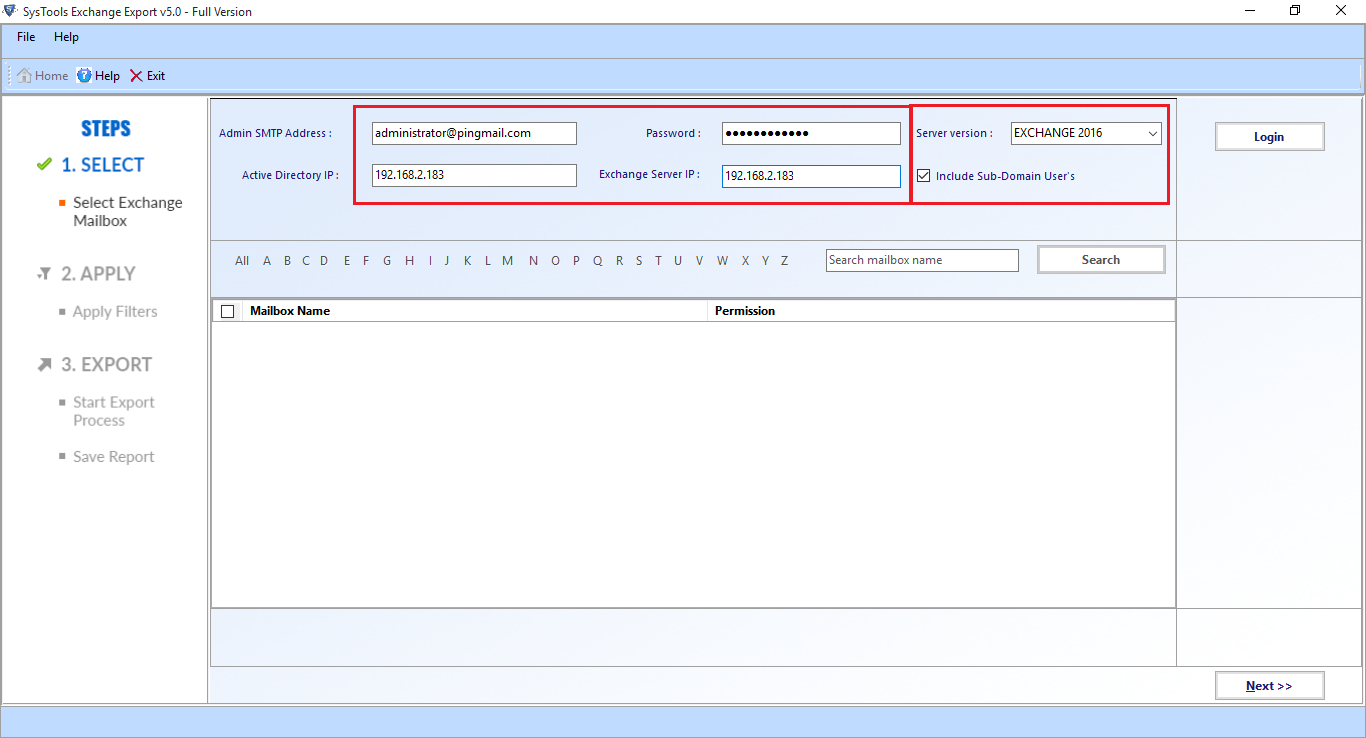 3. After that, select the Exchange mailbox that you want to export >> Click on the next button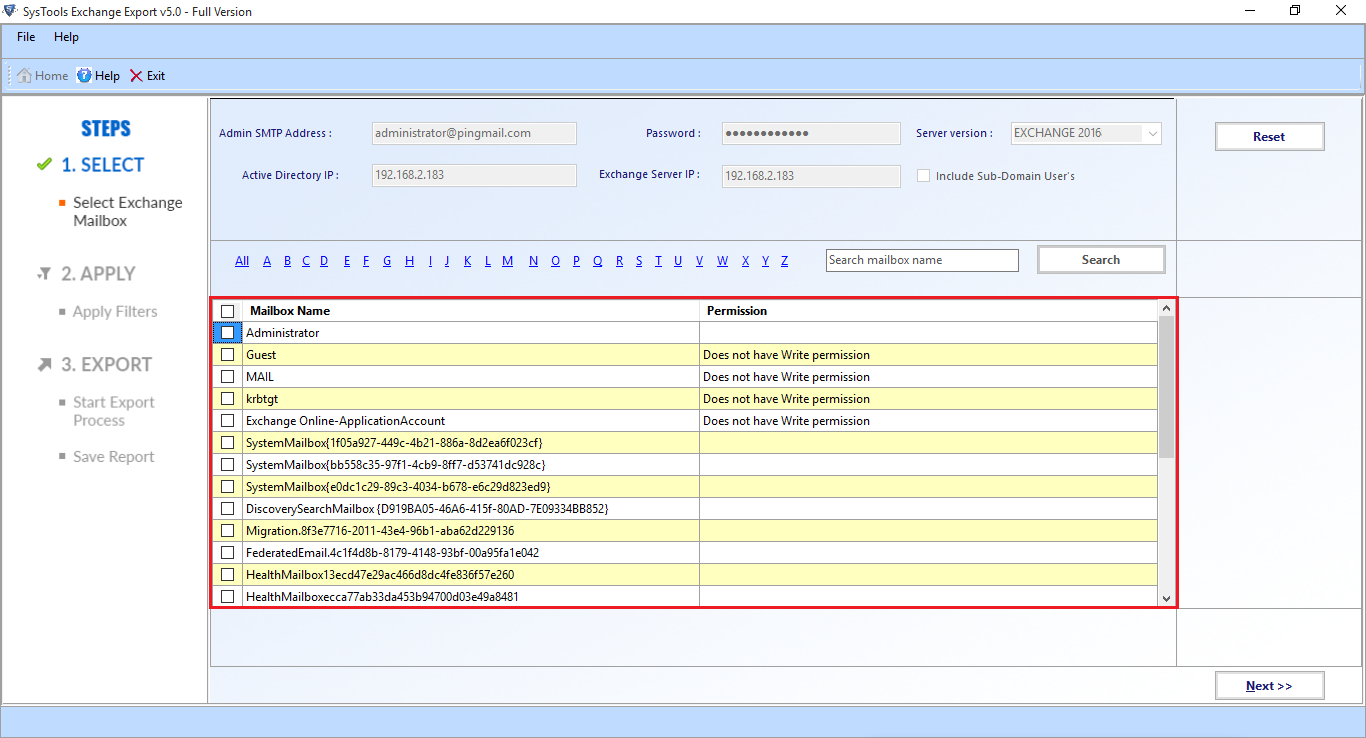 4. In the next window, select the data items >> Click on the provided checkbox and select the browse button to set target file location >> Click on the export button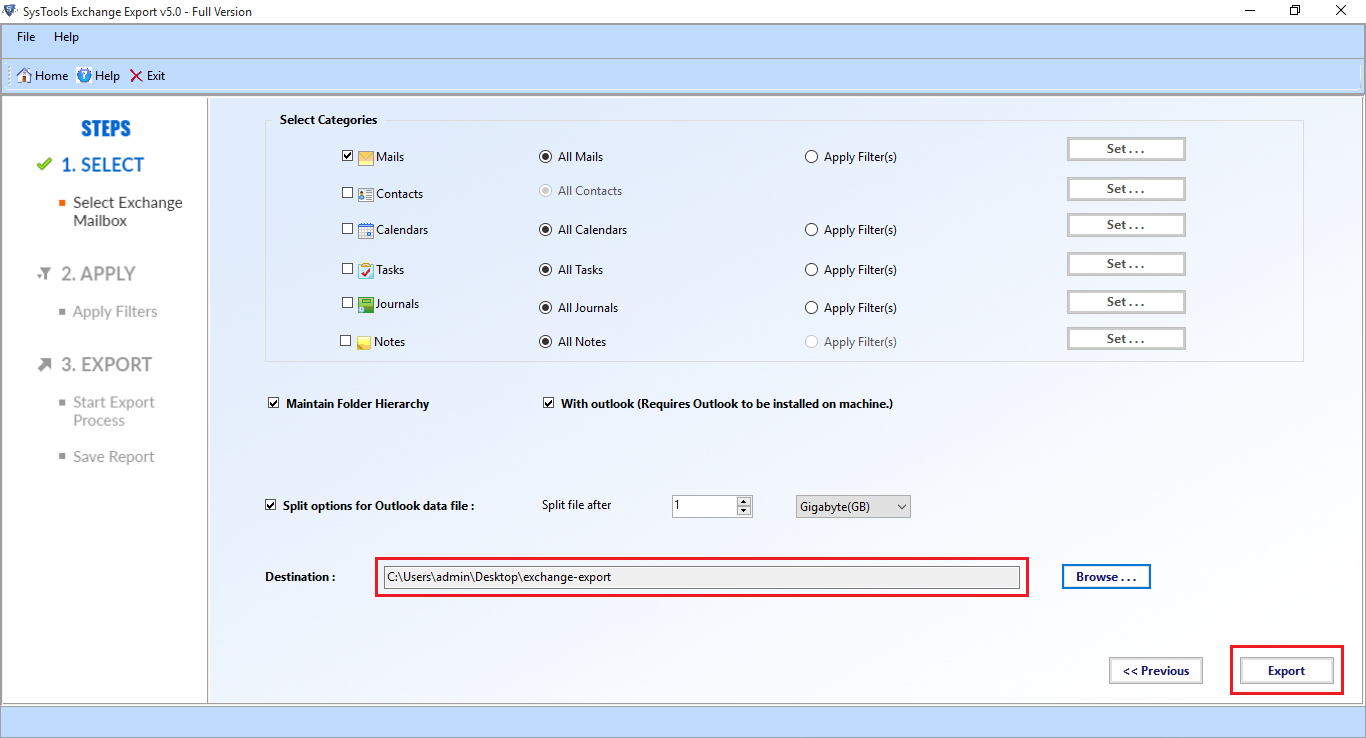 Note: There are users who's also have offline/dismounted Exchange database file and the solution provided here doesn't extract data from this Exchange mailbox database. In addition to this, there is no manual solution available which helps users to perform this conversion. In that case, users can use the EDB to PST Converter software provided by SysTools which support Dismounted / Offline EDB File and allow users to extract / export mailbox from Offline Exchange database to the Outlook data file in a simplified manner without using any command. By default, it creates UNICODE PST file.
Bringing It All Together
Now users have detailed information on how to extract data from Exchange EDB file to PST file from Live Exchange Server in a hassle freeway without any hindrance. In case you have the offline or dismounted Exchange database then users can use the solution mentioned above and easily extract the Offline Exchange database file data without any hassle. So, according your preferences you can select the solution and perform the extraction of EDB file data to the PST file format.