Migrate Exchange Mailbox to PST File format Completely – Experts Way
Ivanna Carlos
| Modified: September 15th, 2021 ~ 6 Minutes Reading
Microsoft Exchange is a secure way of sharing information due to which it is widely used in IT organizations & other industry verticals. Because of its huge usage, there can be many scenarios (such as: exporting the user's Exchange database to another Exchange Account, Backup Exchange Database, clearing Exchange storage space, etc..) where users need to Migrate Exchange Mailbox to PST from Microsoft Exchange Server.
Migration of Exchange mailboxes can be done by implementing manuals ways but it has its own disadvantages. Due to which users want the advanced solution that easily migrates all mailboxes from Exchange Server to Outlook PST file.
Aggravating Situations During Migrate Exchange Mailbox to PST Via Manual Solution
When it comes to IT experts to migration of Exchange database Mailboxes to PST, it is just a piece of cake for them. But when we talk about naive users, it suddenly becomes a problematic task. Following situations can troublesome for the non-technical users:
Professional Guidance: A non-technical user may get stuck while implementing any step or related shell command. He may need experts advice anytime as shell commands are not so simple to execute Exchange 2010/2013/2016 Mailbox to PST migration.
Time Taking: When you migrate a large-sized Exchange Mailbox to PST, it takes a lot of time. Sometimes, the process gets stopped in between because of unknown reasons.
Length of PowerShell commands: Just to execute the command for the simple step, users have to insert all such extensive shell commands and it may irritate you to migrate Exchange Mailbox to PST.
Exchange Database Corruption: Exchange Mailbox database can get corrupted when users try to move a huge-sized Mailbox from Exchange 2007/2010/2013/2016 to PST and users may lose data too. Also, the manual solution doesn't work properly with corrupted/damaged EDB file or mailboxes.
Data Loss: In the process of transferring Exchange items to PST, Exchange mailbox data items like Emails, Calendar, Tasks, Contacts, etc because of an unhealthy EDB mailbox or any other reason. All data get lost without any formal warning.
Automated Wizard to Migrate Exchange Mailbox to PST File
Now that you are familiar with many of the issues which can appear in the migration process, it's time to discuss the easiest and reliable and smart solution i.e. SysTools Exchange Export Software as the professional solution.
This utility overcomes all the obstacles that users face in the manual method. It works on Live Exchange Server and efficiently performs the migration of  Exchange EDB Mailboxes to the PST file format.
In-Depth Features Of Professional Software:
Preview Technicalities of Mailbox: A user can view the details related to the Exchange Mailbox like – mailbox name and permissions before the Exchange Mailbox to PST migration begins.
Supports all versions of MS Exchange: It is compatible with Exchange 2019, 2016, 2013, 2010, 2007, 2003 versions. You don't have to install the different applications or memorize different procedures to start the migrating of Exchange Mailbox to PST file format.
Explore Mailboxes from Sub-Domain: This software enables the users to search the Mailboxes within the Sub-Domain and preview them too while users migrate Exchange Mailbox to PST file.
Pick Desired Mailbox(es): Users can migrate all the Mailboxes from Exchange to PST file format. But there can be some reasons due to which user needs to export only some of the Mailboxes and this utility provides the notable feature to migrate selective exchange Mailbox to PST.
Choose Desired Items: If any user wants to export only the particular Exchange items such as: Mails, Contacts, Tasks, Calendar, etc to PST file format, this utility plays a great role in doing this accurately. Users can select the required Exchange mailbox items and migrate them to the Outlook data file.
Migrate Mailbox According to Date: This Software allows the users to transfer the Exchange mailbox to Outlook data file in a specified date range by using Date Filter option. Users can set the date and migrate Exchange Mailbox to PST of the selected date range. It becomes difficult when you want to apply content filtering on multiple Exchange Mailboxes back to back.
No File Size Limitation: The users can perform the migration of  Exchange EDB mailbox of any size to the PST file format. In addition to it, it can handle the huge mailbox without any chances of corruption.
Generates Progress Report: While migrating Exchange EDB mailbox to Outlook data file, this software generates the progress report where users can track the record of the process completion. It also allows the users to examine the success and fail count of the migrating items.
Read More: Export Disconnected EDB Mailbox to PST
Additional Information Of Automated Software
Trial Version: Users can migrate Exchange Mailbox to PST including Emails, Tasks, Calendar, Contacts, and many more without paying any cost.
Note: This utility only 25 items per folder can be migrated to the Outlook data.
Full Version: Migrate all the Exchange database mailboxes to the PST file without any boundaries.
Exchange Export Software Guide Video:
Specifications 
System Compulsions
OS Support: Windows 10 & All previous versions
Processor: 1GHz processor but 2.4 GHz is recommended
RAM required: 500 MB of RAM (1 GB is recommended)
Size of the product: 15.4 MB
Step by Step Method to Migrate Exchange Mailbox to PST File
Step 1: Download the advanced software and Launch it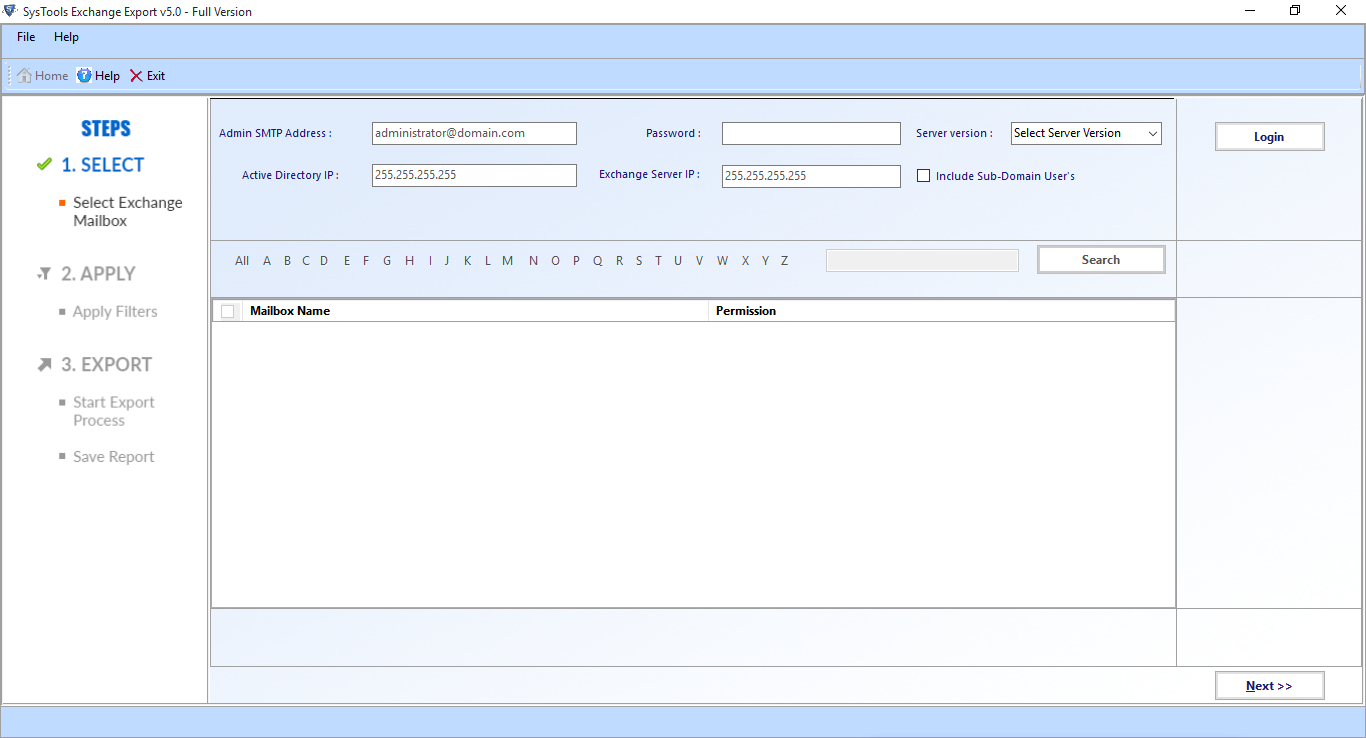 Step 2: Enter Exchange details like – Admin SMTP, Password, Exchange Server & AD (Active Directory) IP > Select the Exchange Server version > Select the check box > Click on Login button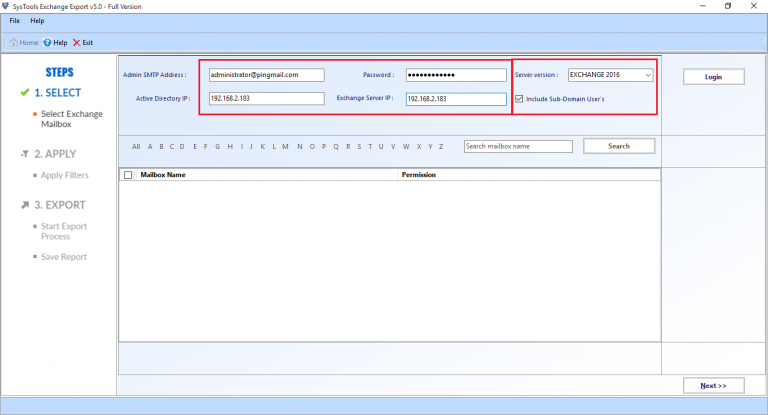 Step 3: Select Exchange mailboxes > Click on Next button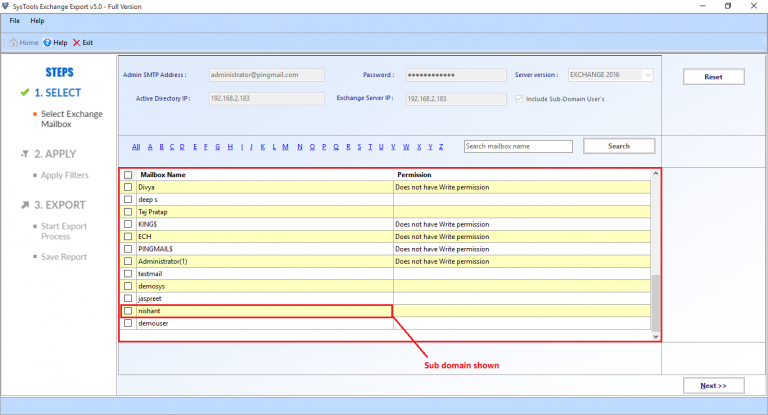 Step 4: Select the browse button to set target file path > Click on the Export button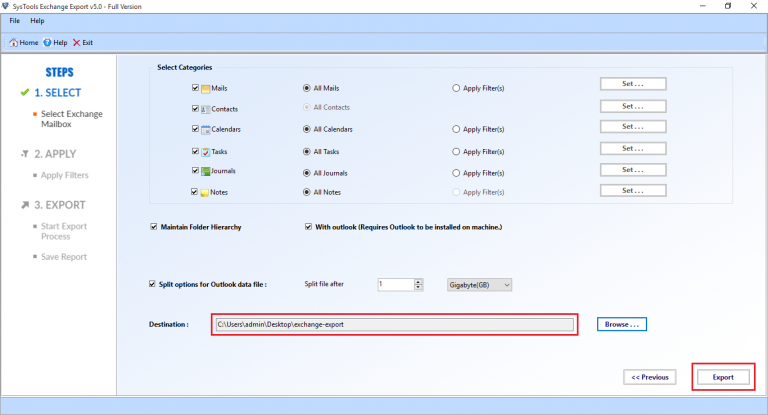 Finally, the Exchange mailboxes are successfully migrated from Exchange Server to PST file.
Read: Export Email to PST From Exchange
Note: Most users want to migrate offline Exchange database mailboxes to Outlook PST file and the solution provided here doesn't export dismounted or offline Exchange data. Also, there is no other manual solution can do that. In that case, you can use the advanced EDB Converter software provided by SysTools which support dismounted/offline Exchange database file and used by many IT professionals, Exchange, and novice users the utility to export mailbox from offline Exchange database to PST file formats in a simplified manner without any hassle.
Related: Export Shared Mailbox to PST Exchange
Bringing It All Together
In this article, we have discussed that we can migrate Exchange Mailbox to PST file from Exchange Server by using the automated wizard mentioned in the above section. Because of some problematic situations that users face in the manual method, that's why they can use the professional solution and migration all mailboxes from Exchange Server to Outlook data file with no loss of data in a simplified way.