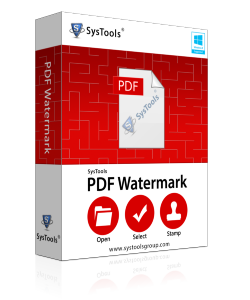 PDF Files are widely used in every business and organizations for the easy sharing of documents. Mostly, in every companies employee share their confidential data with individuals both inside and outside the organization in PDF format. These files are highly secured as compared to other documents. But, to add more security people add watermark to multiple PDF files. However, the watermark could be in text or image format as per user requirement. It has been seen that many people add their company logo watermark in PDF files so that it can add more professionalism and prevent other people passing off the work as their own. So, considering all things we have described Free PDF watermark software, which can easily insert watermark on Adobe PDF file without any hassle.
User Query
"I need to insert my company logo watermark in some of my PDF reports on urgent basis. So, is there any free PDF watermark creator software which can easily add logo watermark in PDF files.Can anyone suggest the simple solution for this process?"
Quick Glance At Free PDF Watermark Software
This software is a special utility that facilitates users to add watermark to multiple PDF files. Using this application, a user can insert any text or image format watermark in PDF documents. It also provides the option to set the position of PDF watermark during the watermarking process. However, if a user wants, then he/ she can set the color of the watermark. Its user-friendly interface makes this utility stands above all other available PDF Watermark tools. It is so simple and easy-to-use application that even a normal user with minimum technical knowledge can use it without any expert help. Apart from all this, the free PDF watermark software is compatible all versions of Windows OS.
Know Advantageous features of the Free PDF Watermark Creator Tool
Add Text Watermark in PDF Files
This Free PDF Watermark software is designed in such a manner that it permits users to add watermark to multiple PDF files in text format. The tool provides the facility to set the position of the watermark at Top Horizontal, Bottom Horizontal, Left Vertical, Right Vertical, Top Left to Bottom Right, Bottom Left to Top Right. Also, after selecting the position users can also choose the font size of the watermark.
Add Image Watermark in PDF
Using this Free PDF Watermark Software, a user can easily apply image watermark to PDF files. It is designed in such a manner that if a user wants, then he/ she can add image watermark to PDF document of any format. After selecting the particular image users can also select its position and maintain image transparency. Additionally, to fit the image at selected position users can check the option "Scale image to fit position".
Display Short Summary Page Report
This free PDF Watermark creator software is programmed in a way that a user can view the small summary report containing the small description of the previously selected options. Details like Selected option i.e. image or text watermark, number of PDF files, watermark position, color transparency, font size, font color, text or the image to be inserted are present in the report.
Merits & Demerits of Free PDF Watermark Software
1- The software allows users to add watermark to PDF without Acrobat installation
2- Any .jpg, .png, .gif, .jpeg etc, image format can be added as watermark to PDF
3- It also provides an option to remove unwanted PDF files
4- This free PDF Watermark software is not compatible with Mac OS
Working Steps of Free PDF Watermark Creator
1- Firstly, download tool to add watermark to multiple PDF
2- Click on Watermark option to begin the watermarking process
3- After that, select the watermark option as Text or Image
4- Click Add Files or Folder option to insert watermark in PDF free
5- Choose appropriate watermark options and select font and color
6- Select the Desired location for the watermarked PDF
7- Hit, Generate button to add watermark in PDF file
Conclusion
A watermark is an image or text which is digitally "stamped" on a PDF document. Basically, PDF watermarking technique is used to identify the original owner of the content and also serve as the security precaution from misusing the content. But, most importantly it helps to prevent the electronic abuse of the documents. For this, in the blog, we have discussed best free PDF watermark software which can easily add watermark to multiple PDF files without any hassle.