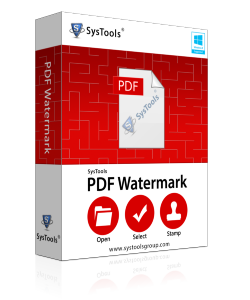 PDF Files are widely used in every business and organization for the easy sharing of documents. To add security people add watermark to multiple PDF files. However, the watermark could be in text or image format as per user requirement. It has been seen that many people add their company logo as a watermark in PDF files. So, considering all things we have described Free PDF watermark software, which can easily insert watermark on Adobe PDF file without any hassle.
User Query
"I need to insert my company logo watermark in some of my PDF reports on urgent basis. So, is there any free PDF watermark creator software which can easily add logo watermark in PDF files. Can anyone suggest a simple solution for this process?"
Quick Glance At Free PDF Watermark Software
This software is a special utility that facilitates users to add watermark to multiple PDF files. It easily inserts any text or image as watermark in PDF documents. It also allows the user to position the watermark on PDF. Moreover, you can customize the size and color of the text watermark on the PDF document. You can work with this free PDF watermark software on all versions of Windows OS.
Features of the Free PDF Watermark Creator
Add Text Watermark in PDF Files
This PDF Watermarking software is designed to add watermark to multiple PDF files in text format. The tool provides the facility to set the position of the watermark at Top Horizontal, Bottom Horizontal, Left Vertical, Right Vertical, Top Left to Bottom Right, Bottom Left to Top Right. Also, you can choose the font size and color of the text watermark.
Add Image Watermark in PDF
This Free PDF Watermark Software offers to apply image watermark to PDF files. An image of a .png, .gif, .jpg format can easily be inserted into the PDF file. There are multiple image customization options available for placing a prominent watermark in PDF. Additionally, to fit the image at selected position users can check the option "Scale image to fit position".
Display Short Summary Page Report
It previews a summary report containing the small description of the watermark customization. Details like Selected option i.e. image or text watermark, number of PDF files, watermark position, color transparency, font size, font color, text or the image to be inserted are present in the report.
Merits & Demerits of Free PDF Watermark Software
The software allows users to add watermark to PDF without Acrobat installation
Any .jpg, .png, .gif, .jpeg etc, image format can be added as watermark to PDF
It also provides an option to remove unwanted PDF files
This free PDF Watermark software is not compatible with Mac OS
Steps of Free PDF Watermark Creator
Step 1: Firstly, download and run Free PDF Watermark Adder.

Step 2: Click on the Watermark option and choose text or image watermark.
Step 3: Click Add Files / Folder to add files to freely insert watermark in PDF.
Step 4: Enter text or browse an image to watermark PDF files.
Step 5: Select a location to save the PDF file and click on Generate button.
Conclusion
A watermark is an image or text which is digitally "stamped" on a PDF document. PDF watermarking technique is used to secure the document from any form of digital modification. The article above discusses one best free PDF watermark software that can add watermark to multiple PDF files easily.