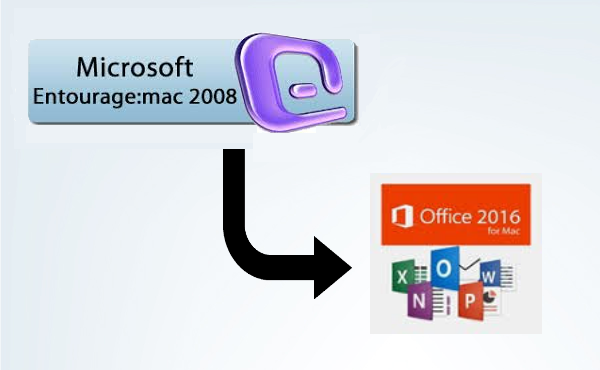 This article will be providing you with the best possible solution to convert Entourage 2008 to Office 2016.
Entourage is an email client application and a personal information manager for Mac OS. Its support by Microsoft was discontinued after Entourage 2008. Entourage was a popular email client in its age but since the launch of Outlook 2011 for Mac, its use has declined considerably. However, it still has a significant user base who are seeking other email platforms to transfer to. One such highly sought after email client is Outlook 2016 which comes as a part of Office 2016 suite for Mac. Its advanced features with its user-friendly interface provide an excellent emailing platform for users.
Need to Convert Entourage 2008 to Office 2016
There are a number of reasons to move Entourage emails to Office 2016. It varies from user to user. Some of the possible reasons are mentioned below:
The discontinuation of Entourage email client is the biggest cause for users to move from Entourage to Outlook.
Entourage 2008 offers fewer features compared to Outlook 2016. Data security is also a major concern for Entourage users.
The person has purchased a new MacBook to replace the old one. The modern MacBook doesn't support Entourage which has forced the user to shift to the Outlook email client available in the MS Office 2016 suite.
Let us analyze two queries to understand the need of the Entourage 2008 users in a better way:
Hi,
I have just purchased Office 2016 and I am trying to move from Entourage 2008 to Office 2016. From research, it looks like going via a trial of Office 2011 used to solve this problem, but there no longer appears to be an Office 2011 trial available. So just wanting to know if anyone has come up with another solution! I've already spent a few hours trying to research this, but not getting very far!
Thanks for any help!

Hello,
I wish to buy a new MacBook 2015 to replace my trusty old MacBook 2008. My biggest usage is email. I used to have Entourage 2008 whereas the new OSX uses Outlook so I'd need to transfer my Entourage files across, including folders, subfolders & contacts. The data file is large (about 10 years of data) and hence I can't afford even minor setbacks by using non-trusted ways. So, I am looking for a trusted and secure approach for this conversion.
Much obliged if anyone can help me?
SysTools Mac MBOX Converter– A Professional Choice
Using SysTools Mac MBOX Converter is the best possible way to handle the whole Entourage 2008 to Office 2016 data file conversion process. It is a stand-alone software application which can convert multiple Entourage data files to Outlook PST for use in MS Office. Some of the striking features of this tool are:
It allows users to convert multiple Mac Entourage files to Office 2016.
Maintains data integrity(attachments, folder structure) throughout the process.
It supports advanced naming conventions according to date, subject, to, cc, etc.
The tool also lets a user convert Entourage file to PDF on Mac machine.
It successfully runs on latest Mac OSX version including Mac OSX 10.10 and 10.11.
Procedure to Follow for Entourage 2008 to Office 2016 Mail Transfer
Download, Install and then launch the application
Click on Add File(s) button to add the Entourage data file. If you want to add a particular folder containing the data files, click on Add Folder(s) button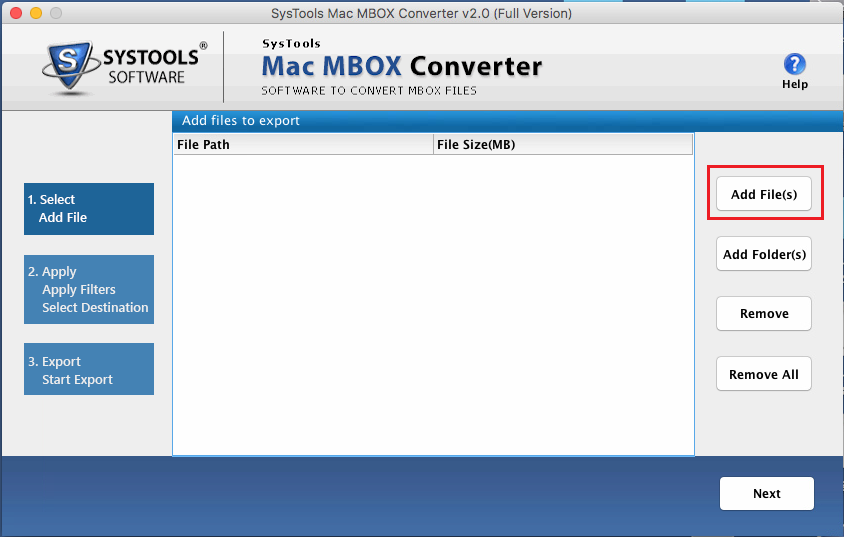 Locate and select the Entourage data file from the local system. Click on Open button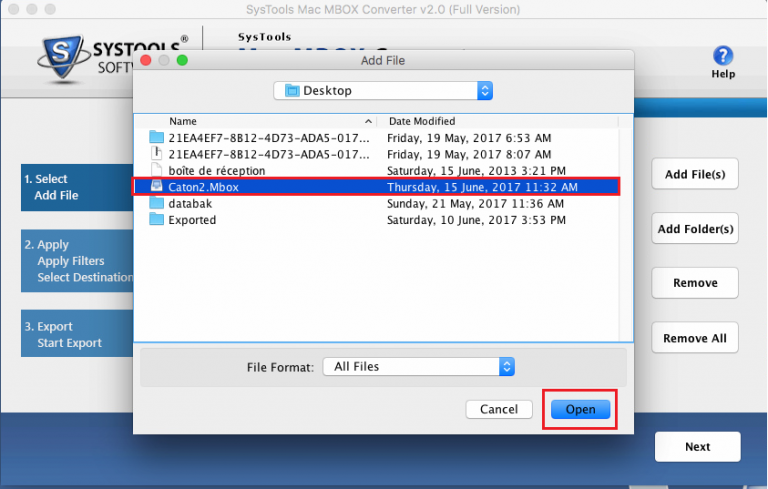 The next window will display the selected file path and size. Click Next
Click on PST radio button. Apply the following as required:

      Date Filters: Select this to convert emails of specified duration
    Maintain Folder Heirarchy: Select this to maintain the folder structure of the       data file
      Naming Convention: Select preferred naming convention for your file

Click Browse to navigate to the folder where you want to save the converted file. Then select the location to save the file by clicking Choose button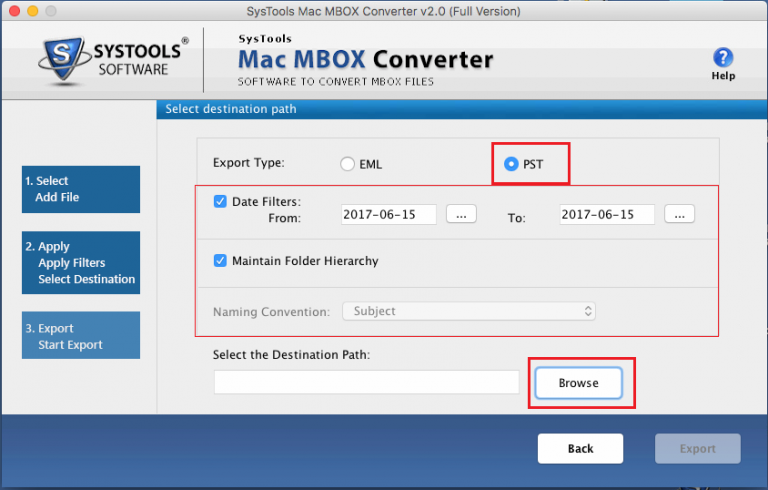 Click on Export button to start the conversion process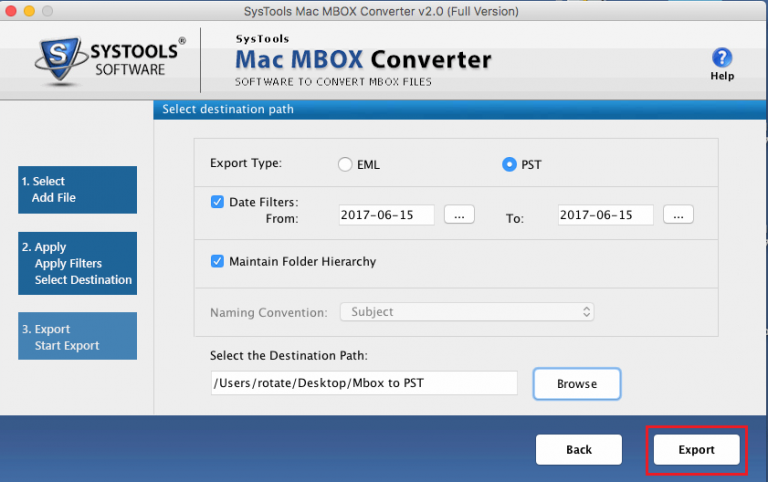 Click the OK button once the process is complete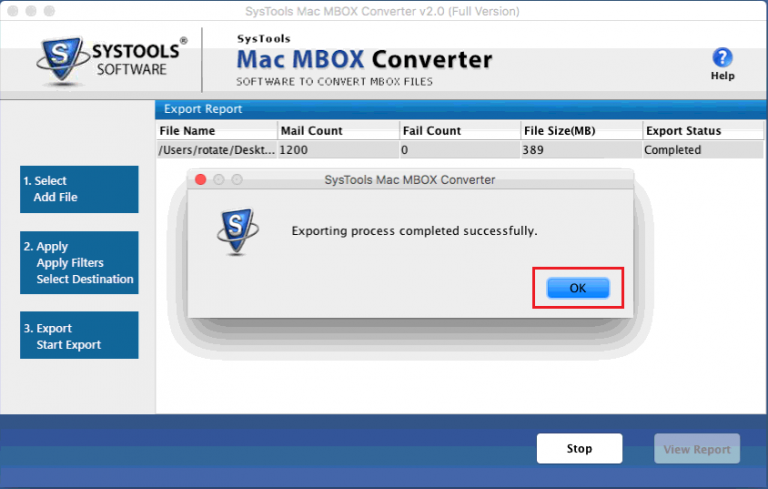 Click View Report to view the entire conversion process report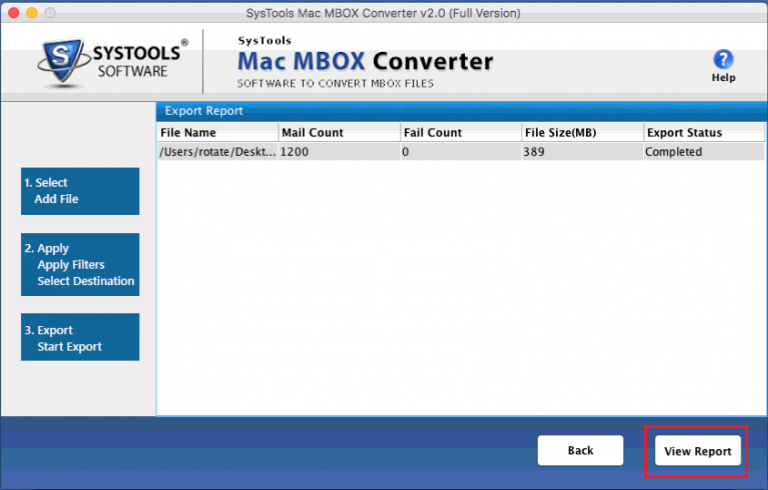 The tool will open the saved folder directory where a folder named Export Report is automatically created. Open the CSV file to view the report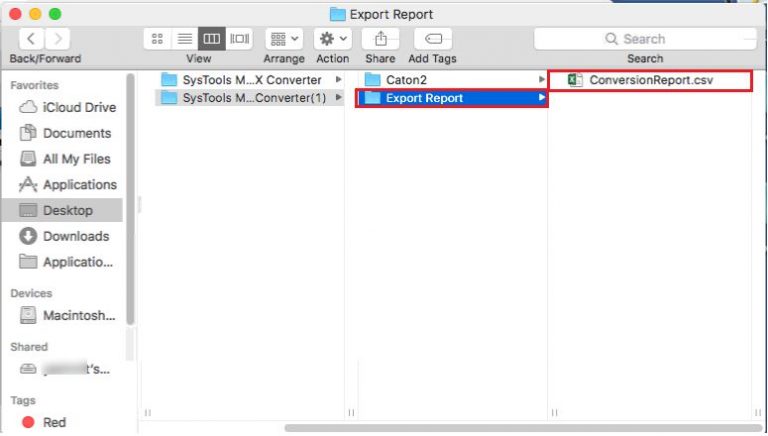 You can check your destination location for the converted Entourage file to PST file format.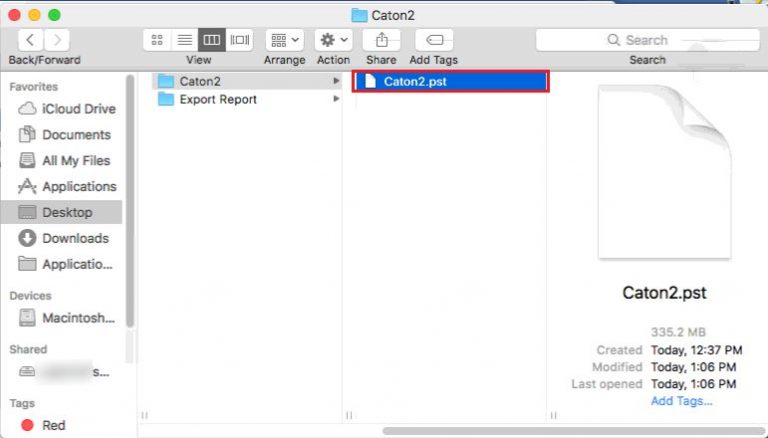 To open the PST file, launch MS Outlook (part of MS Office 2016). Go to the menu bar and click Tools, then click Import icon as shown below: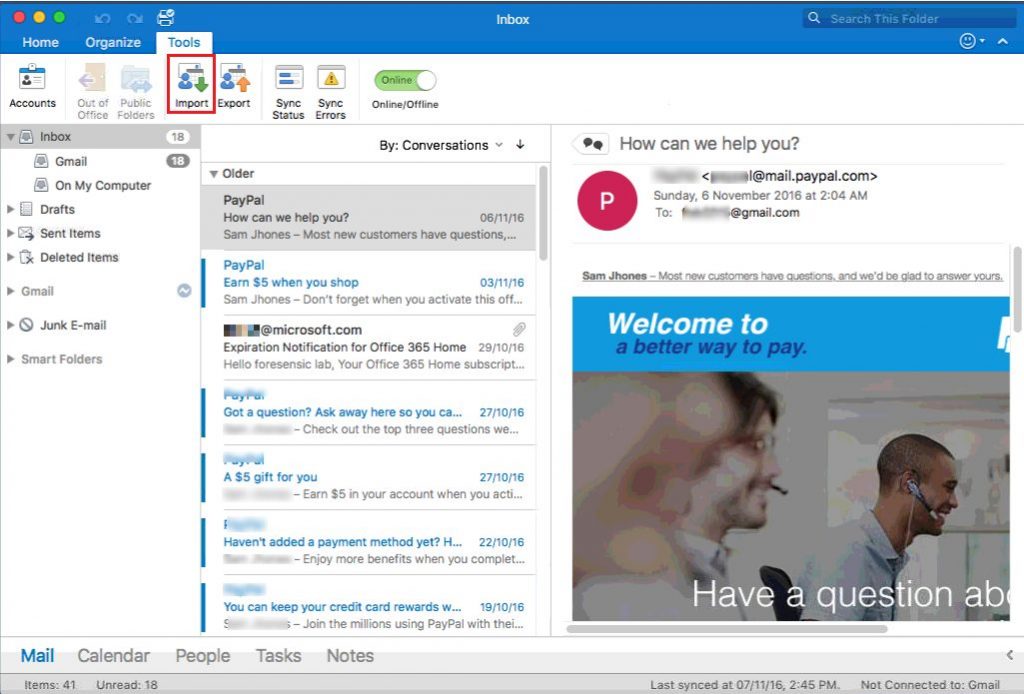 Click Outlook for Windows archive file (.pst) radio button. Then click Continue button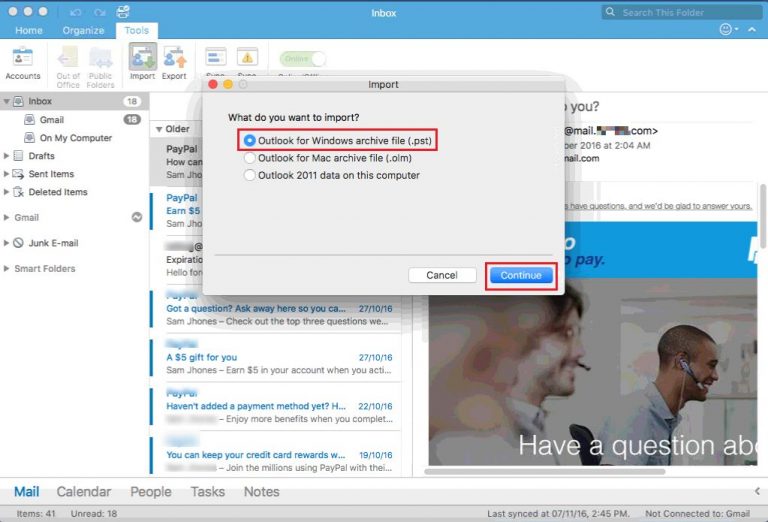 Locate the converted file in your system and then click on Import button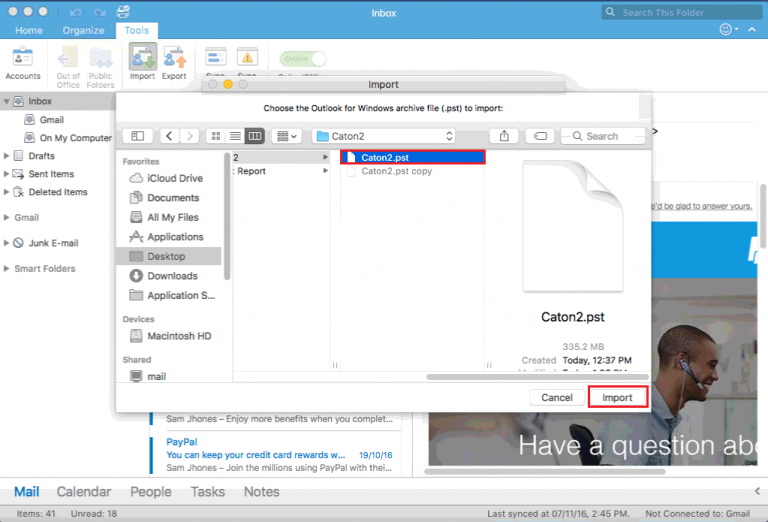 Now once all the emails in the converted file are imported to Outlook, click on Finish button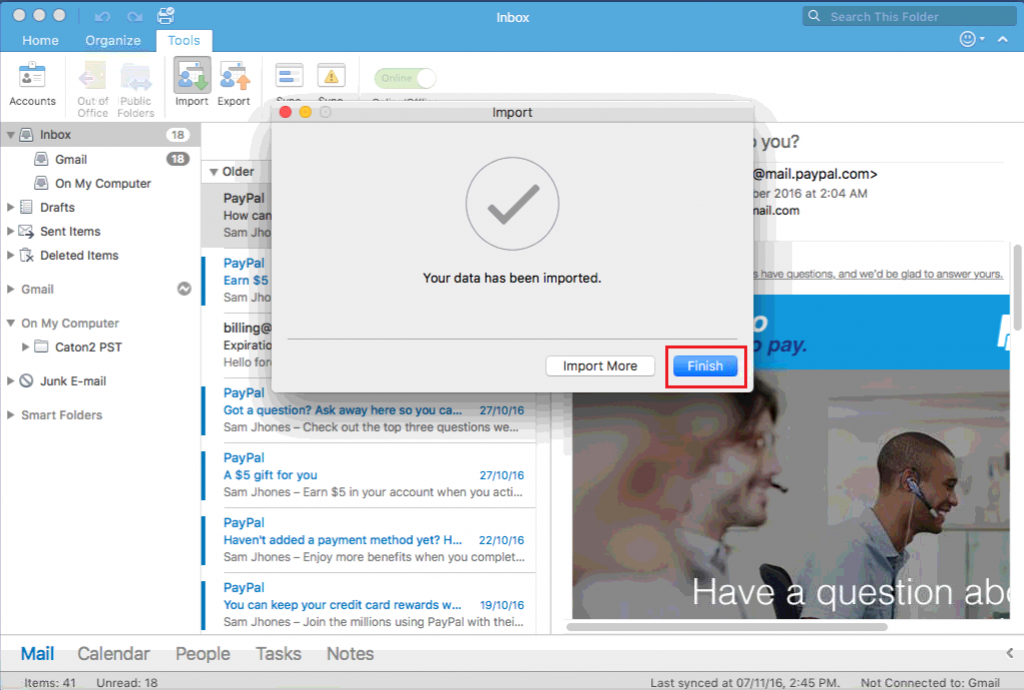 Finally, you can view all the emails from Entourage data file in Office 2016.
Conclusion
Entourage, now considered as an outdated email client has been pushing users towards the Outlook platform in MS Office suite. Office with high-end features enables users to be more productive. Thus, in this article, we have discussed an efficient solution to convert Entourage 2008 to Office 2016 for Mac OSX. This tool has proven to be extremely effective when one needs to move the Entourage data files to Office 2016 in a hassle-free way.