How to Print Zoho Emails? – Here is Step by Step Guide
Admin
| Modified: September 4th, 2021 ~ 5 Minutes Reading
If you want printing emails from Zoho Mail account and looking for a solution to do it? Then here is the quick solution of your request. In today's blog, we will discuss the quick steps to print Zoho emails manually. Before moving to the process, first let's take a quick brief about Zoho and its features.
Zoho Mail is a popular webmail service that enables users to easily send/receive emails, save contacts, calendars, etc. It is used by a single user and the business usages. Zoho offers many options that helps users to easily manage their mailboxes.
Now, let's know how Zoho print email step by step and also know the problems faced by users while printing Zoho email.
Steps to Print Zoho Emails are as follows;
Follow these simple steps to print email from Zoho mail account using the Print option:
Step 1. Login to your Zoho Account.
Step 2. Click on the email which you want to print.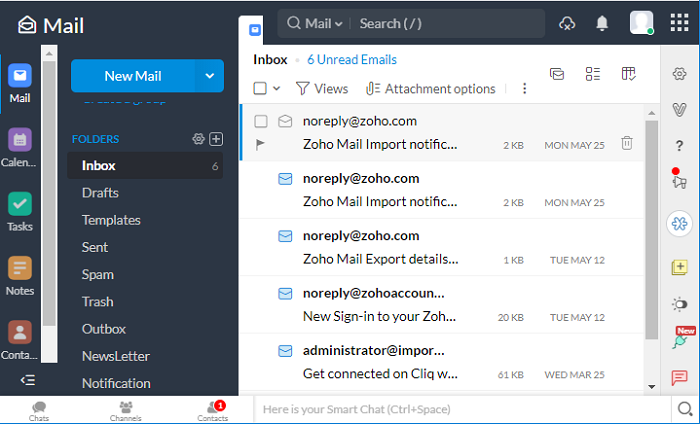 Step 3. Now, select Print option from the drop down options.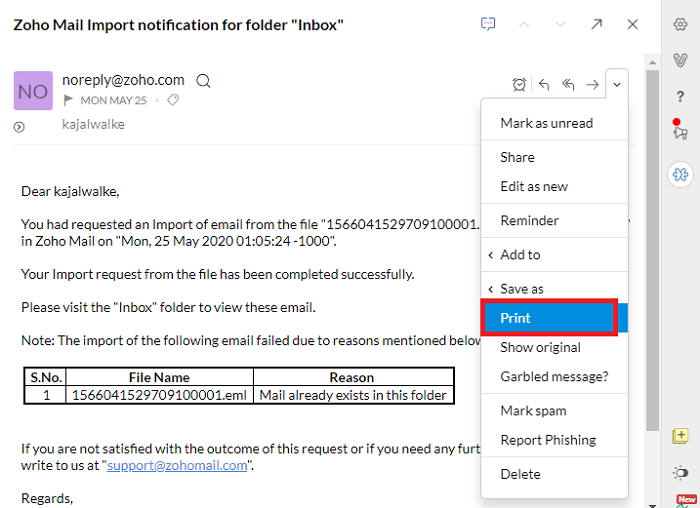 Step 4. A new window will appear. Here click on the Print for printing Zoho email.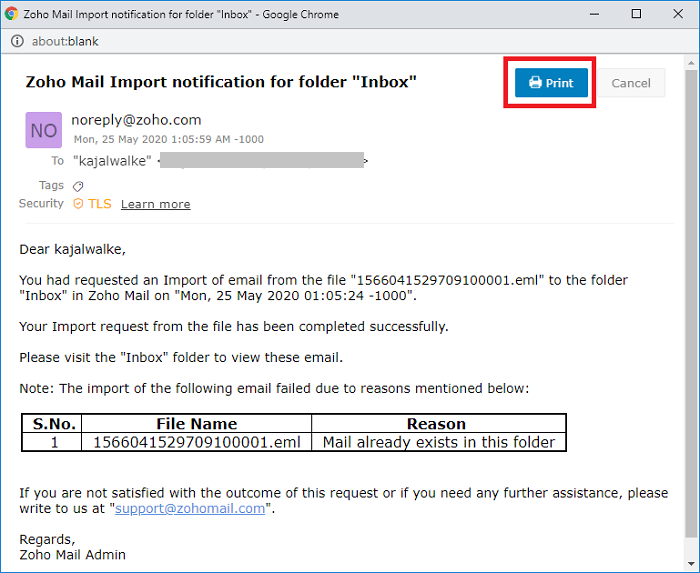 You're done! This is the complete and easy way to print from Zoho Mail using the Print option. However, you can print a single email from Zoho mail account at a time. That's means you need to repeat the above steps for printing all emails.
Problems Facing by Users While Printing Zoho Email
Sometimes, users face problems when they are going to print Zoho emails. In the next section, we will mention some users queries who are facing same problem.
"I'm using the Zoho Mail program on Windows 10 and have stopped printing emails since the last update. I usually press the More Actions arrow and then select the Print. When I do this, I get a printer message in my system tray but it says 0 documents pending and nothing is printing. I have this problem on 3 separate computers in the office. Please suggest any other method for the same."
"I'm new to Zoho Mail and I'm having trouble printing images in email. I've tried printing to different computers, different browsers, different printers, different printer options, and I've tried all sorts of settings in Zoho Mail. But I still can't print images in mail. Does anyone have a solution to fix this issue?"
Due to Zoho server down, users face many issues including Zoho cannot print email. But you don't need to worry, here we will also discuss the solution of this problem.
Solution to Fix Zoho Cannot Print Emails and Save as PDF
In order to fix the problem when you are faceting while printing Zoho email, you can take the help of Zoho Mail Migration Tool. This tool allows you to export Zoho to PDF along with all email attachments. This way, you can easily print Zoho emails without any error and limitations. It enables you to save multiple Zoho emails as PDF file format from any folders including inbox, draft, sent, etc.
The software is 100% safe and easily accessible even for beginners without in-depth technical knowledge. The best thing about this tool is that it supports to save emails as PDF file format. PDF is the safest platform for storing important data. Once you have a PDF file, you can easily open, view, and print it at any time.
Steps to Save Zoho Emails as PDF for Printing are as follows;
Step 1. Download and install Zoho Mail Backup Tool.

Step 2. Enter credentials of your Zoho account and login.
Step 3. Select PDF file format and choose a location to save output.
Step 4. Select email folder and hit the Start button.
That's it. This way you can easily save all your emails from Zoho mail account to PDF file format and print Zoho emails.
Read More: How to Close Zoho Account?
Why Choose Zoho Mail Backup?
As you seen in the above section that Zoho print email using the Print emails which is very useful. But it only allows you to print one email at a time. Along with this, users face problem while printing Zoho email with the Print option. To overcome all these problems and limitations, we suggested the Zoho mail backup tool that offers multiple features-
Save emails as PDF file format in a single attempt
No file size limitations for saving and printing Zoho mail
Export Zoho Mail to PDF along with all email attachments
Easy to use for any normal computer users without any glitches
Supports almost all versions of Windows including Windows 10
The Final Verdict
Printing Zoho email is an important task that every user must do. Here on the blog above, we covered the steps to print Zoho emails with Print facility. However, many users encounter the problem that Zoho cannot print emails using this Print option. This is why we also suggested the alternative solution, the Zoho email account backup tool, which allows you to save emails as PDF so that you can easily easily print emails.