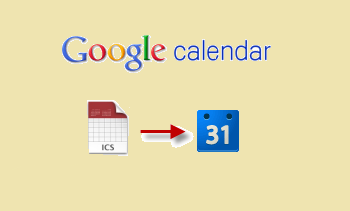 What is Google Calendar
Google calendar is an application developed by Google Corporation to schedule and manage time. Google calendar is based on creating events based on user preference. Gmail iCalendar another name of google calendar allows the user to import ICS to Gmail using a simple user interface.
Apart from other applications, Google calendar provides various other features that are also imported when user transfer ICS file to Gmail.
1. Events from Gmail
It is an application provided by google calendars. It is also added automatically if a person received a new mail with an event. This feature is imported when user import ICS to Gmail. After ICS file transfer this feature changes in every application.
2. Reminders
This feature allows the user to add a to-do list, alarms, meetings, etc which user require to be set as a reminder. This feature also allows the user to add alarms in calendar events.
3. Goals
This feature allows the Google calendar to store users long and short term goals. In this feature suggest suitable timings for each goal.
4. Smart Suggestions
Google suggests users add suitable titles, locations, and contacts for an event, reminder or goal. This feature also transfer ICS file to Gmail.
Related Post– Import And Export ICS To Thunderbird
Need to Import ICS to Gmail calendar
Google calendar support both Outlook and Apple iCloud. Not all that, the file extension used by iCalendar in Gmail is also used in many applications like Mozilla lightning, IBM Lotus Notes, Exchange, Entourage, etc. With this huge application support the iCalendar allows easy and feasible ICS file transfer.
Method to Import ICS to Gmail or Google calendar
If a user has an ICS file then it is easy to import file to google calendars or Gmail. To transfer ICS file to Gmail user must follow certain prerequisites.
Prerequisite to Import ICS to Gmail
1. Create a Gmail account and activate Calendars in it
2. To do so, first, search Gmail in the search bar and click on the link below.

3. Click on create an account when the window appears.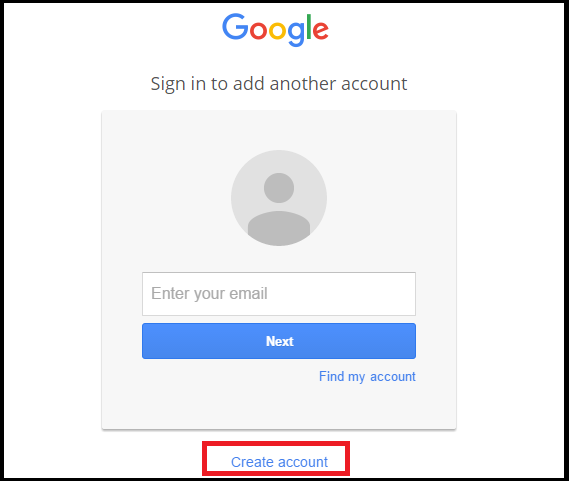 4. Fill up the required credentials in the form. Click OK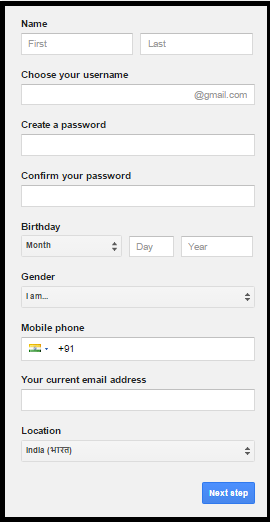 5. One it's done follow the steps given below to Import ICS to Gmail account.
Steps For ICS File Transfer to Gmail
1. Login to Gmail Account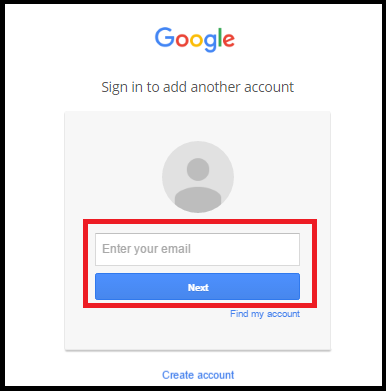 2. Now, Open new search bar and type Google Calendar

3. Click on the first link.

4. Your Google Calendar will be automatically configured with the account.
5. Now, Go to the top right corner and click on the drop-down icon shown
6. Go to Settings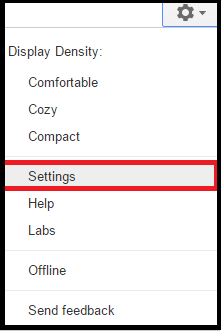 7. Under Calendars Settings section Select Calendars

8. Now, Under Reminder heading go to Import Calendars

9. A window will appear. Choose File from System for ICS file transfer.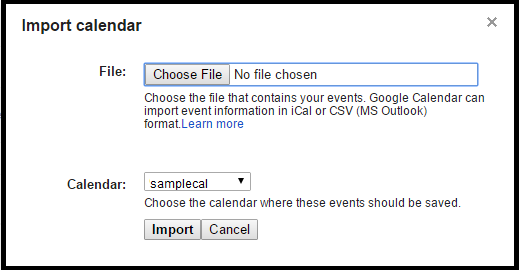 10. Select the ICS file you want to import to Gmail.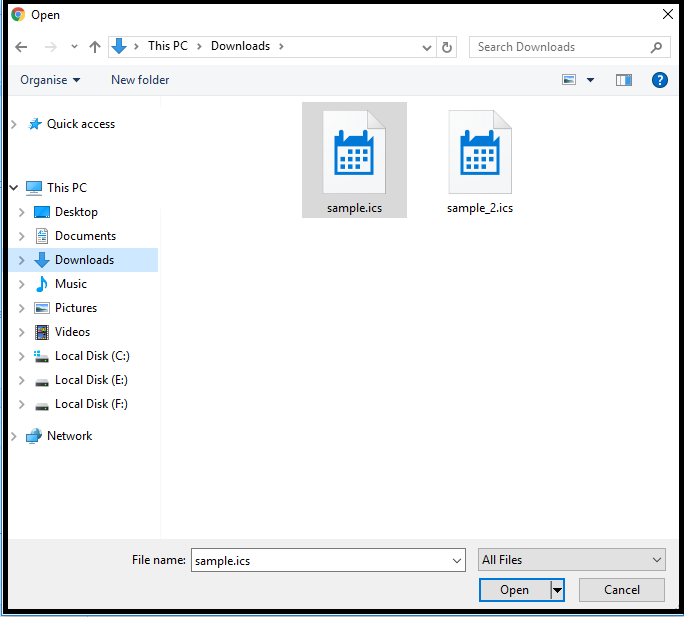 11. Select the Calendar where you want to Import ICS file Events, Reminders, Goals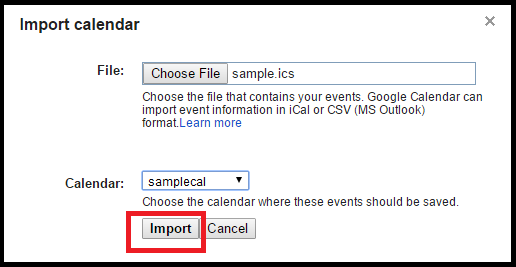 12. Now, Click on Import button to Import ICS to Gmail. Your calendar will be automatically uploaded and ICS file transfer is Completed.
Errors Caused when Gmail Import ICS File
There are certain errors that are caused due to wrong import or incorrect method to transfer ICS to Gmail. These errors lead to incorrect ICS transfer to Gmail or no ICS file import to Gmail. These Errors can be rectified using the following ways
1. Errors During Import iCalendar file
Processed zero events error
This error is caused when the user tries to upload zip file directly to Gmail. This error is also caused if the user clicks Import more than one time during ICS file transfer.
Process sample events error
This error occurs if the user tries to import file from applications like Outlook, Apple Calendar, etc. This error leads to not detecting some feature of the ICS file.
Google Calendar temporary unavailable
It happens in two cases. First, the size of the file is larger than the accepted ICS file size in iCalendar. Second, Import is pressed twice.
Reset connection to server
If the file imported by the user is damaged or not format correctly then this error is caused. This error leads to corrupt ICS file transfer on Google Calendar.
2. Errors caused by import iCalendar file
Event timings wrong
This error is caused when instead of current time zone a different time zone is set. Due to this error, the event will show alarm or notification according to the user preset time zone.
Repeated events error
Since iCalendar is a different calendar application. Hence it's functions are different than other applications. iCalendar doesn't support the same name to multiple events. Hence, It saves or read other application multiple events as one event.
The above-mentioned errors can be solved by changing minor settings. These errors are common to other calendar applications.
Conclusion
Above article provide a method and introduction on how a user can Import ICS to Gmail. All ICS file transfer steps are mentioned above. Although there are errors that are caused during file transfer or after importing ICS file. These errors prevent importing iCalendar file to Google calendar.