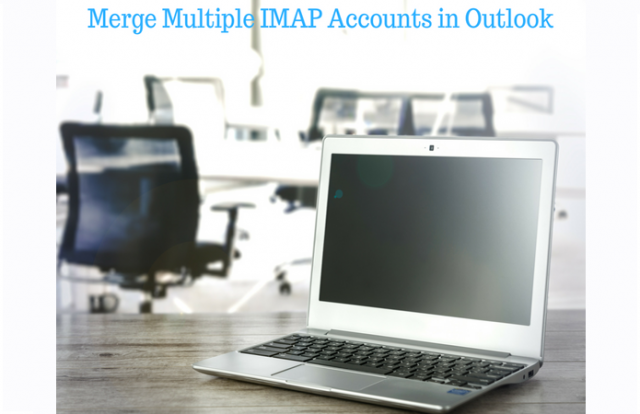 The previous editions of Microsoft Outlook migrated all the POP3 accounts to a common PST file and a mailbox. With the advent of the latest editions in Microsoft Outlook, each and every mailbox is transferred to an individual personal folder. It becomes a bit tricky to trace all of the messages. Due to this, one such query which arises in users' mind is how to merge two IMAP email accounts in Outlook. The post deals with the top manual approaches a user should follow while he/she tries to merge multiple IMAP accounts in Outlook
Workaround Techniques to Merge Multiple IMAP Accounts in Outlook 2016, 2013, 2010, 2007
There are different methods to merge data from various Outlook accounts into one. These are explained here in details.
Approach 1: Set Up Rule to Combine Multiple IMAP Accounts in Outlook 2016
When it comes to organizing multiple accounts in Outlook, any direct method is not present to do so. If a user wants to see all the inbox messages from various configured accounts at the same place, a single folder or account cannot be set up directly. So, the Rules option equips the user to get emails from multiple accounts.
It permits a user to establish an unspecific inbox folder for gathering all the emails in a single folder. By doing this, a user does not have to check every account again and again. In this section, a simple rule has been created that will direct emails from all the account in a common folder.
Also Read: How to Merge Calendars in Outlook 2016?
Steps to Merge Multiple Inboxes in Outlook
Open Outlook on the local system
From the left-hand side pane, choose an account, right-click on it and hit on New Folder
A create new folder dialog box will open up on the screen. Give it a name and then, click on OK
Switch to Home tab. From Rule drag-down menu, select the option of Manage Rules and Alerts
Rules and alerts dialog box will emerge on the screen. Choose an account and then, click on New Rule
In the Rules wizard, under the heading, Start from a blank rule, click on Apply rule on messages I receive and then, hit on Next
On the next screen, select the checkbox of through the specified account.
From the bottom of dialog box, click on Specified. An Account dialog box will appear, select the required account and press on OK. This account name will be displayed at the bottom of the dialog box. Hit on Next
From the new screen, select the option move it to the specified folder. Then, click on Specified from the bottom of dialog window. A rules and alerts window will pop-up. Choose the inbox folder recently created to merge two IMAP email accounts in Outlook
The name of the folder will be displayed on the bottom of the screen. Hit on Finish to exit from the wizard
Now, you will be back to the Rules and alert window. The recently created rule will be displayed there. Click on OK to apply this rule
For merging this folder with other accounts too, repeat the entire process to get all emails from various accounts to the Generic inbox folder.
Approach 2: Change Delivery Location to Merge Multiple IMAP Accounts in Outlook
To get the emails from different Outlook accounts at the same place, it is a good choice to grant the same delivery location to all the Outlook accounts. A user can follow the below mentioned steps to modify the delivery location and Merge IMAP Accounts in Outlook 2016, 2013, 2010, 2007.
Launch Outlook and then, Account Settings dialog box
Go to File menu >> Account Settings >> Email tab
Select the POP3 accounts for which delivery location has to be changed
From the dialog box, click on Change Folder button
The folder has to be used as destination folder where a user desires to save the messages
The folder can be an old folder too, as, inbox or any individual folder
Another folder can also be created, for example, inbox-Account1, Account2, etc.
A user can change the location where the emails are to be delivered in case of POP3 and the MS Exchange account in Outlook 2016, 2013, and other below versions.
Also Read: How to merge multiple PST files into one in Outlook 2016?
Wrapping up
When there are multiple Outlook accounts, it is very hectic to manage the inboxes separately. So, the users want to merge multiple IMAP accounts in Outlook 2016, 2013, 2010, 2007. Two different manual solutions have been proposed to join multiple inboxes in Outlook 2016 and other below versions.