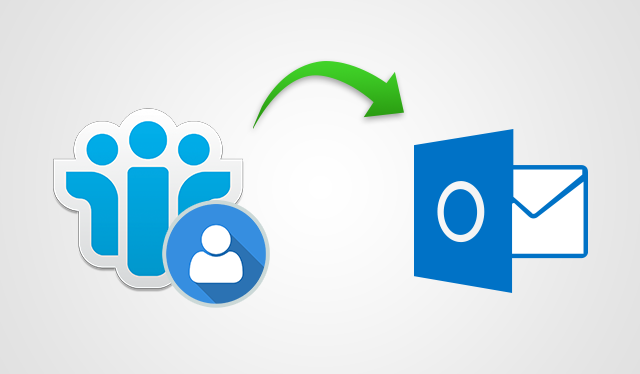 IBM Lotus Notes & MS Outlook are the main leading email platforms with very wide user worldwide. Often, there are chances that Lotus Notes users try to access mailbox data through Outlook. In the process mainly the contacts can be tricky to be exported. Thus, to export Lotus Notes contacts to Outlook, it requires the following conversion that can be accomplished by using manual methods or with the use of safer automated utilities.
If you are using IBM Notes for some time, then you must be aware that it saves all mailbox contents in NSF file. The application is built in with a suite of utilities that provide the allowance to the program & configure your system as a web server. While MS outlook, on the other hand, is the most popular emailing platform which not only assists you in sending & receiving emails but also stores all contacts, help to schedule meetings & also allow you to browse through the web. The file MS Outlook uses to store all information is known as PST file.
There may be various reasons why a user would want to migrate from Notes to MS Outlook. Anyhow, to migrate Lotus Notes data to Outlook, a third party utility like Mail Migration Wizard is required. This means the user can export Notes contacts, emails, notes, journals, etc to Outlook. Hence, there are primarily two ways to achieve the task – manually & automatically.
All Possible Reasons to Migrate Lotus Notes Address Book to Outlook
The installation & the maintenance cost for IBM Notes is considerably very high than that of the MS Outlook.
Outlook is very user-friendly
Outlook is also bundled within the MS Office Suite, so users don't need to purchase it separately
Manual Techniques to Transfer Lotus Notes Contacts to Outlook
The below mentioned manual method is split into two processes. In the first step, you need to export all contacts from the Lotus Notes account, in another step you can import these contacts to MS Outlook account.
Step1: Export Lotus Notes Contacts
Launch IBM Notes & click on contacts
In the menu bar, hit More >> Export contacts. Then the system will show the export contacts dialog box.
Now to export all contacts from Lotus Notes then, select "All Contacts in this view"
If you want to export all the information of the following contacts, then select "All Fields"
In the "Save to" option, browse the directory in which you want to save all the contacts.
Give the target file an appropriate name
In the "Save as type" option, select CSV option
Now, click on "Export"
Import Lotus Notes Address Book to Outlook
Run MS Outlook & hit Open >> Import. The application will display Import & Export Wizard.
A field "Choose an action to perform" will get opened, select the 'Import from another program or file' option from the drop-down menu.
Hit Next. The system will display an imported file
Choose select file type option to import, Select "CSV"
A "File to import" field will open, browse & navigate to the directory in which you have saved CSV file.
Now select, "Do not include duplicate items"
Now, hit Next
From 'Select destination folder' option, select one available folder & click on Next
Now, click Finish. The system will import all the contacts to Outlook account
After that, if you want to view the contacts, then you can open your MS Outlook account & click Contacts.
Limitations of Manual Tricks
While the manual tricks are free of cost & import all the contacts in Outlook, but they fail to import all information which is saved for each contact in IBM Notes. Similarly, the image & logo information from Notes cannot be viewed in Outlook. Also, these methods appear a bit technical to some of the users.
Thus, a better option is to opt for the automated solution that can help transfer Lotus Notes contacts to Outlook by performing few clicks.
Perfect Solution
To solve the shortcomings of the above stated manual method, we will suggest using an efficient solution like SysTools Mail Migration Wizard. The software migrate Lotus Notes contacts to Outlook safely & accurately. This application is packed with various advanced features like conversion of Lotus Notes mailboxes etc. It provides an interactive GUI which makes the working of the tool extremely simple.
Conclusion
The manual methods can be sufficient when the data is to be exported which is not critical or which is not minimum. If in case, you need to protect your data from accidental loss or damage during the export process then you should simplify the process, opting for the automated tool to convert Lotus Notes contacts to Outlook then will be the wiser choice.